Bill's Partyline February 5th, 2007
PEOPLE
It was a standing room only huge gathering of media at Warner Brothers' press conference for the film The Departed. The special guests director Martin Scorsese and superstar Leonardo DiCaprio really held everyone's attention with interesting and detailed answers to mostly good questions. Martin opened with how happy he was to be back in Japan—a truly influential country with a real film culture. Leonardo "fully agreed." In regard to his character in the film, the star felt it was the duality in one man's nature and his reaction to different situations—it was almost like filming two movies. Martin pointed out that there were a lot of secrets in the plot so it was beneficial not to let one actor know what the other was doing. "Leo and Matt only met in two scenes." "In both Leo and Matt's roles, lies were of utmost importance—their lives depended on it." Leo, who hadn't spent much time in Boston, really became immersed in the city. "Everyone knows everybody's business there. And I heard so many stories about the city and people? He met one guy from South Boston and really picked up on his mannerisms. Leo felt this was the key to making his character real. His physical training with the police wasn't easy, but it was a very worthwhile experience.
Martin said, "There's 30 years difference in our age, but Leonardo and I feel the same about life. In the middle of all the chaos, he would do something that would make me realize why I like to make movies." Leo's comments on working with the legendary Jack Nicholson, "He's unpredictable and entirely unique. You really learn from this man who creates what we in the film world call 'happy accidents.'"
When asked about the music in The Departed, Martin said, "I went back to the film Mean Streets—I prefer using existing music and not have someone write a score. I need a dangerous song for the ending so used a tango—I'm Shipping Up To Boston." About working with Martin, Leo said he's so involved in the film it's one of the highlights of his life. I really feel the big reward (an Oscar) is long overdue. He really deserves it. Most people I talk with about the film feel the same way.
After the press conference I ran into Leo near the press conference room. Eat your heart out girls—he gave me a big bear hug. I've known the star for years and it's so nice to see he stays the truly good guy he is.
Unstoppable! I met the gorgeous Latin star Eva Mendes when she was in Japan a few years ago to promote the film Fast and Furious for U.I.P. I set up a party for her and her Devon Aoki. They were all great, but Eva's dynamic Latin personality really made her stand out in the crowd. What a nice Lady.
PARTIES
The Festival Latino American, which was held at the Tokyo Prince Hotel last year, was bigger, better and more fun than ever. Special guests at the Asociacion de Damas Nippon-Latino Americanas included: Honorary President Princess Hitachi, President Kumiko Hashimoto, Aki Abe, wife of Prime Minister Shinzo Abe and Chikako Aso, wife of the minister of foreign affairs. Twenty Latin embassies set up booths selling their handicrafts, jewelry and fashion. Most of the participating countries also had booths busy selling a variety of their country's homemade favorite foods as well as juices, soft drinks, coffee and other drinks from "back home." The entertainment that day featured the Japanese/ Brazilian martial arts/dance company, Capoeira, and was really lively and exciting. Congratulations to the fiesta chairperson Marjorie Robotham and the many hardworking participants.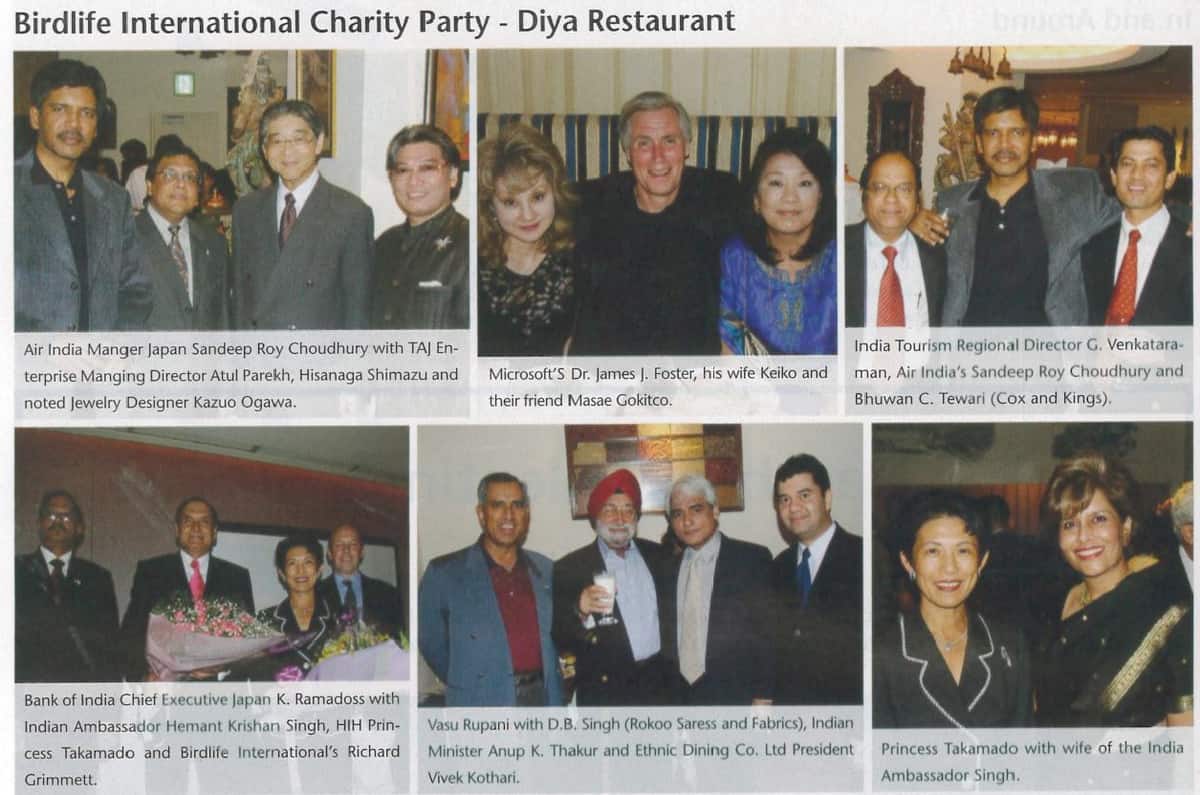 Birdlife International, Asia Division hosted a very special evening at the beautiful Diya Indian Restaurant in Roppongi Hills. The event was to launch the "Save the Vulture" campaign. Special guests included Birdlife International Honorary President Hill Princess Takamado, Indian Ambassador and Mrs. Hemant Krishan Singh, Bank of India's Chief Executive-Japan K. Ramadoss (the main sponsor of the event) and Richard Grimmett, Head of Birdlife International, Asia Division. I was surprised and shocked when I learned the population of several species of vultures in India has really decreased—one species as much as 97 percent in 12 years. This has a dramatic affect on many species and diseases in the food chain. The program that evening included speeches by Princess Takamado and Ambassador Singh. Mr. Ramadoss presented the Princess with beautiful flowers and Awl Parek proposed a toast. The buffet was superb, and I certainly recommend you try Diya. This was the first opportunity I had to meet Ambassador and Mrs. Singh. They really are a dynamic couple. The evening also gave me the chance to congratulate Mr. Ramadoss on the 100th anniversary of the Bank of India. If you need any information on the "Save the Vulture" campaign contact Keiko Suzue. Tel. 03-3351-9981.
PLACES
New Year's Around the World A bit late, but very sincere congratulations to our Islamic friends who celebrated their New Year "Amon Jidad" on Jan. 20. We'd also like to say "Kung Hei Fat Choy" to our Chinese friends. Their New Year is on Feb. 18.
*First published at the Tokyo Weekender
*Images Copyright: Tsukasa Shiga