Bill's Partyline August 5th, 2009
PEOPLE
I was driving through Roppongi one evening recently and saw that the lights in the International Clinic were all on. It was almost 8pm, and I know that the clinic closes at 5pm. Curiosity got the best of me, so I pulled over to check it out and leave an envelope of photos I had for the clinic's Dr. Eugene Aksenoff. I was lucky, as he was there, and I had a chance to chat with him a bit during a break he had between a couple of television interviews. Word had gotten out that Eugene had treated Michael Jackson during his March 2007 ten-day visit here, and the media in Japan, like all over the world, were really going all-out trying to find out something new about the King of Pop. Weekender actually ran an autographed photo of the doctor and Michael in its April 1997 issue. It's amazing the number of international celebrities Eugene has treated over the years.
I had the opportunity to meet Michael on three occasions, but never really got to know him. Like superstars often are, he was well-protected by his (mostly nice) security people, and there were always a few hangers-on who tried to figure our how they could make a little extra money off of anything he did. I did get to talk with him at a reception at the US Embassy, where he presented a check from Pepsi-Cola to a children's charity, and I found him to be very friendly, intelligent, and open.
ACTV's Dan Smith, who worked with Michael for ten days in 2007, has nothing but raves for the man, saying he volunteered to visit the American military bases near Tokyo, went all-out for his fans, and was easy to work with. Dan told me he'll always remember what a great time he had with Michael and his daughter when they spent hours checking out just about everything at Bic Camera.
Over the years I've met and spent considerable time with most of the other members of the Jackson family. It turned out to be a really fun evening way back when I took Janet to her first disco, the Lexington Queen. She was a little chubby at that time, but very pretty. Her longtime live-in boyfriend (and later husband for nine years), dancer Rene Elizondo, was with us, and they seemed very much in love.
PARTIES
Arab Bazaar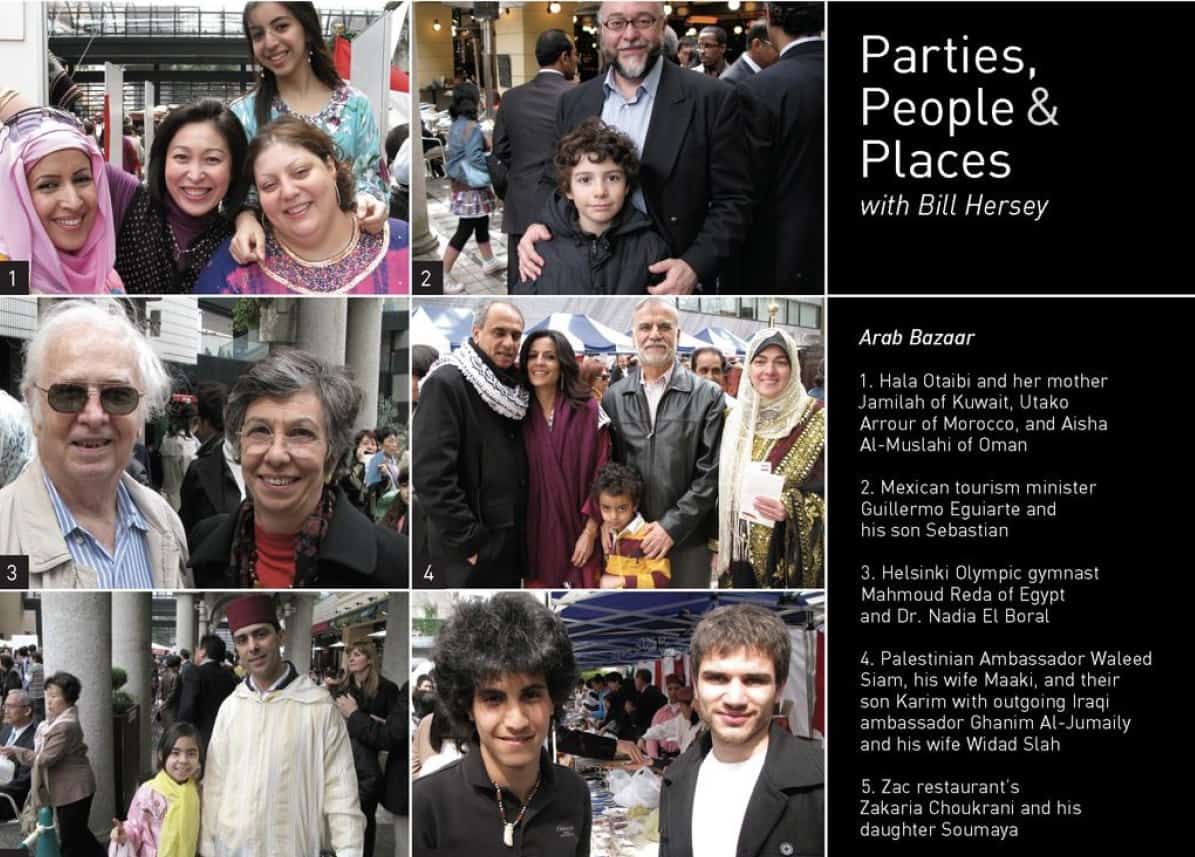 Our many Arab friends in Japan were very busy and did a great job with their Arab-Japan week. Events included an exhibition, a symposium, a grand reception at the beautiful Mandarin Oriental Tokyo hotel, an Egyptian folk dance show, a Palestinian movie at JICA, a colorful bazaar at ARK Hills, and a musical at Akasaka Community Plaza. Thanks to Dr. Nadia El Boral, I got to meet and chat with Mahmoud Reda, who was here with his excellent folkloric dance troupe Reda. He was an Egyptian gymnast at the Helsinki Olympics in 1952. The bazaar this year was more colorful and busy than ever. The venue was perfect for many happenings that day. Kudos to all concerned.
Miss Universe Japan Contest
It was glamour galore at the 2009 Miss Universe Japan contest at the International Forum. Friends who were judges included fashion guru Francoise Morechand, event planner Anri Schroff, and Samatha Thavasa's president Kazumasa Terada. Needless to say, they had an enjoyable, but not so easy, task in choosing from the 20 girls. This year's winner was the 24-year old Tokyoite Emiri Miyasaki, who has a lot going for herself. We wish her all the best. My thanks to the event's organizer, Ines Ligron, for the two great seats. My guest was Portuguese choreographer and artistic director Cesar Augusto Moniz, who was in town with the Kamusuna Ballet Company from Lisbon. I introduced him to the multi-talented Steve Haynes, who did the choreography for the show that evening, and they really hit it off. My thanks to TV producer Dan Smith and his staff, who attended and filmed Kamusuna's performance for Dan's program FOX Backstage Pass.
PLACES
Transformers Premiere
Paramount's world premiere of Transformers: Revenge of the Fallen at the Roppongi Hills Club was one of the most star-studded events I've been to in a long time. Special guests from abroad included director Michael Bay and actors Josh Duhamel, Tyrese Gibson, and John Turturro. Local celebs there included sumo greats Konishiki and Akebono with their respective wives, pop idol Jin Akanishi of Kat-Tun, members of pop group News, the Kano sisters (Kyoko and Mika), several Japanese actors including Kiroki Narumiya, Japan's kickboxing champion Takayuki Kohiruimaki, who looks like an actor, several Miss Japan and Miss Universe Japan runner-ups, and about 70 fashion models from all over the world.
Paramount had set up a dynamic light show and hired several of Japan's top DJs, and the place really rocked. Actor and singer Tyrese Gibson got everyone moving when he grabbed a microphone and belted out his latest single, Take Me Away. I just read in an interview that he has 70 tattoos. He also, I might add, has a great personality. A big kudos to the staff at the Roppongi Hills Club—the buffet was really excellent, and the food, champagne, and wine just never stopped coming. At about 1am many of the guests there moved on to the New Lex, where they partied on until about 4am. Once again Tyrese took the microphone and really got the crown moving. Needless to say, a good time was had by all.
*First published at the Tokyo Weekender
*Images Copyright: Tsukasa Shiga