Experience "Barrier-Free Music" Philip Raskin Concert, Sponsored by the Belgian Embassy
Belgium is one of the countries most Japanese want to visit, blessed with beautiful land and cultural heritage, and a bright image of beer, chocolate, and waffles. It is also a music powerhouse representing Europe.
It produced Eugène Ysaye and César Franck, who are famous as great composers, and has a beautiful opera house called La Monnaie. The Queen Elisabeth International Competition is renowned as a gateway to success for talented musicians, and is one of the three major music competitions in the world, along with the Tchaikovsky International Competition and the Chopin International Competition. Many young musicians from Japan have taken on the challenge of this most difficult competition, and many of them, including violinist Yuzuko Horigome, have either won or been selected.
Ambassador Roxane de Bilderling and her husband Stephane Laime invited pianist Philippe Raskin to a concert at the Embassy of Belgium in Japan. It is said that the ambassador and her husband met the pianist during their stay in Kenya. Raskin studied piano, chamber music, and composition at the Royal Conservatoire of Brussels and has won numerous competitions. He is currently active internationally while teaching at the Vienna State Academy of Music.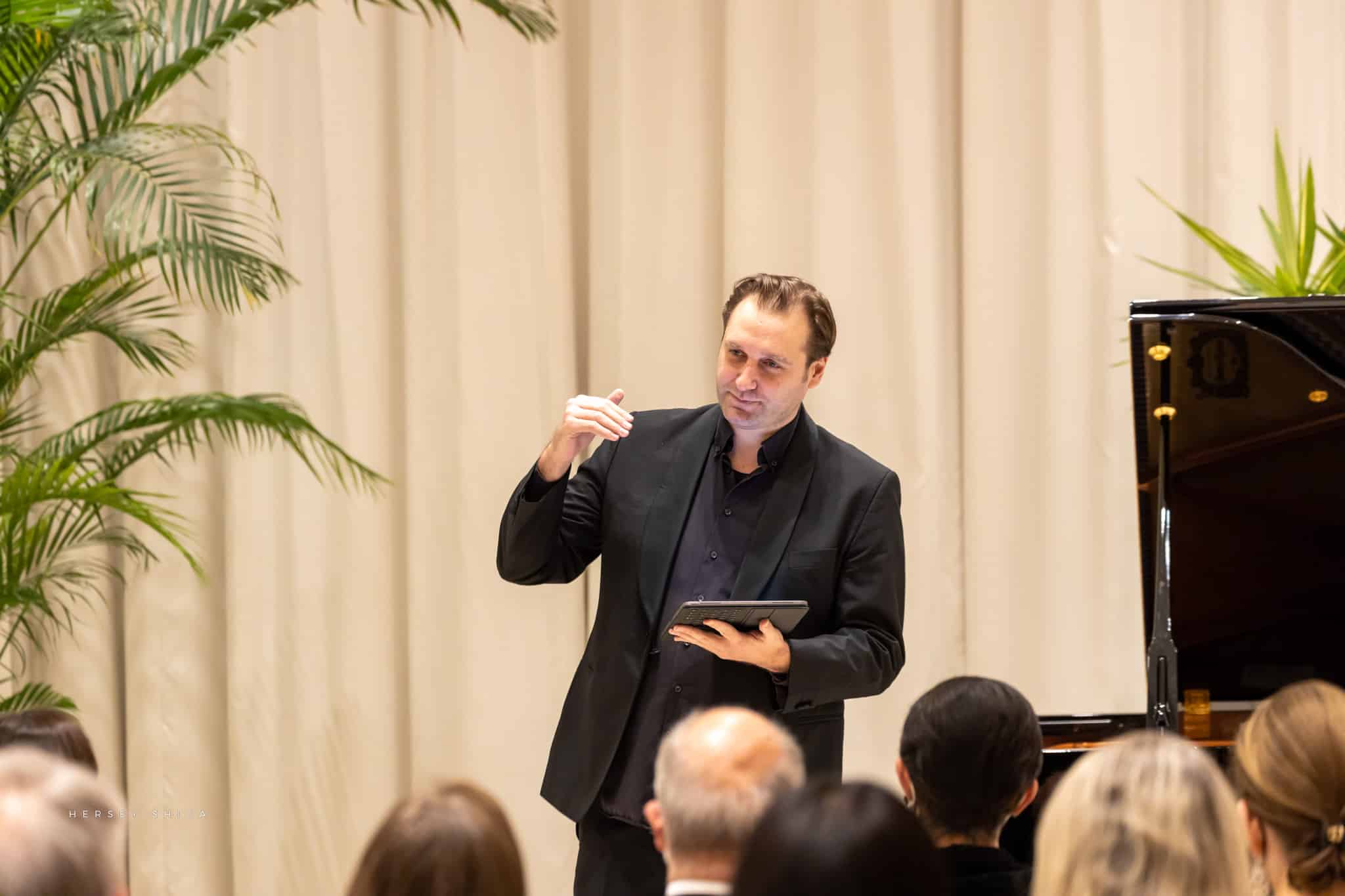 After reading the above biography, I assumed that it would be an orthodox piano concert, but my expectations were far off. The program that Raskin played on this day was quite varied, presented in the form of a journey through the theme of "Melancholia" from Domenico Scarlatti to Brahms, Rachmaninov to Prokofiev, and even jazz to his own compositions.
In the first Scarlatti piece, Raskin played the piano as if it were a ringing bell, the piano as if it were a percussion instrument. In Brahms, he played with graceful generosity the composer interpreted in Rachmaninov's piece. He showed a romantic tone, which is typical of the works of romantic composers. Also, 'in number,' which was chosen as a tribute to Chick Corea, he plays jazz with stunning virtuosity.
Raskin, who has both Ukrainian and Russian grandparents, is heartbroken by Russia's military invasion of Ukraine. The number, which he composed himself with that thought in mind, reminded me of the history, land, and current state of Ukraine. At the beginning of the piece, a flowing phrase appears, originating in the Black Forest and reminiscent of the Danube River leading to the Black Sea. The violent phrase that followed is the life and history of the Ukrainian city being destroyed by force. His piano is very eloquent and full of persuasive power.
A jazz improvisation was chosen to end the program. His free ideas and performances were wonderful, and made me realize once again that there is no boundary between classical music and jazz in music. Even in music, we can break down the barriers between classical, rock, and jazz, and learn to express people's emotions.
It was a fantastic concert with a great atmosphere and program. I look forward to seeing Philip Raskin once again in Japan and in concert.
Read also,