Ambassador Roxane de Bilderling, Discusses the Importance of Sustainability, the Empowerment of Women, LGBTQ Rights and Cultural Practices Post-Covid-19
In this interview, the Ambassador of Belgium to Japan, Roxane de Bilderling, discusses the importance of maintaining strong cultural ties between Belgium and Japan in the wake of Covid-19. Not only in terms of economic development and sustainable energy use but also in relation to salient contemporary issues, such as women's rights, gender equality and the LGBTQ community. She also addresses the importance of shared cultural practices between Belgium and Japan, such as comic books, and the championing of the positive aspects of Belgian culture, including gastronomy, cycling and jazz music.
Interview with Ambassador of Belgium to Japan, Roxane de Bilderling
Q: Belgium and Japan share an amicable bilateral relationship thanks to shared values and interests. With the recent delegation visit to Japan, how has the relationship evolved?
We've recently concluded a very successful economic mission in Tokyo. It brought along the largest Belgian trade delegation to ever visit Japan. The delegation comprised 575 participants from various sectors, including business companies, federations, and academics. Its aim was to renew and enhance the economic relations between both countries with a clear focus on clean and innovative technologies to address the challenges of green and digital transformation. Much was achieved during the mission with no less than 50 agreements concluded in the economic and academic fields. We now have to follow-up the implementation of sustainable business and investment opportunities in technological innovation and decarbonization.
For me, this mission really confirmed the depth and diversity of Belgium's relationship with Japan. In my three years working here, this initiative felt like a crystallization of all the work we have undertaken during this time.
Our mission was led by Her Royal Highness, Princess Astrid, the sister of His Majesty, the King of Belgium. The network of relations between our two countries are also sealed by the very close ties between the Japanese Imperial family and the Belgian Royal family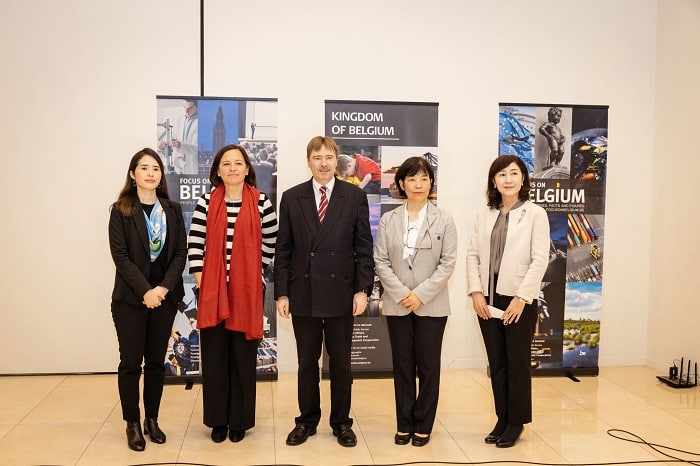 Q: In terms of the empowerment of women in Japan, can you share any personal insights or observations?
This is was also an important aspect of our economic mission. On the 9th of December, we held a seminar on business and human rights at Doshisha University with a focus on gender equality, and we're very pleased with the outcome. We chose Doshisha University because of its affiliation with Belgium. It's a very prestigious university, and it has a female president. We encouraged students to express their thoughts, opinions and perceptions on the issue of gender equality, labor market expectations and whether they felt companies were doing enough to support and promote women. After hearing their responses, we invited a panel to react to them. The panel included two very prominent female executives and the President of the Belgian Business Federation.
In Japan, there's genuine interest in this issue since women want to balance their career as well as being a mother and a spouse. From my personal experience, I can reassure young women who want to have a career that it is possible. I was lucky enough to find a husband who has been willing to support me. Of course, this is my perspective, and it's not the same for other women. I didn't have to fight for it. I was very lucky to have this opportunity. But I'm willing to share my experience if it can help other women.
There seems to be a consensus in Japan that there aren't enough female role models. Many young women are now looking outside of Japan for women who support and promote gender equality.
There are some good examples in Japan. Many role models I've met are willing to share and to engage with young women, although they don't always have the platform to do so. We have organized a few events on gender equality and the empowerment of women. Two years ago, we held an event about women in STEM with a few role models in attendance. We invited high school girls interested in this field and gave them the opportunity to have a discussion with the role models in small groups. They were really engaging because it's true that it may be difficult for young women in Japan to find people with whom they can speak with about these issues. But things are changing. I often meet with other female ambassadors and colleagues and we try to reach out to people who are interested in this issue. Japan recently concluded the World Assembly for Women, which addressed women's empowerment in the face of the Covid-19 pandemic. It became clear that the current Japanese government is eager to promote and support this issue.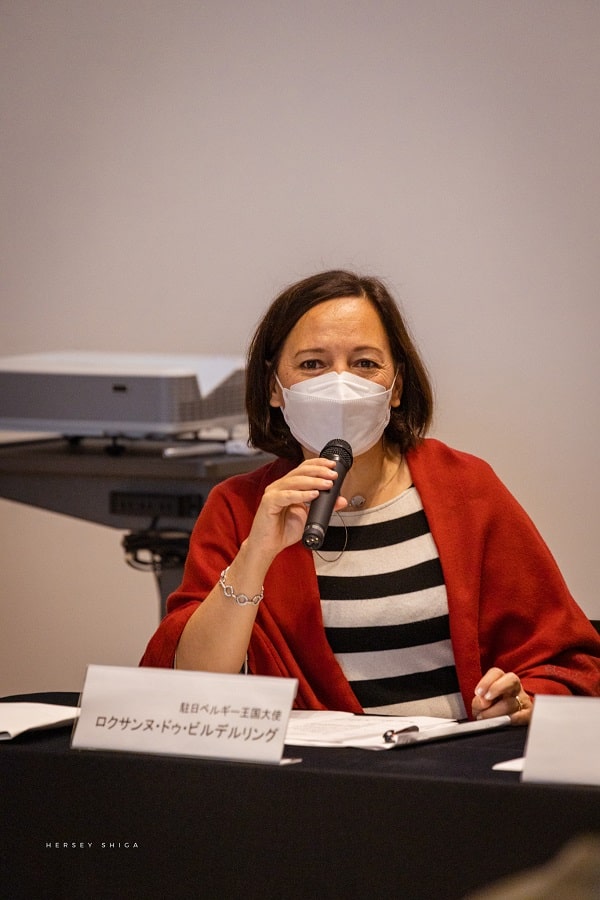 Q: You've been in Japan for three years and have witnessed the ups and downs of the global economy, as well as Covid-19. Do you feel that now going into 2023, your work has returned to normal?
I don't think we're back to normal just yet. People are still conscious of Covid. But things are beginning to return to how they were before, certainly in terms of the intensity of activities. I have also witnessed the return of traditions. People have started slowly to reestablish contact with others. In that sense, I think our mission came at the right time because people are really eager to reestablish their network and to start seeing people again. I see that things are slowly resuming back to normal, but we're not completely free from the pandemic.
Q: How does Japan perceive Belgian culture? And what about the influx of Japanese tourists into Belgium? Do you think it'll increase this coming year?
Belgium enjoys an excellent image in Japan. There's a strong presence of Japanese investors in Belgium. The perceptions Japanese citizens have of Belgium have been shaped by the following four elements: quality consumer goods, work, tourism and art. In October 2015, a non-stop flight between Brussels and Tokyo was reestablished, which has made Belgium highly attractive to Japanese businessmen and tourists alike. The 'Chocolate and Beer' image of Belgium has remained a strong asset in Japan, and it is seen as a country of quality gastronomy, crafts, history and tradition. We've never prevented Japanese tourists from visiting Belgium, but travel restrictions have hampered the influx of tourists in the country. Now, all restrictions and measures have been lifted. There are still some constraints in terms of flight frequencies between Europe and Japan, but this is mostly due to the war in Ukraine since many airline companies have avoided flying over Russian airspace.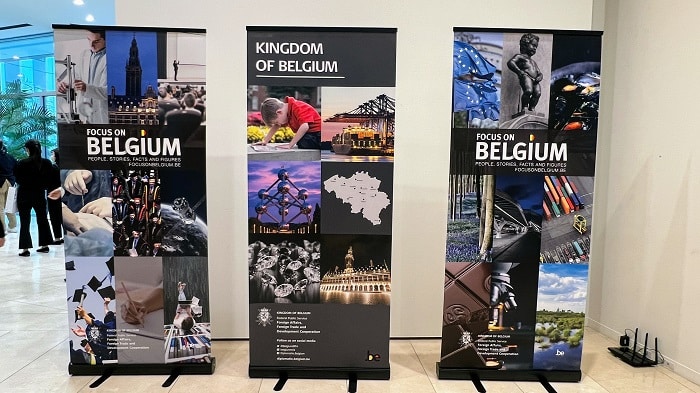 Q: Which aspects of Belgian culture do you think are important in Japan, and are there some that are underrepresented? I know that comic books are popular in both countries, such as the Belgian comic Tintin.
You always want to fight stereotypes but then you end up maintaining them in a way because there are expectations. We know that Belgium is known for its chocolate, beer and fries—it's a positive image. But we also want to highlight other aspects. For example, a cultural aspect that is shared between Belgium and Japan is comic books. This tradition is linked to the manga culture in Japan. You may know Tintin, although he is sometimes mistaken for a French cartoon character, 'or The Smurfs. But further than that, we have other very interesting cultural aspects that we like to highlight. During the Belgian economic mission, we opened an exhibition in Kyoto about an artist who is making very beautiful paintings, as well as sculptures and incredible photography, Jean-Michel Folon. 'Another major feature of Belgian culture is jazz. The fact that the saxophone was invented in Belgium speaks for itself. We have many jazz musicians. In sports, we have the Red Devils in soccer. Belgium is also known for its cycling culture. I've been invited to many cycling events here in Japan. Major cycling events, like the Saitama Tour de France, which was won by a Belgian, and the current world cycling champion is also Belgian.
Q: One of the cultural topics which is prominent these days is LGBTQ. European embassies have been discussing this quite intensively, including the German embassy, the French, British and so on. What is the official stance of the Belgium embassy in Japan?
It's one of the priorities that we defend in our foreign policy. So we've always been at the forefront of the issue and among the first countries to recognize same-sex marriage. We've always defended the rights of the LGBTQ community. For the first time, we have a transgender minister in our government. We highly promote the recognition of the rights of the LGBTQ community. In terms of the LGBTQ situation in Japan, things are evolving. I have seen that many local governments have recognized same-sex marriage or are pushing in this direction. We are in discussion with the Japanese government on how we can support the evolution in this field, but as partners that respect each other and try to bring solutions rather than anything else.
Q:Do you feel that Japan is lagging behind more progressive European countries on this front?
I don't know if it's the right way to put it. But, there is definitely some progress that can be made in terms of recognizing the rights of LGBTQ communities. You can see it both ways : there are things that still need to happen, but there are also things that have happened, and so we need to continue working together on this issue. We have issues in the European Union as well, as you may know, and it's still a topic that's being discussed. I think we all have to progress, and we have to support the process and fight discrimination. I think that's the right way. You mentioned the World Cup. I understand that we cannot mix politics and sports too much. But I also think that events like the World Cup can play a role in highlighting the respect for fundamental rights – such as not being discriminated against because you love someone. I think we firmly believe this and it's important to be able to reaffirm it when necessary.
Thank you very much.
Read also