The best countdown parties in Tokyo
Friendly warning! This year, many events have been canceled last minute due to safety concerns for their guests. So please check the event details carefully and contact the organizers directly.
Oh, 2020, where do we even begin?
We think it's safe to say that this year has been incredibly tough, and we know that we're not the only ones relieved that 2020 is finally coming to an end. With everything that has happened for the past twelve months, all we really want is to bid goodbye to this rollercoaster ride of a year and put all the unfortunate events behind us. But with the pandemic still present and cancelling almost every event and party there is for the New Year's Eve, it's almost impossible to end the year the way we are accustomed to.
Luckily for you, we're able to curate a short list of the best countdown parties in Tokyo that ensures a remarkable luxurious experience for this unforgettable year. From high-end Omakase courses, black and gold themed parties, highly exclusive locations to a fine selection of free-flowing drinks, this list is surely Tokyo's crème de la crème of countdown parties. And since we want you to welcome the new year safely and in style, every item on this list follows the proper health protocols because your health and well-being will always be our utmost priority.
This year has been difficult and exhausting; that's something we cannot deny. But even though a better year is not promised and there's no certainty that things will get easier, it won't hurt to raise our champagne glasses and hope that 2021 will be kinder to us all.
1 – Two Rooms Grill | Bar
First order of business is Two Rooms Grill and Bar with SAYONARA 2020.
Welcome 2021 and bid Sayonara to this challenging year with their Special New Year's Eve Omakase Course from 6:00 PM until 9:30 PM. Each Omakase Course is worth ¥15,000, and also has an optional wine matching worth ¥8,000. After a scrumptious dinner, you may head to the bar for the New Year's Eve countdown, where DJ Sam Fitzgerald and the Good Company Broadcast Group will be present, and an optional 3-hour free pour of top shelf wine and Louis Roederer Champagne (¥10,000) will be offered from 10:00 PM until 1:00 AM. Now that's how you say Sanoyara to 2020. And don't worry, the entrance is free!
Don't forget to make a reservation ahead of time so that you can secure a table. Also, keep in mind that since your health is the top priority, body temperature checks will be carrier out upon arrival, and guests are required to make use of hand sanitizers available and to always practice social distancing protocols.
For more information, check out the link below:
https://www.instagram.com/p/CJK71G0j3N_/
2 – BlackList Tokyo Countdown Party
A classy New Year's Eve countdown party wouldn't be complete without spending the last waking hours of 2020 at Black List Tokyo.
Established 15 years ago by two Frenchmen named Cedric and Beno, their passion for luxurious parties and a good community eventually resulted in Black List Tokyo. Their aim is to establish a club with sophistication comparable to exclusive parties in New York, London, or Paris, and since they're Tokyo's premier "guest list only" event organization, Black List Tokyo will host a special countdown party at The Public Six to celebrate the end of 2020 and welcome the year 2021 with a bang.
The entrace fee is worth ¥3,500 with a complimentary drink of your choice. As for the tables, you're given 2 options to choose from: the VIP Box Table and High Table. You're also encouraged to book your tables in advance so you can be sure to grab a slot.
And don't forget, the use of face masks, alcohol or sanitizer at the entrance with temperature checks is a must!
Be sure to check the link below: https://www.facebook.com/events/2608713809431714
For reservations, contact: 03-5413-3182 or info@blacklisttokyo.com
See also: BlackList Tokyo celebrates its 15th Anniversary
3 – The Shangri-La Hotel Tokyo New Year's Experience with a Smile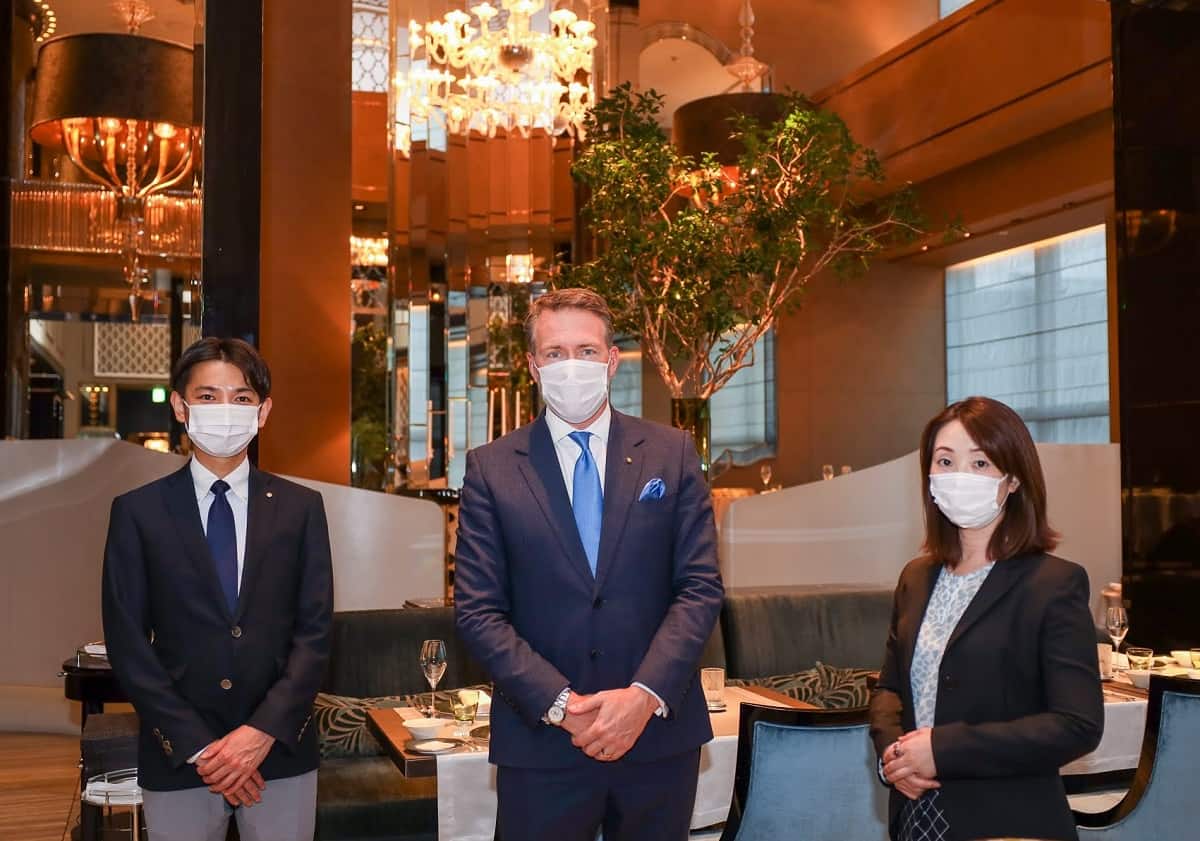 Elegance and sophistication is the reason why Shangri-La Hotel Tokyo is always at the top of its game.
What better way is there to celebrate the last hours of 2020 than by spending it at the hotel's 28th floor witnessing the beauty of the Tokyo skyline? Wave goodbye to 2020 and say hello to 2021 with Shangri-La Hotel Tokyo's elegant black-and-gold themed countdown party happening from 10:00PM to 1:00AM on the last day of the year.
Celebrate the new year with your loved ones by dancing to 80's Disco-style Live DJ entertainment. Savor not one but two free-flow Champagne plans for ¥35,000 for Veuve Clicuoy free-flow plan or ¥55,000 for Dom Perignon free-flow plan. Enjoy scrumptious dishes at the buffet until 11:30 PM. Expect all these amazing perks when you attend the New Year's Eve Party of Shangri-La Hotel Tokyo.
Terms and conditions:
This is strictly an adults-only event and open to guests of 20 years or older with a valid ID.
Dress Code: Black and Gold.
Advance reservation is required.
Prices are subject to consumption tax and 15% service charge.
For more information visit: Shangri La Tokyo
Address: 〒100-8283 Tokyo, Chiyoda City, Marunouchi, 1 Chome−8−3
Phone: 03-6739-7888
4- New Year's Eve dinner and breakfast at the Four Seasons Otemachi
Technically not a 'count-down party', but as the latest addition to Tokyo's leading luxury hotels, the Four Seasons Hotel Tokyo at Otemachi wants to celebrate this momentous occasion with a bang. That is with a luxurious New Year's Eve dinner and breakfast. The two hotel restaurants will be offering set course meals for the evening including fine French cuisine by Guillaume Bracaval at Est and superb Italian food at Pigneto. The Est dinner comes with nine courses (¥35,000) and can be paired with wine (from ¥20,000), while the Pigneto dinner features six courses (¥15,000) and can be paired with free-flow champagne and wine for ¥8,000.
And for those who want to kick off the new year with their first exquisite breakfast of 2021, Pigneto is offering a special New Year's Day breakfast (a la carte) overlooking the first sunrise of Tokyo. And if you really want to splurge on the first day of the year, treat yourself to a "Champagne Breakfast" with a bottle Dom Perignon champagne and caviar at the stylish hotel bar Virtu (¥100,000 per person).
Four reservations visit: Four Seasons Hotel Tokyo at Otemachi
1 Chome-2-1 Ōtemachi, Chiyoda City, Tokyo 100-0004
Phone: 03-6810-0600
See also: Four Seasons' VIRTÙ Invites for a special Halloween Treat
5 – CÉ LA VI TOKYO
Say goodbye to all the hassle of 2020 at CÉ LA VI TOKYO.
This year, CÉ LA VI TOKYO will be hosting a rooftop countdown party at their spacious highrise venue that boasts with Tokyo's breathtaking panoramic view.
All four areas of their premises will be opened for this special occassion, and every area will be filled with upbeat music played by various talented DJs. You can also enjoy their offering of free-flow plans all throughout the night so you won't be empty handed once the arrival of the new year is here.
The tickets will be divided into several options depending on the specific venue you would like to reserve.
For more information regarding this event, kindly check out this link:
https://www.facebook.com/events/325476341776029/
To reserve a slot, kindly call 0800-111-3065 to #1 RESTAURANT for table reservation.
A Closing Note
All these countdown parties truly sound exciting, and we hope we're able to help you decide where to spend the last day of this one hell of a year that is 2020.
As we celebrate on New Year's Eve to welcome a new year, don't forget to still practice proper social distancing, hand sanitizing, and wearing of masks.
Remember you can always stay in the comfort of your own home, open a bottle of Champagne and watch some old Hollywood movies. Most especially, don't forget to leave all the worries, pain and stress behind in 2020 and hope that a better year is in store for all of us.