Art Exhibition for Summer Vacation (1)
Moomin Comics Exhibition Held at the Tokyo Fuji Museum.
Valuable works and figures from the Embassy of Finland in Japan will be exhibited at the same time.
Tokyo Fuji Museum
492-1 Yanomachi, Hachioji-shi, Tokyo 192-0016
TEL: 042-691-4511
FAX: 042-691-4623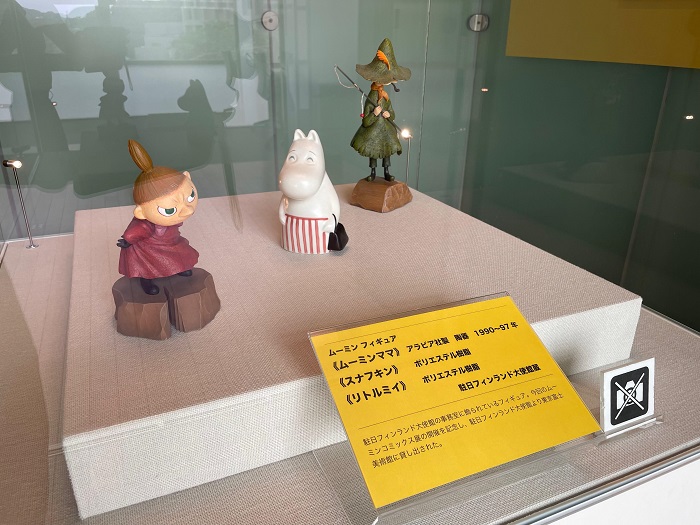 The Tokyo Fuji Museum (Akira Gokita, Director) has been holding a Moomin comics exhibition by Tove Jansson, the original author of Moomin fairy tales, from June 18th. At the opening ceremony held in the morning on the first day, local elementary school students were invited and a ribbon-cutting ceremony was held with children.
Moomin Comics, which is popular all over the world, started in 1947. In 1954, the series was started by Tove Janson in the British Evening News, and was later published for over 20 years with the help of her younger brother Lars.
It is no exaggeration to say that Moomin, a world-famous character created by Tove Janson, became known to the world through this comic. However, her younger brother, Lars, made a great contribution to the continuation of this comic. Lars helps her sister Tove, who is stuck in her thoughts, and translates Swedish into English. Tove trusts Lars and teaches in detail how to draw difficult Moomins. Eventually Lars became the author of the Moomin comics, but this fact is surprisingly unknown.
This exhibition introduces more than 280 items that will be released for the first time in Japan, such as stories, sketches, and original drawings of unique characters that appear only in stories and comics that have not been translated into Japanese. From many original drawings, even the author's intentions and hardships can be read, such as ingenuity such as how to take the screen, facial expressions of characters, history, and story creation based on myths. The content is sometimes cynical and is still not faded. It is not an exhibition of "cute characters", but rather an exhibition that adults can enjoy.
For the last Moomin Comics exhibition at the Tokyo Fuji Museum, the Embassy of Finland in Japan lent out four precious prints and three figures of Moomin.
The four Moomin illustrations (reproductions) on special display were presented by the Tampere Museum of Art, Moomin Valley Museum (now the Moomin Museum of Art), and were displayed at the ambassador's residence in Japan. I hear that H.E. Mr. Pekka Orpana, the current Finnish Ambassador to Japan, also loved these works and had them at hand. The figures of Mii, Snufkin and Moominmamma have long been displayed at the Finnish Embassy in Japan. In particular, the Moominmamma figures created by Arabia are old and hard to see now. Please take a look at its lovely appearance.