Bill Partyline February 14th, 2005
PEOPLE
A few guests came here for Buena Vista International to do an early promo on the action film National Treasure. These included top producer Jerry Bruckheimer, his author wife Linda, Oscar-winning actor Nicholas Cage and his new wife Alice Kim. According to all reports, Nick's wanting to have a child was the real reason behind the couple's surprise July 30 wedding. We wish them the best.
Jerry Bruckheimer is one of the world's hottest producers right now. In addition to his many movies that include Pearl Harbor, Pirates of the Caribbean and Bad Boys IT, many of his TV programs – CST, CST Miami, Without a Trace – stay right at the top of America's most popular TV viewing polls. Jerry's wife, Linda, the epitome of Beverley Hills chic, still likes her Kentucky Blue Grass roots and often spends time at the farm there. Linda, a preservationist, is also a best-selling novelist. Her first book, Dreaming Southern (1999) has been published in Japanese. Her latest, The Southern Bells of Honeysuckle Way, is a best seller. Buena Vista international's man-in-Japan Dick Sano hosted a dinner for the visiting promo group at Nobu's, a favorite restaurant of Jerry and Linda. When Nobu's super-cool daughter Junko, who works at the restaurant, heard the Bruckheimers wanted to visit a prestigious private boutique on Omotesando, she was able to arrange this for them. Junko's always ready to help, and she has the connections.
Damon in town for UIP's Bourne Supremacy
BEN AFFLECK was right on when he told me his long time best buddy Matt Damon was a really nice guy. I met Matt when he was here for a few days promotion for UIP for his film The Bourne Supremacy and for a few more days with his costars of Ocean's 12 for Warner Bros. Matt said he was really happy with The Bourne Supremacy. He told the media the car chase in the film was the highlight – and also the most dangerous part.
"I had to practice a lot in a pool for the underwater scene, and it was still scary," he said. Other preparations included learning Filipino martial arts and, at the directors request, learning to walk like a boxer.
"I retained some of what I learned, but in real life would probably be killed very quickly," he said. Location shooting included five months in Berlin -"an amazing city that's undergone so many changes" – and some time in Goa.
Matt, 34, has been in the Screen Actors' Guild for 18 years. He says he knows how lucky he is. He also feels that someday it will stop, but loves to do films and, for now, things are flowing well. UIP opens The Bourne Supremacy here Feb. 26.
California Governor Arnold Schwarzenegger in town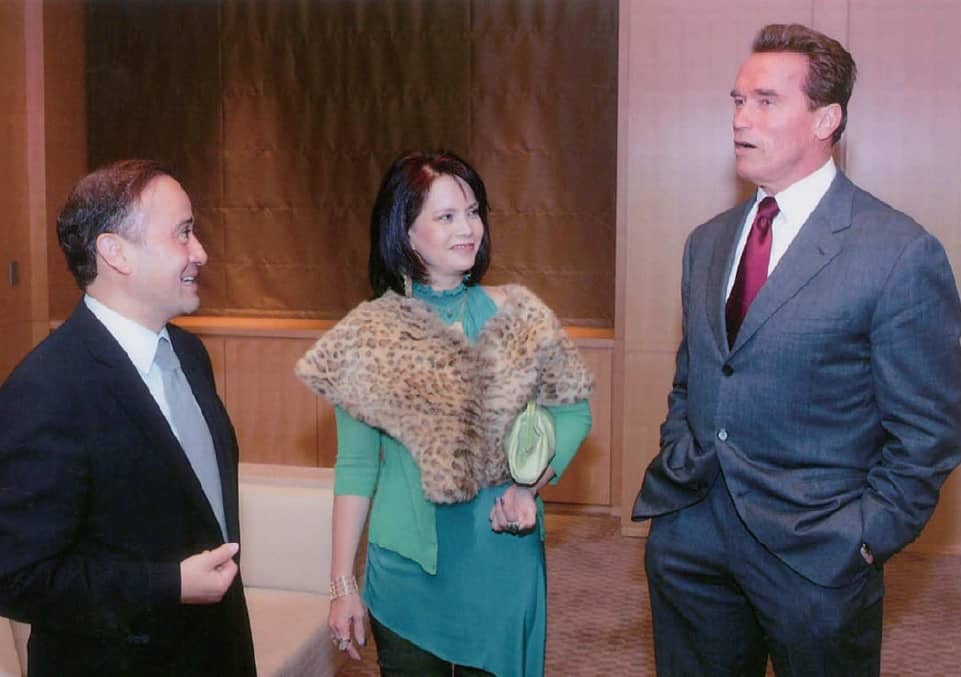 California Governor Arnold Schwarzenegger and a large delegation from the sunshine state had a busy five days in Japan. It was a big "Buy California prod­ucts-visit California" promotion. It was wall-to-wall mostly Japanese businessmen at the reception, the governor and his delegation hosted in the Grand Hyatt Tokyo's ballroom. The lavish buffet featured California at it's best. Arnold made a very meaningful speech, and there were door prizes that included a United Airlines return ticket to California, and the opportunity for another winner to a private screening of a popular Warner Bros. film in a chic and comfortable 60 seat screening room. Arnold, as expected, is tremendously respected in his home country of Austria. Last July 30, on his 57th birthday, the Austrian postal service released a stamp with a serious looking Arnold in a business suit in front of the Austrian and American flags. There's also a sports stadium named after him in the southern city of Graz near Thal, the village where he was born.
I traveled to Kyushu with Arnold when he was here to promote Batman and Robin several years ago for Warner Bros. The man has a sense of humor. He also says what he thinks and didn't make democratic lawmakers and gay and lesbian advocates happy when he referred to the lawmakers as "Girly Men." He has to be able to take it as well. They parody him in skits in the popular Saturday Night Live TV show often. They feature two comedians, who play a couple of pumped up bodybuilder, Hans and Franz, who speak with thick Austrian accents. In one skit an interviewer asked the Arnold-looking one, "Do you have mandate when you go into office?" His answer? "Oh no, I always take Maria."
PARTIES
It was glamour galore in all sizes and shapes at Dewi Sukarno's 2004 Imperial Byzantine Charity Ball and Gala Banquet. The super elegant event took place at one of Tokyo's most beautiful venue – Tokyo Meguro Gajoen.The program opened with a lively program by the colorful and really good Tokyo Bag Pipe Society. The dinner show featured dynamic ballroom danc­ing (Rumba, Samba, Tango, a jazz number, etc.), a flamenco performance by Tomoko Kobayashi with Spanish vocal and guitar artists, and highlights of the ballet Swan Lake. Later, guests danced to the music of Kenji Ishii and the New Latin Rhythm Orchestra. Dewi, looking beautiful as always, joined celebrity guests on stage to make the presentation of collected charity funds (ticket proceeds, an auction and raffle tickets) to the Red Cross.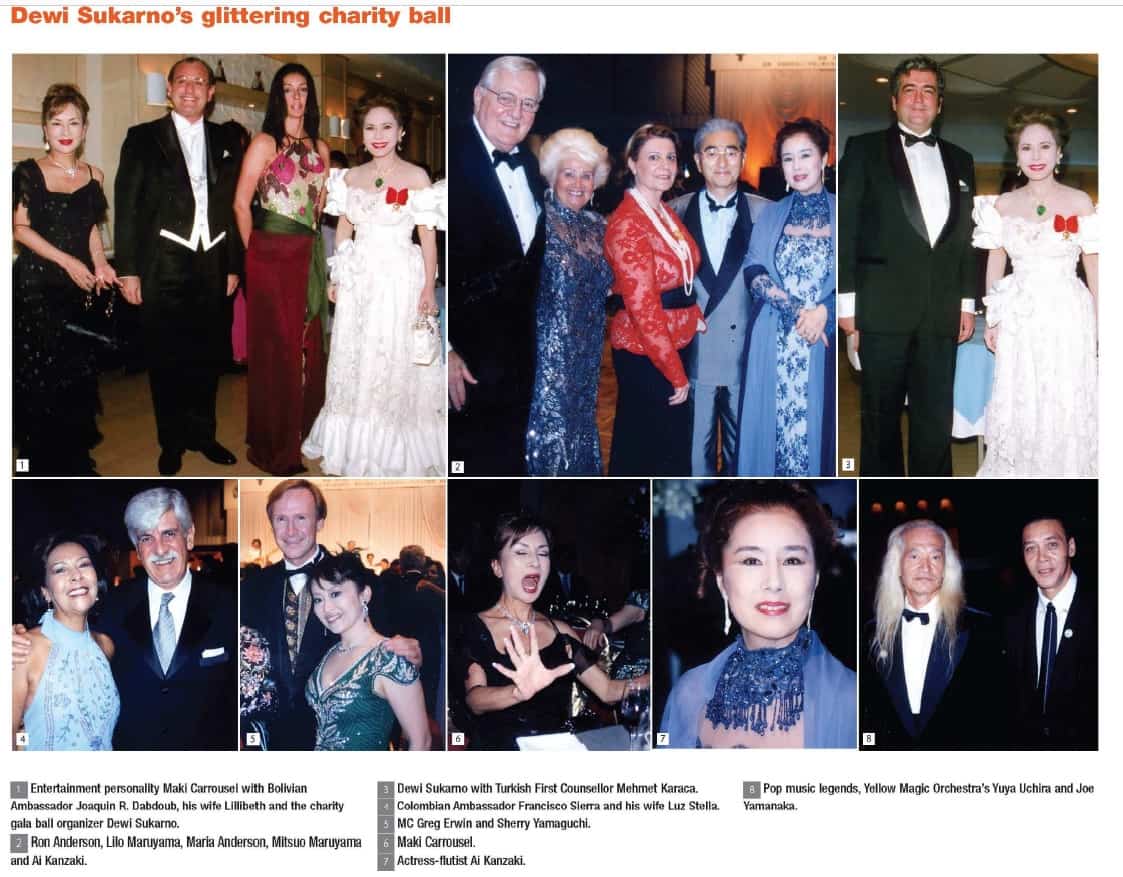 Guests at my table included Mitsuo and Lilo Maruyama, actress-flutist Ai Kanzaki, opera singer Masafumi Akikawa, Dewi's companion, Allan Pollack, and entertainment personality Maki Carrousel. One of Japan's best-known transsexuals, Maki, born Tetsuo Hirahara, has now been recognized by government officials here as a woman, 30 years after her operation in Morocco. She's a real livewire and kept our table entertained all evening. Our congratulations to Greg Erwin who masterly Emceed the occasion, and of course to Dewi, one of the most glamorous, and active women I know. Sorry the patron of the Ball, Turkish Ambassador Solmaz Unaydin, couldn't be there. She was well represented by Turkish First Counsellor Mehmet Karaca. It was a fantastic evening in every way, perfect for the occa­sion.
It was great seeing U.S. Ambassador Howard H. Baker back in town – looking great. On Nov. 5 he and his wife Nancy joined Baseball commissioner Allan H. (Bud) Selig and the executive director of the Major League Baseball Players Association Donald M. Fehr at a reception at the Baker's home on the occasion of The Japan All-Stars Series 2004. There were a few short speeches, and the man who was pretty much the center of attention that day, Houston Astra's pitcher Roger Clemens, presented Howard with an autographed bat. After this, Clemens and the other players left the stage and mingled with the guests. They were kept busy shaking hands, signing autographs and posing with the Baker's guests for photos. They did, I might add, take time out to join everyone in enjoying the bountiful buffet of American favorites plus, of course, sushi. Kudos to one of the world's top hotels, the Park Hyatt Tokyo, on the magnificent evening the hotel's G .M. Robert Barker and his staff hosted to celebrate the hotel's 10th anniversary.
It was a black-tie affair, and I really appreciated being included in the VIP list for the Dream Theater pre-party – Secret Dreams – Prologue to Dream Theater. The invitations, the brochures and the program (a booklet) were all beautifully designed in black and silver. The hotel was closed to all except registered guests and those invited. Tasteful venues were set up on the 39th, 40th, 41st, 47th and 52nd floors. The variety of top international entertainment for the evening featured something for everyone. In La Scala Park there was an evening at the opera with a performance by the world's most soulful tenor Jose Carreras. I, along with Charo Ireton and her mother-in-law Kiko (Charo's husband, Warner Entertainment Chairman Japan, Bill Ireton was traveling) unanimously agreed that was the place to start. We were right. After that we moved to Le Theatre for an exciting Tango show by Argentine couples from the award- winning Broadway show Forever Tango. A beautiful talented cast showed why Tango is not only one of the sexiest dances in the world, it's also one of the most popular to watch.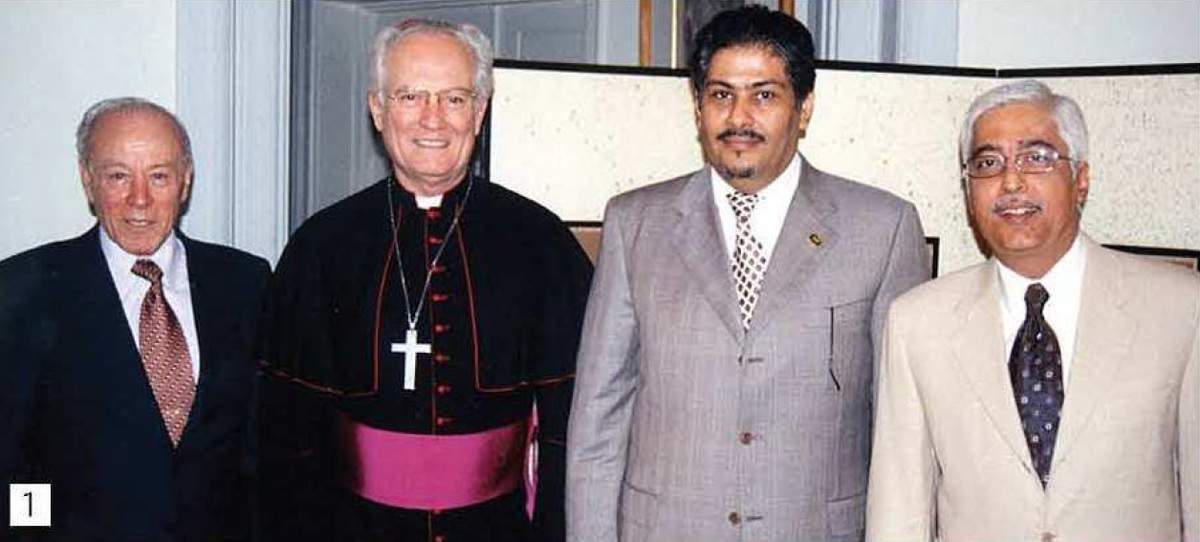 It was a beautiful day for Archbishop Ambrose B. De Paoli (Apostolio Nunciature) midday reception on the occasion of the 26th anniversary of the inauguration of the Pontificate of His Holiness, Pope John Paul II. Once guests congratulated the Archbishop and his staff they moved out to the garden to mingle, chat and enjoy the mostly Italian buffet. Islam was very well represented that day. Proof positive that intel­ligent caring people, no matter what religion they've chosen to follow, can be together and get along with each other. I consider myself a Christian, but have studied the Koran and spent a lot of time in Islamic countries. I really respect Islam, and find so many similarities to Christianity. It's just a shame terrorists use religion to try and justify the terrible things they do to their fellow man. Have faith my friends, and pray to your God (or gods). Man will learn to peace­fully live together.
PLACES
Time to move off the pulpit and talk about anoth­er charity project where ladies from all races and all religions work togetl1er to help others. As always, December was one of the busiest months of the year. As always, one of the highlights of the many special end-of-year events was the annual Ikebana International fair 2004. I went a bit early and there were long lines of ladies waiting for the fair's patron, Princess Takamado (looking super chic in all grey), to cut the ribbon to officially open the event. Dahlia Badr, wife of the Egyptian Ambassador, was chairperson of the hugely successful charity event that took place in the Akasaka Prince Hotel. The Ikebana display by masters of the art was magnificent. Many wives of many ambassadors brought in fashion, jewelry and accessories from their countries and set up colorful booths in the exotic "International Market." I was sorry I couldn't stay for the special lunch and show in honor of Princess Takamado. TAJ Enterprises did an exciting presentation of Kazuo Ogawa's beautiful Egyptian jewelry collection. Proceeds from the fair go to many worthwhile causes. Kudos to all concerned.
On Saturday, Mar. 12, the Society of Wives of Ambassadors and Head of Missions in Japan will hold their 7th Arab Charity Bazaar. The popular event will take place at the Egyptian Embassy from 11am to 3pm. Over coffee Muna Al-Ansari, wife of the Qatar Ambassador and President of SWAJ, told me that she, along with the 18 other member countries, are going all out to make this the best Bazaar yet. There'll be a huge variety of homemade Arab food, soft drinks, handicrafts and fashion from each country, and a raffle. There'll also be a henna painter who can paint your hands in beautiful Arabic designs. Just saw a photo of tennis champ Serena Williams having her leg painted when she was in Dubai for a tennis tour­nament recently. It's a popular trend now. Entrance fee for the Bazaar is just ¥500. Part of the proceeds will go to the earthquake victims in Niigata. For more information call 03-5475-0611.
*First published at the Tokyo Weekender