Bill's Partyline April 16th, 2004
PEOPLE
I just got a letter from the former Thai ambassador in Tokyo, Sakthip Krairiksh, and his wife Benchapa. They'll be leaving Washington soon and "settling in back home."
This was the seventh year for one of Konishiki's pet projects, "Konishiki's Kids." The program brings 35 11-year-olds from the poorer neighborhoods in Hawaii to Japan for an event­packed week of fun, new friends and new experiences. These include a visit to a sumo stable and sumo match, ski­ing, a half day and lunch at a Japanese school, a day at Tokyo Disneyland, visit to Tokyo Tower and a class in ikebana (flower arrangement) and tea ceremony. During their stay, the kids put on a colorful Hawaiian show for the sponsors at a reception Konishiki hosted at the Marriott Hotel. One of their teacher- chaperones told me they had prepared for months for the show, and it was extremely entertaining.
PARTIES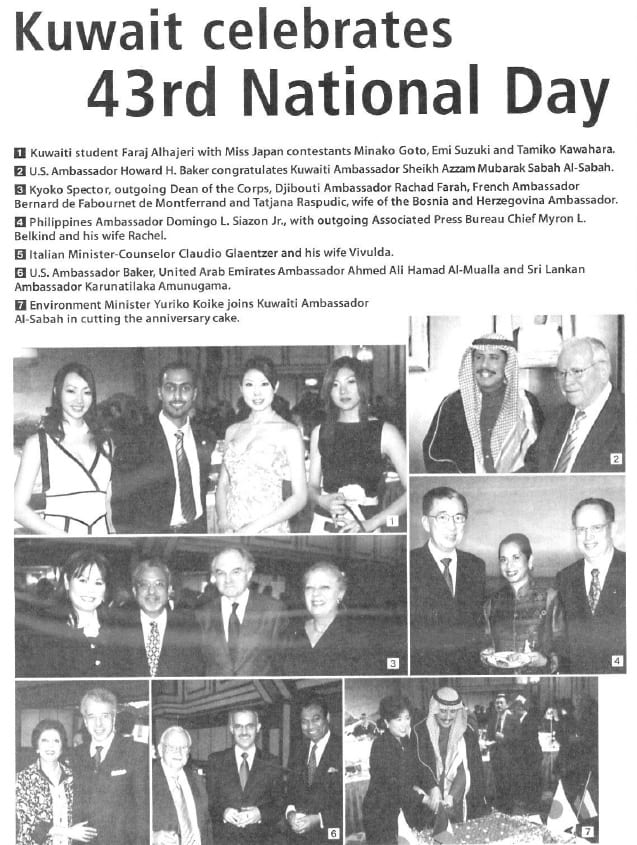 Kuwaiti Ambassador Azzam Mubarak Sabah Al­Sabah hosted a glittering recep­tion on the occasion of Kuwait's 43rd National Day celebration. It was wall-to-wall people in the huge Fuji Room at the Imperial Hotel, and large gold­framed portraits of Amir Sheikh Jaber Al-Ahmed Al-Jaber Al­Sabah and Prime Minister Sheikh Al-Abdulla Al-Sabah were prominently displayed, and a huge ice-carving of a dhow (a traditional Arab boat) with Kuwait's national emblem was in the center of the room. A traditional Kuwaiti room, a duwmiya, had been set up, and guests were able to relax and enjoy the mint tea and sesame seed-covered dates served by the embassy staff. Special guests included U.S. Ambassador Howard H. Baker Jr. and Japan's Environment Minister Yuriko Koike. There was glamour galore as well with a group of Miss Japan contestants.
PLACES
Volker Jaindl, director of the Austrian National Tourist Office, hosted a reception in the Roppongi Hills Academy to introduce visiting representatives of Vienna and Salzburg. The group was in Tokyo to talk with travel agents and the media about the full calendar of special events to celebrate Mozart's 250th birthday in 2006. Austrian Ambassador Peter Moser took time out of his busy schedule to drop by, and it was nice seeing him again. Volker is well liked and high­ly respected. He also has a good sense of humor, and that plus an excellent visual presentation and a buffet of Austrian specialties, made it a truly enjoyable evening.
Cebu's Mactan Island in the Philippines, with its beautiful Shangri-La and Maribago resorts, is a marvelous getaway. In addition to its beaches, sun, island hopping and seafood, Cebu has become a producer of top class furniture. New young Filipino designers are giving a new look to rattan and wrought iron furniture. Some refer to Cebu as the "Milan of Asia'.' If you're looking for a dynamic new style, check it out. Prices are still right.
*First published at the Tokyo Weekender