Bill's Partyline April 6th, 2007
PEOPLE
On Sunday, March 18, Alfredo and Carla held a baptism ceremony for their beautiful seven-month-old daughter, Fiorella, at the chapel of the apostolic Nunciature. About 90 guests at the ceremony celebrated the occasion at a special reception that Martiz hosted later at the New Otani. Ambassador Martiz' son is an architect who graduated from Rikadai Tokyo Science University. His specialty is environmental architecture and he is working on a new faculty of architecture in Ho-chi-Minh City.
I learned a lot over lunch at Suji's restaurant with 20th Century Fox General Manager Japan Jesse Lee and Vice President Marketing John Flanagan. Jesse was with Fox in Korea for 14 years and has been in Japan since July 2006. John has been with the company for over three years. By the time you read this, they had a special visi­tor, Sylvester Stallone who was here to promote their film Rocky The Final. He flew over from Thailand where he was filming yet another Rambo. John and his wife Michiyo did some adventure traveling as well recently, when they flew to Tahiti to take part in a big marathon there. Others who traveled for sports recently included Palestine Ambassador Waleed Siam's daughter Dirna. As an important member of Sacred Heart's Varsity Basketball team she flew with them to Pusan to play in the all-Asian competition. They came out second.
Our sincerest thanks to the Ritz Carlton Tokyo Gen­eral Manager Ricco DeBlank and Yoshie Jun for taking the time out of their super-busy schedule to give me and a Japanese company president friend a special tour of their magnificent new hotel in Midtown Tower. This is a truly luxurious addition to our city's always chang­ing skyline. Check it out!
PARTIES

An evening hosted by Pakistan Ambassador Kam­ran Niaz at his home on the occasion of Pakistan's military day really gave me the opportunity to meet a lot of interesting people for the first time. That plus a super buffet of Pakistani foods made it a truly enjoyable get-together and celebration.
Our Swiss friends proved they really know how to party at a colorful and lively holiday celebration in the Kiku Ballroom at the Hilton Tokyo. It started with a variety of traditional Swiss music at the cocktail re­ception before dinner. The program in the Ballroom included short speeches by club VIPs, a breakdance performance by Soul Messiah, a visit from "Santa", a doorprize drawing, and dancing to Ohagi san and his band. The bountiful buffet included a large va­riety of Swiss food prepared at its best by Hilton's international chefs. It was a very special evening in every way.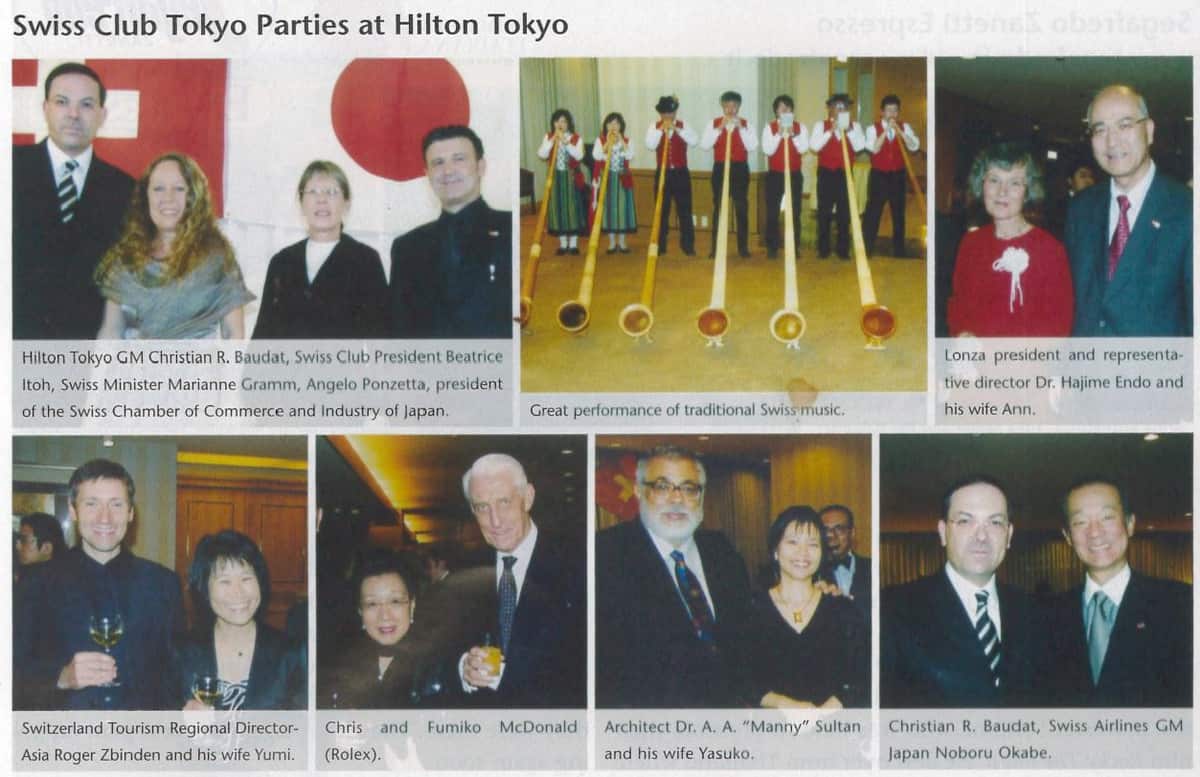 I can say the same about the glittering reception Bahrain Ambassador Dr. Khalil bin Ibrahim Hassan and his wife Salwa Almaiyoos hosted at the Imperial Hotel on the occasion of their country's national day. Khalil and Salwa, two of the nicest people one could ever meet, are both medical doctors. He is a pediatrics surgeon and she is a diabetic specialist. They are a very popular couple, and there was a large turnout of their friends that evening. In addition to great Arab food, the buffet included Western and Japanese favorites. It was an enjoyable and relaxed evening with live classi­cal music adding to the already warm ambience of the celebration. As at most Arab events, many of the guests brought their children. The babies are beautiful and I really enjoy exchanging thoughts on world affairs with the high school and university students. Believe me, I learned a lot.
Panamian Ambassador Alfredo Martiz and his wife Carla Marotta have really been keeping busy. First, Panama was chosen to participate as special oversees exhibitor at the largest orchid festival of the world­the Grand Prix International Orchid Festival 2007. The festival was held at Tokyo Dome, February 24-March 4. Panama's booth showed unique orchids from the pres­tigious orchid farm Finca Dracula.
PLACES
The Asia-Pacific Ladies Friendship Society's annual festival and charity bazaar is on Wednesday April 18 10:30am-3pm at the A.N.A. Hotel. The popular and colorful event has fashion and handicraft outlets, and homemade food from each of the participating coun­tries. There will also be live entertainment from the Asian-Pacific region.
On March 19, there was a huge reception at the Italian Embassy to open the Mar 20 to Jun. 17, 2007 Primavera Italiana. Photos and a rundown on that later. Meanwhile, you should take advantage of the many events (art, opera, food, fashion, furniture, automobiles, motorcycles) and believe me much more. Many of the events are being held in the newly opened Midtown Project. Check the dailies for details.
Our friends from the United Arab Emirates and their many friends here in Japan will be very busy from April 24 through the 26 at the UAE-Japan Business Forum, which will be held at Tokyo International Forum. UAE Minister of Economy H.E. Sheika Lubna Bint Khaled Al Quasimi will head the big delegation coming, among other things, to strengthen the bilateral relations be­tween the UAE and Japan.
No matter how busy you are, set aside some time for Hotel Okura's 8th annual World Gardening Fair. This truly special and spectacular event place from May 2 through to the 6th in the Heian room of the Okura. Participating countries this year include Brazil, Panama, Malaysia, Saudi Arabia, Iceland, Switzerland, France, the UK, Spain, and Algeria.
Kudos to the Westin Hotel on the luncheon of the International Ladies Benevolent Society (ILBS) hosted there. From all reports the food, the flowers and the service was excellent. The hotel has done an excellent job of redecorating their lobby and TT coffee-shop area.
*First published at the Tokyo Weekender
*Images Copyright: Tsukasa Shiga