Bill's Partyline April 7th, 2006
PEOPLE
Late February through March, Tokyo was indeed a star-studded city. Visiting celebrities included Jet Li for Spirit (Warner Brothers) the gorgeous Charlize Theron for Aeon Flux (GAGA), the young actresses and actors from The Chronicles of Narnia (Buena Vista), Tommy Lee Jones for The Three Burials of Melquiades (he both directed and acted in the film), and Natalie Portman for V for Vendetta (Warner Brothers).
At dinner, after the premiere, I really enjoyed talking with Jet Li, who has a great sense of humor. I was surprised to hear Spirit Director Ronny Yu had directed several horror films including Freddy vs. Jason and the Clucky series. I was also surprised to learn that the star of the series, and one of my favorite actresses, Jennifer Tilly is Canadian.
The knock-out gorgeous Oscar-winning South African actress, Charlize Theron, spent a few days in Tokyo to promote Aeon Flex for Gaga. This was the superstar's fifth visit to Japan. "Aeon-Flex was the hardest film I've ever worked on," she said, adding, "I trained for five hours a day and worked with an acrobat from Cirque de Soleil to learn my stunts." Charlize loves Japan, but had to get back to the U.S. the next day to start another film and be a special guest at the Houston Film Festival.
Congratulations to HIH Princess Takamado's older daughter Princess Tsuguko who celebrated her coming-of-age day, (20th birthday) on Mar. 8. The Princess is a student at Edinburgh University in Scotland. Her primary study interests are criminology and criminal psychology. One of my minors at Arizona State University was criminology and I worked for five years in law enforcement. It's nice to share a common interest with the dynamic young lady. Princess Tsuguko was in Japan for a birthday break, and during her time here made her social debut with her mother at the Japan-Swiss Spring Ball at Hilton Tokyo Mar 10. Photos and more on this later. If you like to read adventure travel, pick up a copy of Michael Palin's Sahara.
PARTIES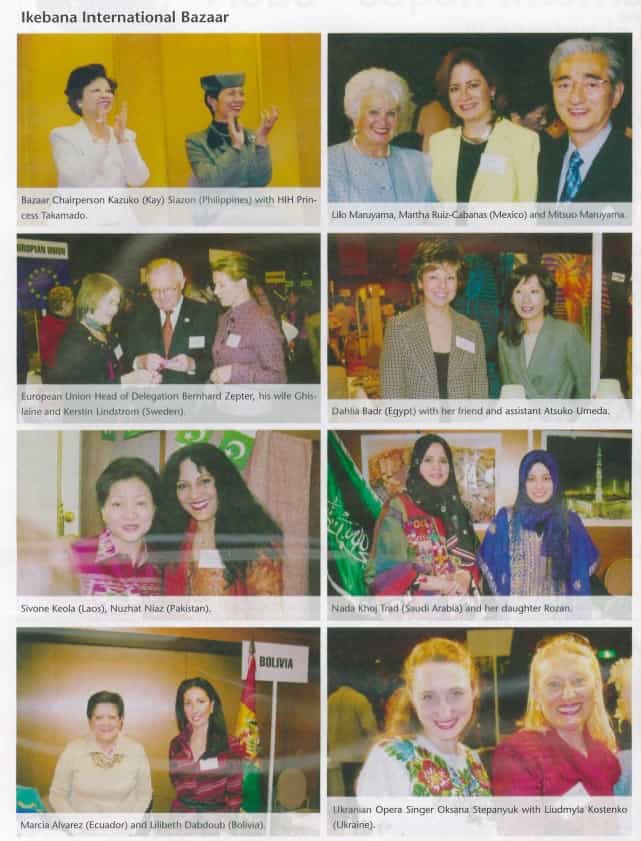 I really enjoyed one of the cultural highlights of Tokyo's always-busy social schedule — the annual Ikebana International Fair. The popular event took place at the Tokyo Prince Hotel. Ikebana International President HIH Princess Takamado (super-chic as always) was the special guest and Kazuko (Kay) Siazon, wife of the Philippines Ambassador, was chairperson of the 2005 fair. The highlight, of course, was the exhibition of a really marvelous variety of flower arrangements. The thought and work that went into so many of the floral creations made them all very special. A very big and sincere congratulations to all the participants.
An international bazaar has become an important part of the Ikebana International Fair. This year a record number of Embassies set up booths where they sold a colorful variety of handicrafts, jewelry, and fashion from their countries. The booth selling home-baked goods was particularly busy. I really appreciated the European Union Ambassador (Head of Delegation) Bernhard Zepter buying a couple of press tickets from the EU booth and giving them to me. I won a really nice Pelikan fountain pen set, which I use everyday to write thank you letters.
The annual ILBS holiday bazaar, I'm happy to report, was also a big success. Proceeds from the bazaar go to many worthwhile causes.
PLACES
One of my best recent discoveries is the Chinese restaurant in Roppongi. It's across from the 100 yen shop by Starbucks, right next to the Surbank. The menu features most of the Chinese favorites. The portions are adequate and average about Y900. Try the beef and green peppers, garlic chicken, eggplant and pork, chicken and cashews, or spicy tofu, satisfaction guaranteed. I plan to take the girls from Weekender soon, and will let you know what they think. Easter will be here before you know it, and the National Azabu supermarket has all those things to help you make it very special for your family. There's a variety of Easter baskets, egg coloring and decorating sets, and easter decorations on the second floor. On the first floor you'll find chocolate eggs, bunnies, etc.
*First published at the Tokyo Weekender
*Images Copyright: Tsukasa Shiga