Bill's Partyline December 12th, 2005
PEOPLE
I really enjoyed a laid back dinner at the Hama Steakhouse with Seven Swords Director Tsui Hark, his producer and wife Nansun Shi, and superstar actors Donnie Yen and Leon Lai. Hark, who has been on the jury of both the Cannes and Tokyo International Film Festivals, works with his wife out of their own production house Film Workshop in Hong Kong. "When we do a film together, it is sometimes like a battlefield," Nansun told me. She is very talented and has a mind of her own. Actor Donnie Yen, who's very outgoing, raved about (and ate a lot of) the Hama food. He lives in Toronto with his Chinese-Canadian wife, and travels a great deal for his acting career. I asked young, tall, pumped up Leon Lai, who is one of Hong Kong's most popular actors, what martial arts he studied. "None," he replied, adding "I'm really into swimming." It was a great evening with special people. I am just sorry I don't have more space to talk about it here.
PARTIES
Our Filipino friends go all out to celebrate Christmas, and it's a great time to be in their country. When I was there in late October, you could already hear Christmas carols and the stores and shops were taking down their Halloween decorations and putting up their Christmas displays. The variety of holiday decorations available in the Philippines has to be one of the biggest and most beautiful in the world. As just about anything else there, the prices are really reasonable. If you are into decorating in a big way, a trip to Manila just to buy decorations, as well as a few gifts, is really worthwhile. Next year the Philippines and Japan celebrate 50 years of diplomatic relations, and from what I've heard there'll be all kinds of events, both there and here to celebrate the special occasion.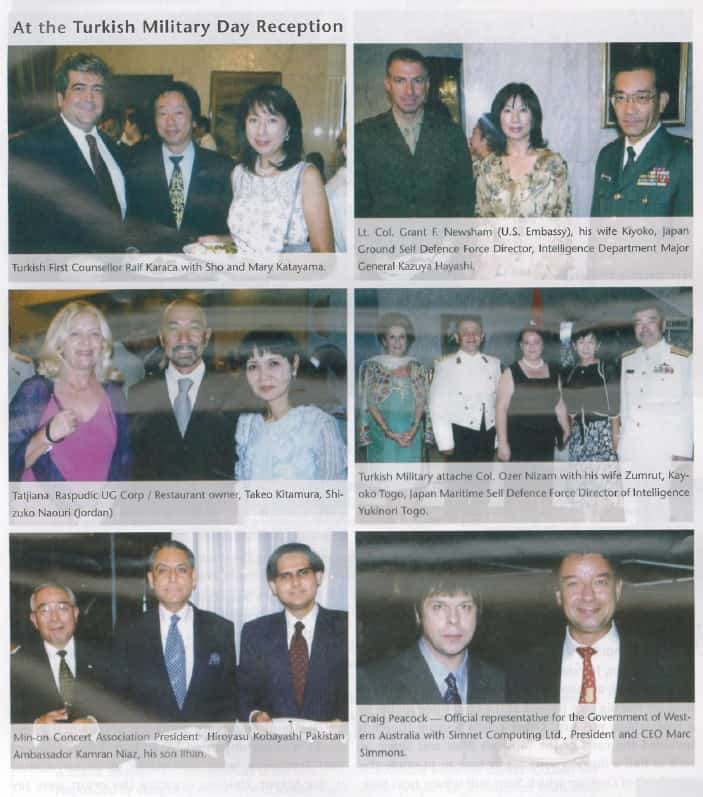 As with any event at the Turkish Embassy there was a good turnout for Turkish Military Attaché Colonel Ozer Nizam and his wife Zumrut's reception on the occasion of the Turkish Armed Forces Day. Always active Ambassador Solmaz, who always supports her staff and everything Turkish was in the receiving line with the hosting couple. It was a nice evening, so many of the guests moved to the garden. This was not only for the weather, but for the delicious doner kebab sandwiches that Roppongi friend Erden Tekin and his staff were serving there. I enjoyed talking with Sho and Mary Katayama (Jaguar-Aston-Martin), but was sorry to hear that their son, Yushi, has left his job at Levis.
I almost didn't get over to the Association of Wives of African Ambassadors in Japan's 7th Annual African Charity Bazaar, but I sure am glad I did. The colorful and fun event took place at the Embassy of Angola. Daniel Smith of ACTV joined me there and, as always, did a great job of covering the bazaar for my website People Party and Places. Each participating country had a booth where they sold a wide selection of their country's artifacts and handicrafts. There was also a food section with a lot of interesting and delicious home-cooked African cuisine. Three young African musicians added excitement with their dynamic music. Demonstrations included hair-braiding and henna tattooing. Guests really got a look at the people and landscape of his country in Angolan photographer Jose Silva Pinto's exhibition. It turned out to be a great day in every way. A special thanks to a very special lady, Nadia Bendjama, wife of the Algerian ambassador. As busy as she was, she really made sure Dan and I got VIP treatment all the way. This year marked the 30th anniversary of the independence of the Republic of Angola.
PLACES
Here in Tokyo, I had a really enjoyable evening with long time friends Jun Mokudai and Tommy Ma at California-French restaurant Cuisine 219. Jun is the only Japanese I've met who has the title of Chairman of a U.S. Airline (Northwest) in Japan. Tommy, who recently retired from Northwest, has helped me so much over the years. He's now consul for Kasuga & Co. (Chianti restaurants etc.) Cuisine 219 is the brainchild of Noriko Takahashi. She worked for Northwest for 13 years before following her dream and studying at a wine school under Japan's number one sommelier, Tasaki. Two years ago Noriko opened her chic restaurant, Cuisine 219 on Aoyama-Bochi, also known as Cherry Street, just across from NTT. The restaurant, with its warm ambiance, excellent service, gourmet food and huge selection of wines, was full of interesting people that evening. I enjoyed meeting outgoing and personable Loren Trefethen. His father owns the Trefethen Vineyards in Napa Valley, California, and Loren was here promoting their fine products. He, as well as his father, live in the fast lane. Loren's very much into bicycle racing and his dad races BMWs. "Cuisine 219 is my, as well as many winemakers who visit Tokyo's favorite restaurant, and we're all fans of Noriko," Loren told me. Drop by Cuisine 219, I'm sure you'll be glad you did. Reservations are recommended. Tel. 03-5772-2190, Fax. 03-5772-2189.
The all-day event (Sun, Oct. 30) took place at the National Azabu Supermarket. Their now annual Halloween Party, parade and, costume contest was bigger and better than ever. Concessions included popcorn, paella, "the best hotdogs in town", cotton candy, soft drinks, and, of course, Baskin-Robbins ice cream. It was a fun day for everyone there. I especially enjoyed taking a parade of the kids across the street where the Segafredo staff passed out cookies and candies to the little trick or treaters. Sorry to say, I've made a few mistakes on names in my column lately and really apologize to anyone whose name I've fouled up. With the number of events I go to and people I meet it's not always easy. With your help, I will do my best to remedy this. Meanwhile, I will fall back on the old saying "to err is human, to forgive divine".
*First published at the Tokyo Weekender
*Images Copyright: Tsukasa Shiga