Bill's Partyline December 3rd, 2004
PEOPLE
I recently had the opportunity to go to Seoul to interview "arguably the most popular actress in Korea," Jun Ji Hyun. She's starred in "My Sassy Girl," and II Mare," and was just in Japan to promote "Windstruck" which Warner Bios. Jun is gorgeous, full of energy and has a great sense of humor. After graduating in film and acting from Dongguk University she made her modeling debut on the cover of Korea's top magazine, Ecole. She was spotted by several television executives and given starling roles in several series, including the hugely popular "Steal My Heart."
She caught the eye of director Yang Yun-Ho and he cast her as the lead in his film "White Valentine." From that point on she's been very much in demand. "My Sassy Girl;' which won a host of awards, propelled Jun into the international lime-light. In 2001, she received a prestigious Korean award for best actress, the Golden Bell. For attracting international attention to the Korean film industry she was given the Asian Culture Exchange Award for services to the tourist industry. "Windstruck," the first Korean film allowed to be shot outside after dark by the Government, takes place during the summer months but actually was shot in the beautiful but bitterly cold Korean winter. The cast wore light clothing, were filmed in the open countryside and, for one scene, even had to plunge into icy water. The breathtaking beauty of Seoul's cityscape by night was accentuated by the filmmakers' idea to illuminate the Olympic Stadium and World Cup Stadium.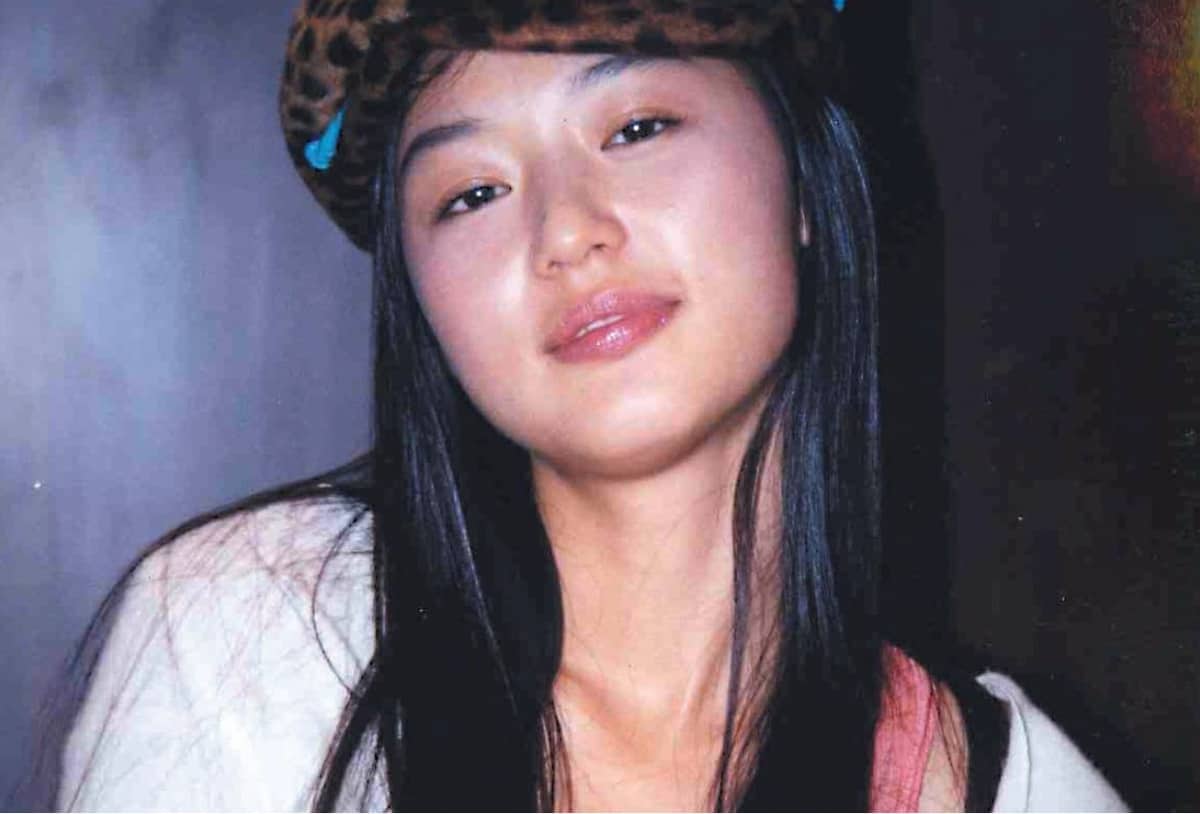 Jun is the first in her family to act — and she loves it. For her role, Jun trained hard for the physical challenges of the film, which included swimming in rough currents and diving off a high building. When I asked Jun about her diet and training for her acting she answered, "No special program. I'm still young and find my strength in both my youth and confidence." She was happy working on "Windstruck." "Our producer Bill Kong, director Kwak Theyong, my co-star brig Hyuk (Myungwoo Go), and the rest of the cast and crew were all like one big family. This made it all so much easier."
Jun's favorite actor is Al Pacino, her favorite actress Gong Li. She hopes, like Zhang Ziyi, ("Hero," "Lovers") she can become more international. "When I go on vacation I study English," Jun told me. She was also really happy about better relations between Japan and Korea and the fact movies and music are really contributing to this. A case in point of Japan and Korea coming together was Warner Bros. bringing along Johnny Kitagawa's pop group V-6 to Seoul to film a popular TV quiz show with Jun. Even though there was an interpreter in the room my interview with Jun was, for the most part, in English. It really made me feel good when at the end of the chat the super-nice girl said, "I'll never forget this interview. It's my first one in English." Warner Bros. will be showing "Windstruck with English subtitles at Virgin-Toho Cinema in Roppongi Hills from Dec. 11
Val Kilmer promotes collage collection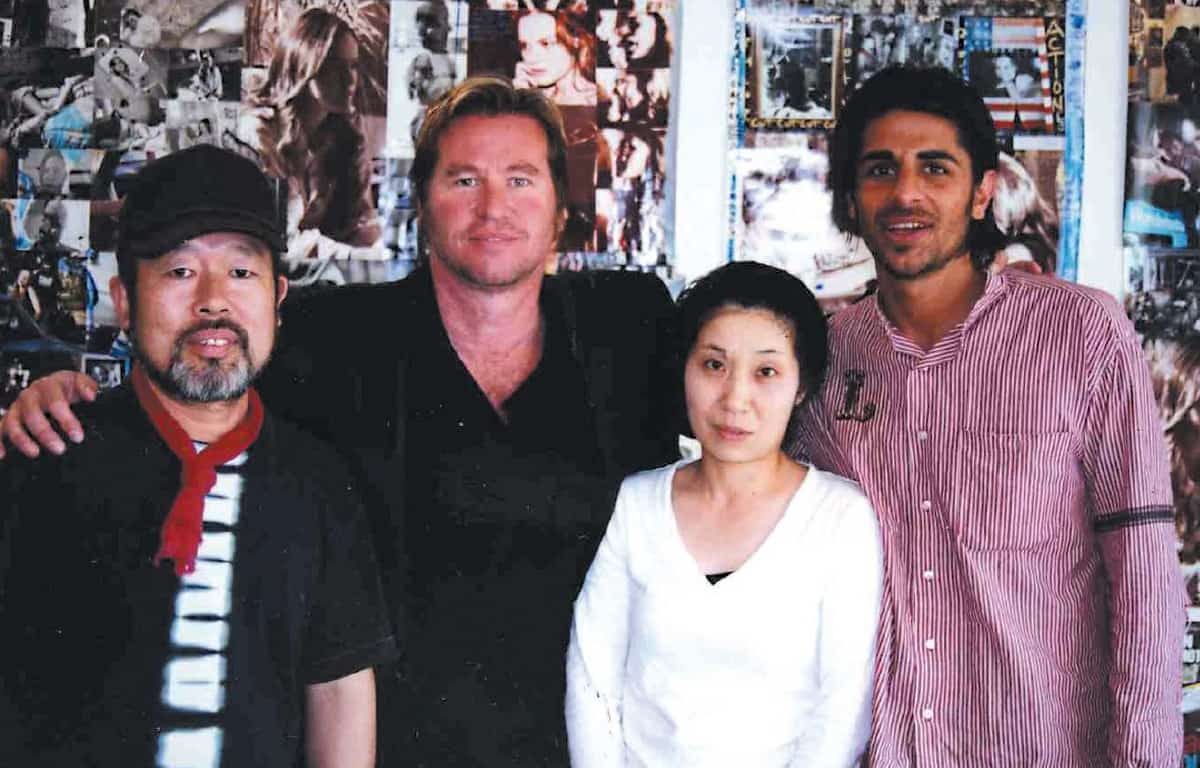 A. Actor Val Kilmer was in town to show the collage collection he did in conjunction with artist Ali Alborzi, at Gallery 360 in Aoyama. The collages featured scenes from Val's film "Wonderland" in which he plays porno star John Holmes, AKA Johnny Wadd. Val's been busy. You can see him as Alexander's (Colin Farrell) father in Oliver Stone's "Alexander" and he's now playing Moses in a musical "The Ten Commandments" at Hollywood's Kodak Theater.
Vin Diesel tears up Roppongi on Riddick visit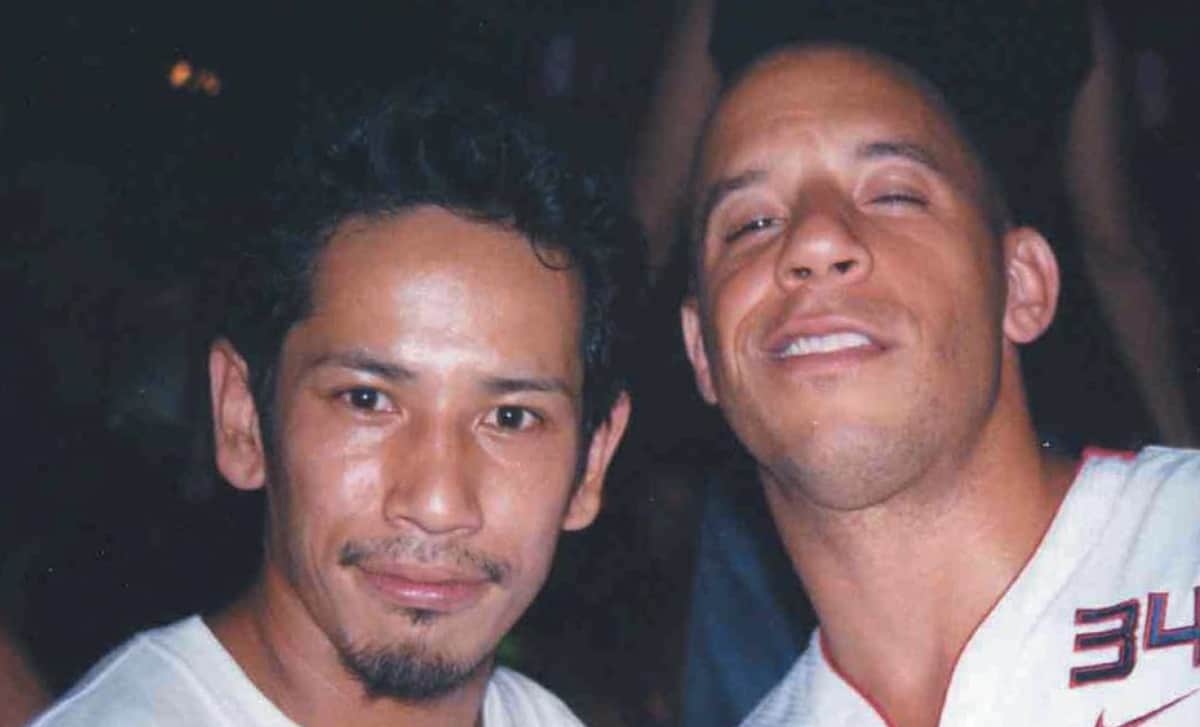 Toshiba Entertainment Inc. brought very energetic and fun action star Vin Diesel to promote his film "The Chronicles of Riddick." His personality and antics really won over the media at his press conference. The big guy likes the Lex, and partied there all three nights he was in Tokyo. One of those nights was the club's "summer matsuri" party, and Vin got up on the divide between the dance floor and the VIP corner and put on quite a show. This included leading the crowd in a cheer — "Riddick, Riddick, Riddick" — and shouting in the voice he used for the ani-mated film "Iron Man." I especially appreciated him saying, "Forget it, I love it here," when a couple of models tried to take him to another club. Both of those girls, I learned later, did make their own way to his hotel room later. That's showbiz, that's Roppongi and, in many cases, that's the modeling business.
PARTIES
Egyptian Ambassador Hisham Back hosted a colorful reception at his embassy, full of wall-to-wall with interesting people, on the occasion of Egyptian National Dar Hisham, a seasoned diplomat, handled it all very well. All that was missing was his beautiful wife Dahlia. She was in Egypt traveling with a group of Japanese ladies on what I heath was a fantastic trip — Cairo, Luxor and a boat trip on the Nile.
Our Croatian friends, Ambassador Drago Buvac and his wife Andjelka, hosted a reception at their home to celebrate their beautiful country's statehood day. It was a relaxing laid back get-together with good friends and good food, perfect for the occasion. Drago and Andjelka are just back from a few weeks back home. They not only look rested; she has a new short hairstyle that really complements here.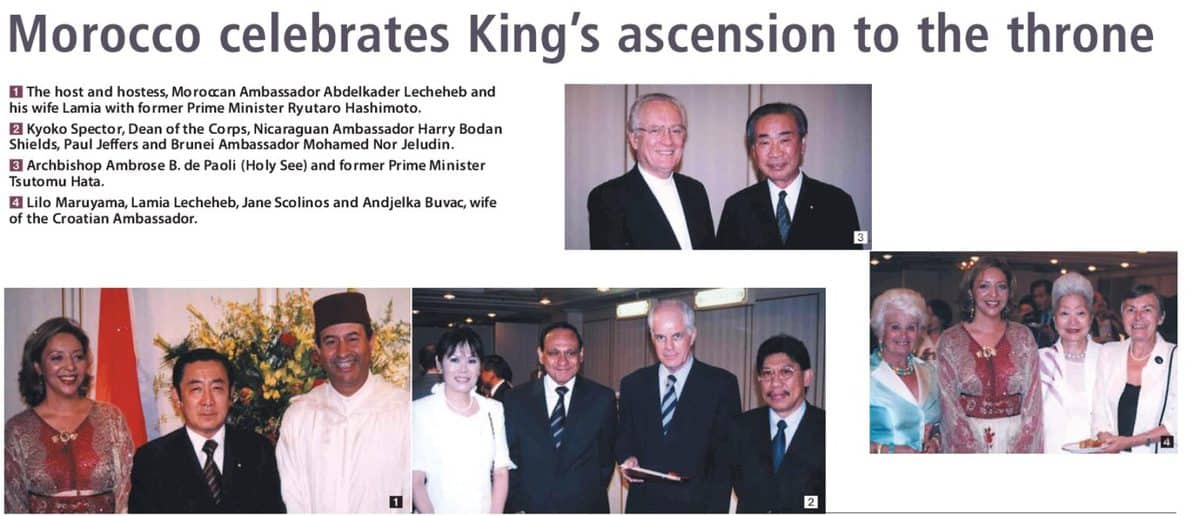 In the Rose Room of the Palace Hotel, Moroccan Ambassador Abdelkader Lecheheb and his wife Lamia hosted a lively and very appropriate celebration for the fifth anniversary of the enthronement of King Mohamed VI. The hosting couple looked regal greeting their guests in the national dress they wore for the occasion. Lamia's long dress, a contemporary Moroccan design, was super chic. I had the privilege of meeting King Mohamed VI when he was still Crown Prince and visited Japan. He's a real gentleman, extremely intelligent and very international. Morocco, as you know, has become a favorite destination for filmmakers for both work and play. Just a few of the many films shot on location there: Jerry Bruckheimer's "Black Hawk Down;' "Sahara" and Oliver Stone's three-hour "Alexander."
Belgium Ambassador Jean-Francois Branders and his wife Josephine have been super busy the last month or so. On Nov. 15, they hosted a well-attended midday reception at their residence on the occasion of their King's Day. The following day the Yes Program of the Belgian-Luxembourg Chamber of Commerce in Japan held a fashion presentation of noted designer Tim Van Steenbergen. Happy birthday to Cara Haynes, one of the nicest (and most fun) people I know. Clara and her husband Oliver are world travelers, and often come to Japan to visit their son Steve — the busiest foreign geino-jin around.
PLACES
Fifty-one years after Sandra Moris father-in-law started a silver jewelry-accessory retail shop, the Moris will be cloing the shop in the Oriental Bazaar on Omotesando. Sandy, who writes travel columns and has written fashion columns has, over the years, stocked the shop with some beautiful and unusual items. They're discounting all prices and this really gives you the opportunity to pick up some great silver creations, as well as pearls, Polynesian accessories and netsukes at very reasonable prices. Sandi will continue to write, but hopes to spend more time with her family and their stable of race horses.
I recently had dinner with top producer Jerry Bruckheimer and his author wife Linda at Nobu. Did a lot of table hopping that night as the spacious restaurant was packed with Tokyo's in-crowd (both foreign and Japanese). People there included Grand Hyatt's P.R. guru Mark Kobayashi with a group of very chic lady executives, and idol maker Johnny Kitagawa, with a group of TV producers and directors. Nobu Matsuhisa's dynamic daughter Junko is usually at the restaurant. Ask for her and she, along with Nobu's staff, will make everything just the way you want it to be. Nobu's has some really worthwhile holiday menus. I almost always order Bobby De Nero's favorite, Black Cod with Miso. One of Soho's other prestigious restaurants, Olives in Roppongi Hills, is also very special. Check it out for yourself.
*First published at the Tokyo Weekender