Bill's Partyline February 6th, 2004
PEOPLE
Going back over recent columns, I saw I didn't give much-deserved credit to several individuals and companies who helped in making my orphans' Christmas party at the Hilton Tokyo a huge success.
The four super P.R. girls at the hotel, Momoko Gonohe, Mihoko Kobayashi, Ryoko Kita and Keiko Sakurai, put a great deal of time and effort into the event as did the hotel's Food and Beverage Manager, Kunio Ogawa. A special thanks as well to the Hilton staff who worked hard to help the party be fun and exciting for the kids who attended.
United Airlines, Buena Vista Films Japan, Warner Bros. Films Japan, Continental Airlines, 20th Century Fox Japan, Universal International Pictures (VIP) and Gene Pelc all donated a lot of fun gifts, each a gift for every child.
At the same time, my gratitude to the many ambassadors' wives who could not be there but sent gifts.
I'd also like to extend a special thanks to Ron and Maria Anderson, Grace Saito, Jane Scolinos and her daughters, Patty and Elaine, and Mitsuo and Lilo Maruyama. They all helped me send huge boxes of clothing, toys and other items to villages in the Philippines. I'm so lucky to have so many caring and generous friends.
PARTIES
It was an exciting people­packed evening when Lufthansa hosted a party at Meiji Kinenkan, a truly beautiful venue. The occasion was to bid sayonara to Lufthansa General Manager Japan Gregor Wende and to meet his successor, Otto F. Benx. After seven years in Japan, Gregor has been transferred to Beijing. He, his dynamic wife Sibel (she's Turkish) and their gorgeous daughter Cerin (she goes to Edinburgh University in Scotland) will be missed. Guests that evening included the heads of many airlines here as well as an interesting mix of diplomatic friends and socie­ty. I enjoyed seeing again SAS General Manager Japan and Korea Krister Greften's wife Meryl (she's South African), and I appreciate her introducing me to Anna Illichmann, wife of Austrian Airlines Area Manager, Japan and Korea, Georg Illichmann.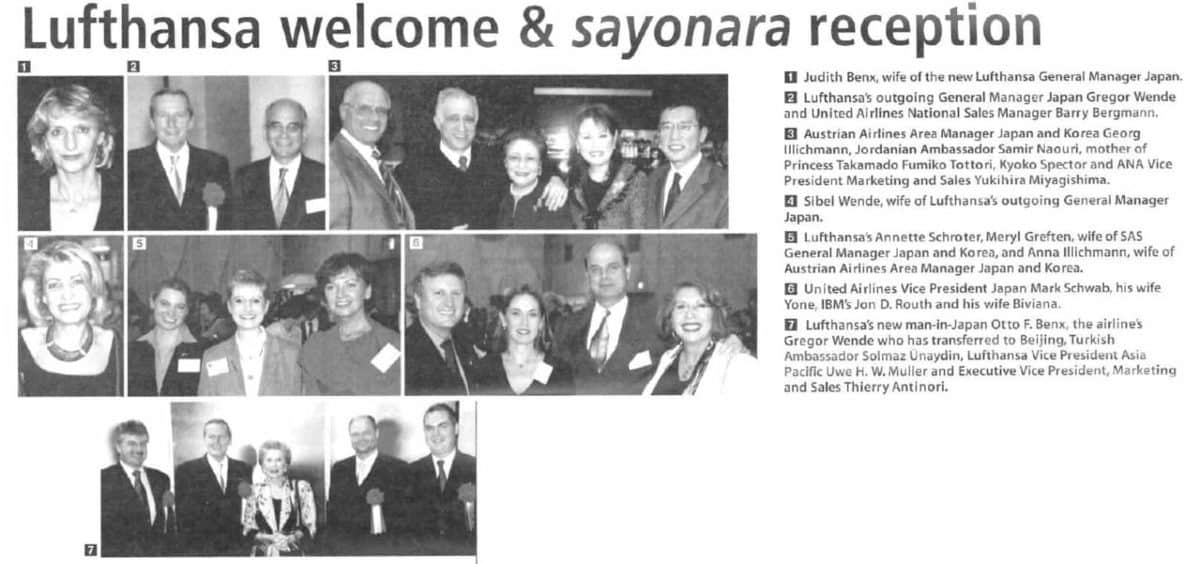 Here in Tokyo, Omani Ambassador Mohammed bin Yousef AI-Zarafi and his wife Zadjali hosted a glittering reception at the Hotel New Otani on the occasion of their country's National Day. The hosting couple, looking regal in national costumes, greeted guests at the entrance before moving into the reception room and mixing with the many interesting people. I especially enjoyed talking with the AI-Zarafis' daughters. They arc not only beautiful but also intelligent and outgoing. It was a splendid evening in every way, perfect for the occasion.
The super-successful Disney animation "Finding Nemo" was the closing film for the Tokyo International Film Festival and, to celebrate the event, Buena Vista Vice President International and General Manager Japan Dick Sano joined the festival's Tsuguhiko Kadokawa in hosting the festival's closing party at Bunkamura. The festive evening started with a thank you speech by TIFF's director general. Then Buena Vista executives and the "Finding Nemo" producer and. director went on stage to make brief welcome speeches. It was nice seeing Fran Kuzuki again, and I enjoyed talking with her and her husband Kaz about the latest of their many successful projects. They're executive producers of "Last Life in the Universe,, which will be released here this spring. The director is Penek Ratanaruang; he's from Thailand and was a TIFF jury member.
PLACES
During the Tokyo visit of Croatian Minister of Tourism Pave Zupan Ruskovic for the JATA conference, Croatian Ambassador Drago Buva and his wife Andjelka joined the minister in hosting a reception at the Imperial Hotel. Guests for the most part were leaders from the travel and tourism business here and diplomats from Croatia's neighboring countries.
Justifiably proud Croatians' superlatives for their country read, "The most beautiful, the most interesting, the oldest and the healthiest, the best and the most" about its national parks, islands, towns and cities, castles, churches and proud people.
I've heard from friends who have visited there, and it is indeed a very special travel experience. Hope to check it out myself this year. A little Croatian gingerbread heart Andjelka gave me that hangs on my bedroom door is a constant reminder Croatia is a place I have to visit again.