Bill's Partyline Jan 16th, 2004
PEOPLE
After seven years as Ambassador of the Russian Federation, Alexandre Panov and his wife Eugenija have returned to Moscow. There was, as expected, a huge turnout at their sayo1wra.
Other popular couples who have recently left Japan include Norwegian Ambassador Odd Fosseidbraten and his wife Ingrid Susanne, and Austrian Minister Wolfgang Angerholzer and his wife Susanne.
PARTIES
Thanks to the support of Hilton Tokyo, a large group of caring ambassadors' wives and other dynamic ladies here, my fifth annual orphans' party at the Hilton was bigger and better than ever. Princess Takamado was wonderful with the children, as she is with everyone. Former sumo champ, now top entertainment personality Konishiki made a great Santa Claus. Each of the participants had been assigned a child for whom they brought a gift. They also helped the kids at the bountiful buffet and got to know them.
In addition to the individual gifts, Konishiki brought something for each child, and there were lots of other great gifts as well from the Yokohama Doll Museum, Buena Vista Films Japan, Warner Bros. Japan, 20th Century Fox, Continental Airlines and United Airlines. I would also like to thank the dozen or so ambassadors' wives who could not be there but sent gifts for the children.
It was an exciting and colorful evening at the Turkish Embassy when Ambassador Solmaz Onaydin and her husband Terfik Unay hosted a people-packed reception to celebrate the 80th anniversary of the proclamation of the Republic of Turkey. Interesting people, special guests, a warm ambience and excellent Turkish food made it all very special.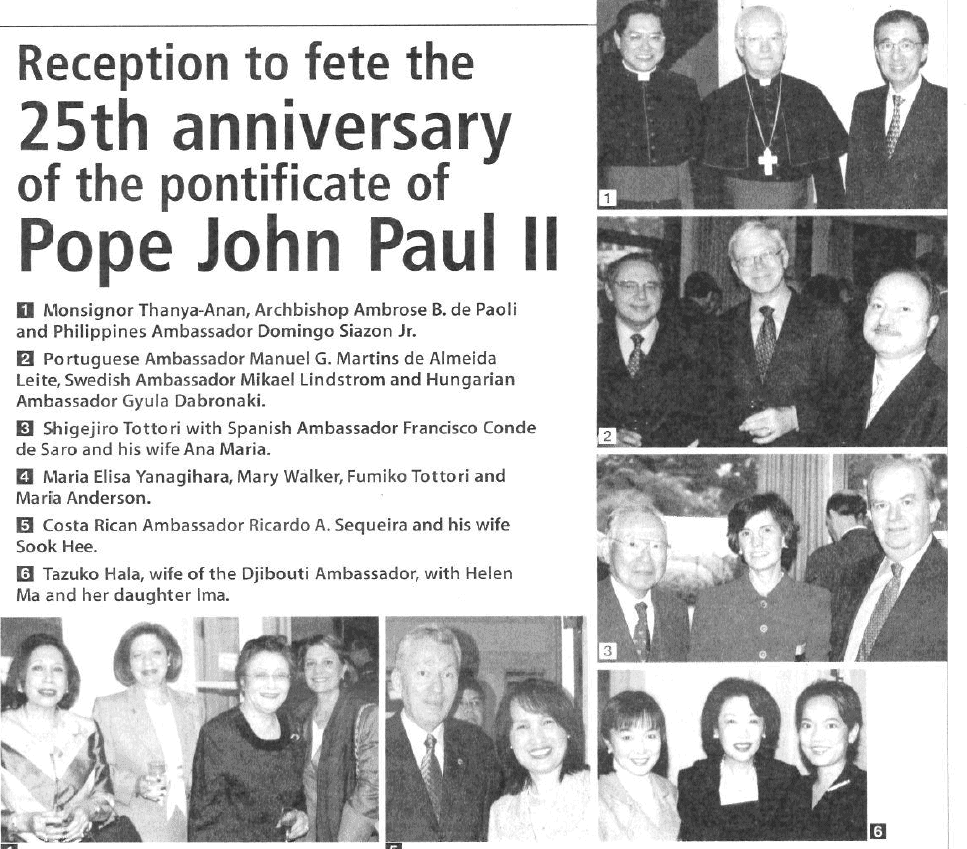 The same can be said about the mid-day reception Archbishop Ambrose B. de Paoli (Apostolic Nunciature) hosted at the Holy See Chancery. The occasion was the 25th anniversary of the Inauguration of the Pontificate of His Holiness Pope John Paul II.
PLACES
Spent much of my time with the Ireton family on Hawaii: Bill and Charo; their five exceptional kids, Matthew (17), Roberta (16), William (14), Thomas (12) and Edward (6), and Bill's mom Kiko. The lretons' home-away-from­home is in the huge penthouse in the Lagoon Tower of the Hilton Hawaiian Village. There's a panoramic view of the beaches, sea and Diamond Head, and the sunsets are spectacular. For the past three years, they've helped me with special arrangements for my suite on the 17th floor.
Had a great Mexican meal as well at La Cucaracha at 2310 Kuhio Ave. in Waikiki. Just didn't have time to check out the recommendations of Refugees International Japan President Ann Alkiac. Duc's Bistro in Chinatown, for French­Vietnamese food, is becoming very "in;' as is Indigo, a funky bar and favorite of the trendies, near­by. The crab eggs benedict at the Halekulani Hotel sound great. Thanks for the tips, Ann. I'll save them for next time.
Spent much of my shopping time at Ala Moana Center. My favorites of the hundreds of stores and shops in the marvelous mail include Armani Exchange, Sharper Image, Gap, Banana Republic, Sears and Long's Drug Store.
I learned from experience how much cheaper just about everything is at Long's compared to the smaller local pharmacies at Ala Moana. Be sure and take a coffee break at Honolulu Coffee on the third floor of the mall.
Another must when you're in Honolulu is some time at Borders Book and Music Store at 200 Ala Moana Boulevard. It's two huge floors of books, CDs and the like. It's all very laid­back, with potential customers relaxing in comfortable chairs and going through books in which they're interested.
The Bohemian Cafe looks like a library with people reading, writing or working on their computers over a cappuccino or cafe latte. Borders also has a DVD section with the best selection of foreign films with English subtitles I've seen any­where. I'm on No. 8 of the 30 I bought.
I pretty much did what you're supposed to do in Hawaii. Had some beach and pool time, drove around a lot, shopped, people-watched at the open-air Starbucks on Kuhio, worked a bit on my book and enjoyed every minute of it all. That's what Hawaii-a true paradise-is all about.
*First published at the Tokyo Weekender