Bill's Partyline January 5th, 2007
PEOPLE
British actress Helen Mirren has always been one of my favorites, (Calendar Girls etc.) and really happy for all the acclaim she's receiving (even Oscar talk) for her portrayal of Queen Elizabeth in the film The Queen. She really looks the part, and from all reports really gets into the Queen's personality during the days before and after Princess Diana's tragic death.
I got to know Helen when she was here for the Tokyo International Film Festival with her then-boy-friend, later husband, Director Taylor Hackford (La Bamba, Blood In Blood Out Delores Clairboume). Helen and Taylor are very special people. In addition to all the great plays and musicals in London's West End, the British are really making it big on the movie and TV scene.
Stars like Clive Owen, Daniel Craig, Jude Law, Judith Dench, and, as I said, Helen Mirren are fast pining popularity the world over in everything from heavy historical dramas to unbeatable English comedy. I love historical stuff and just finished the HBO series Rome. Even though there was talk of some censorship in Liberal London, I thought it was one of the best mini-series ever. Talk about a small world.
PARTIES
As one of the many special events to celebrate the 50th anniversary of diplomatic relations between the Philippines and Japan, Philippines Ambassador Domingo Saizon Jr. and his wife Kazuko (Kay) hosted a gala dinner in the Hilton Tokyo's Kiku Ballroom. Special guests included visiting Secretary of Tourism and Mrs. Joseph H. Durano and HIH Prince and Princess Hitachi. The superb dinner, the lively and colorful Philippines folk dance show and interesting people there, all added up to a very special evening, perfect for the occasion.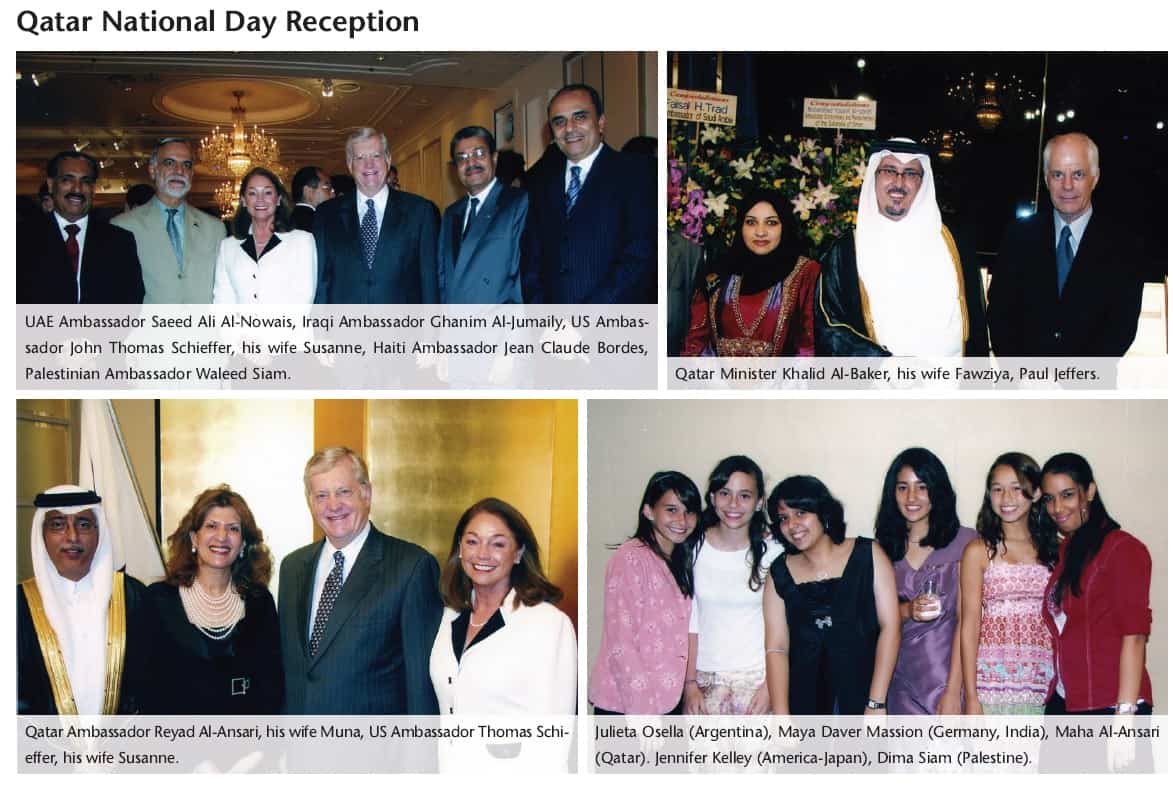 On the occasion of their 35th national day, Qatar Ambassador Reyad Al-Ansari and his wife Muna hosted a well-attended reception at the New Otani. For the occasion, the Ambassador wore national costume. Muna was high fashion at its best—a long black dress and a beautiful pearl necklace and accessories. Their daughter Maha, who's really growing up, also looked great in a fashionable black dress. I enjoyed introducing one of the world's top diabetes doctors, Kempei Matsuoka, to Bahrain Ambassador Khalil bin Ibrahim Hassan and his wife Salwa Almahroos. They're both doctors—he specializes in pediatrics, her specialty is diabetes. It's always fun introducing nice people to nice people, and happy to see they've become good friends.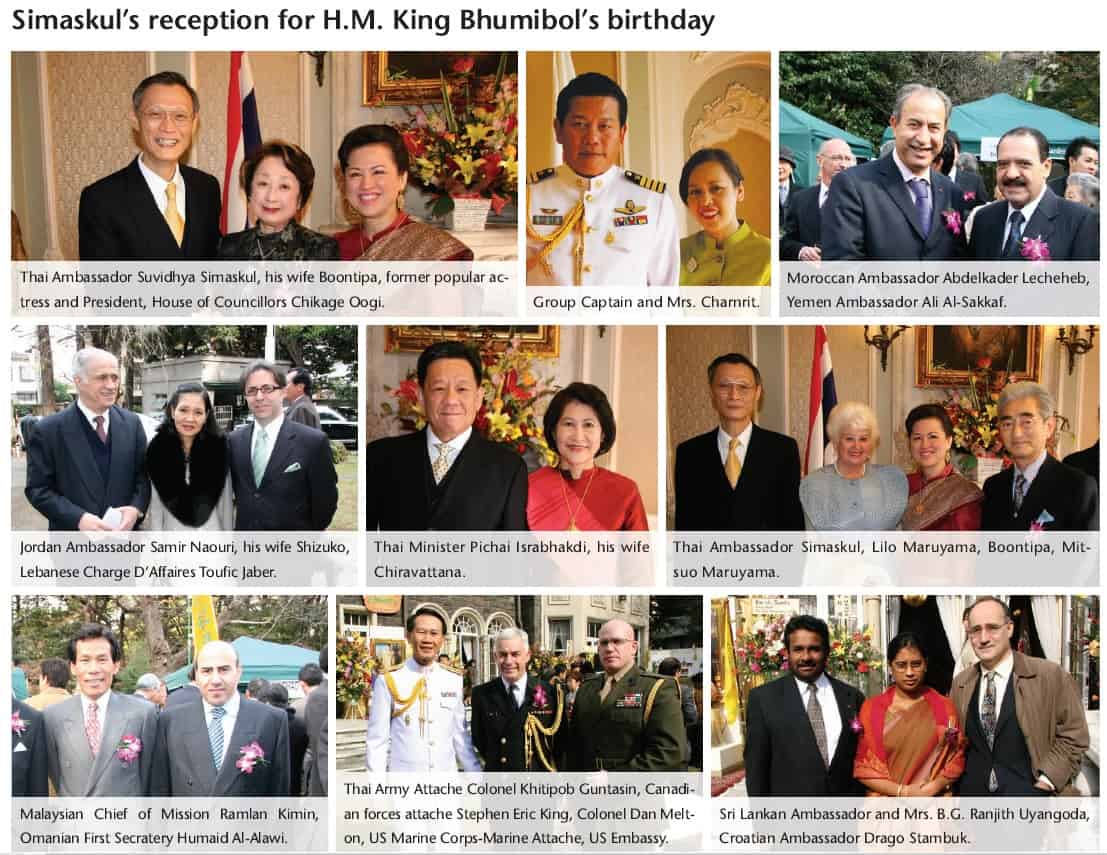 It was cold and sort of gloomy when I got up the morning of Dec. 5—that was the day Thai Ambassador Suvidhya Simaskul, his wife Boontipa and their staff were hosting a reception in their classically beautiful home and spacious garden. The occasion was to celebrate their highly respected and much loved King Bhumibol's Alulyady's birthday anniversary. This year also celebrate his majesty's 60th anniversary of the ascension to the throne. The many people there included top Japanese government officials, diplomats, and business leaders, other friends of Suvidhya and Boontipa, and members of the Thai community here. Everyone enjoyed the food, the live performance of traditional Thai music, and the ambiance. Thailand is a favorite tourist destination for travelers from all over the world. It's a marvelous blend of classic and contemporary culture that has so much to offer. It's best known for its beautiful beaches but you should travel to the north for the mountains, jungles, mountain tribes, golden triangle, and wonderful elephants. All this, plus the good, hospitable, friendly people. I remember when Suvidhya told me his wife Boontipa could do anything. She's constantly proving him right with her painting, singing, dancing and involvement in so many worthwhile projects. She's currently very busy as chairperson of the Ikebana International Fair, which will be held Mar. 4 at Tokyo Prince Hotel.
One of Tokyo's legendary Philanthropists, "Tokyo Grace" chairwoman Grace M. Saito presented an-other of her charity concerts. This one, which was to help world eradication of polio, was one of the main events to celebrate Tokyo Grace's 15th anniversary. Both the Rotary Foundation Polio Plus Partner Committee and Tokyo Niki Kai Opera Foundation supported the project.
PLACES
Still at the Hilton, General Manager Christian Baudat hosted a ribbon cutting followed by a reception on the occasion of the opening of their newly renovated executive lounge and guest rooms. The 173 guest rooms and suites as well as the lounge offer the best of everything (decor, ambience, comfort, service, etc.) for today's discerning business and leisure travelers.
Internationally renowned art gallery owner Normal Tolman just never slows down. Tolman Collection Gallery's recent special happenings here in Tokyo included the Color Your Life exhibition of the work of six Chinese artists at Shinsei Bank's magnificent venue. For ten days in December, there was an exhibition of Clifton Karhu's works at the Tolman Gallery. In addition to the artists' prints, they, of course, had his much sought-after calendars.
*First published at the Tokyo Weekender
*Images Copyright: Tsukasa Shiga