Bill's Partyline January 6th, 2006
PEOPLE
Congratulations to Watanabe Productions Chairperson Misa Watanabe and President Miki Watanabe on the 50th anniversary of Watanabe Productions. I've had a long friendship with the late and great founder Shin Watanabe and his family. I enjoyed taking Michael Jackson's father Joe to a big party held in honor of Shin, and met Miki one time in New York and introduced her to the legendary dancer-choreographer, Alvin Ailey. Another time in Tokyo I had a reconciliation party for Misa, and one of her artists, pop singer, Akira Fuse. He had married a friend of mine, British actress Olivia Hussey, and had decided to leave Watanabe Pro. The party was cordial, but didn't achieve what I had hoped for. Akira left and joined another entertainment promotion company. Oh well — you can't win'em all. Anyway Misa, Miki, their staff, and their many showbiz personalities hosted a glittering gala evening at the New Prince Hotel to celebrate their 50th. At last count, over 2,000 guests attended the lavish reception. What a monumental tribute to Shin.
PARTIES
I'd like to start out my first column for 2006 at Saudi Arabian Ambassador Faisal H. Trad and his wife Nadia Khoj's huge and glittering reception in the Peacock Room at the Imperial Hotel. The occasion was to celebrate Saudi Arabia's National Day. It was, as expected, a very well-attended event. Guests included top politicians, business leaders, diplomats, and an interesting variety of people the Tracts have become friends with during their just over a year in Japan. I enjoyed talking with Hattori, Wako, and Seiko Chairman Reijiro Hattori and I was really happy to see he has completely recovered and is doing well. Young Mongolian Sumo wrestler Kyokushuzan was the center of attention posing for photos with the guests. Speaking of photos, the display of some of the many historical and cultural attractions of Saudi Arabia sure brought back some great memories of my visit there.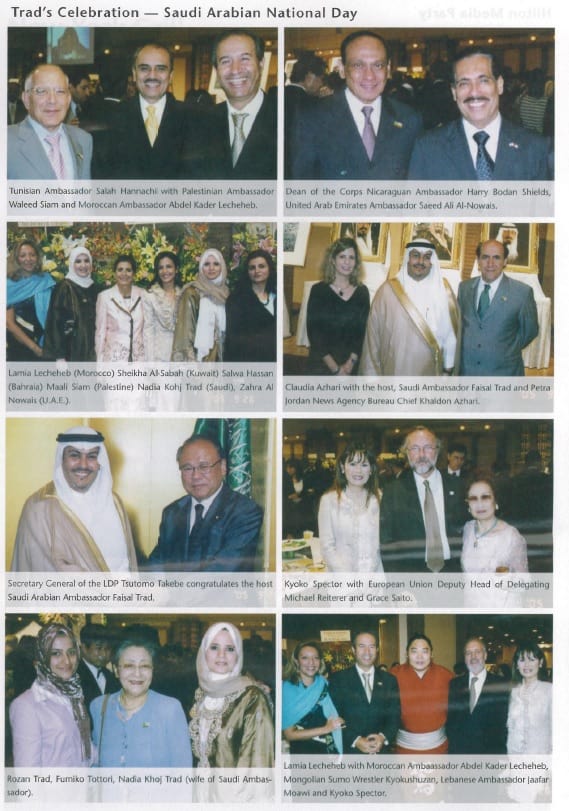 I was out of Japan for most of the Tokyo International Film Festival (TIFF), but was able to get to the closing party at Bunkamura. This gave me the opportunity to congratulate TIFF Chairman Tsuguhiko Kadokawa on what I heard was an interesting, successful festival, and meet some of the local and international participants as well.
The press enjoyed an evening of VIP treatment, gourmet cuisine, good music, and legendary Hilton hospitality at Hilton Tokyo's pre-holiday media party. The hotel's General Manager Christian R. Baudat was the host and his outstanding executive staff and PR department helped him meet and greet the guests, and make sure everyone had a great time – which they did. The buffet with its wide variety of food from each of the Hilton's outlets was superb. The bubbling fountain of liquid chocolate where you could dip strawberries, sliced banana, etc., was a favorite of everyone there. The musical performance by Filipina singer Maria Eva was a program of old favorites and the latest hits at their best, it was a great way for Hilton Tokyo to introduce all the special things they were doing for the holidays.
PLACES
Our friends at Oakwood were even busier than usual the last few months of 2005. The Australian and New Zealand Chamber of Commerce in Japan in conjunction with Oakwood, Village Centers, Live Cafe and Cor­porate Gourmet hosted a special evening, Autumn Ambiance, at Oakwood Residence Roppongi T-Cube. The open house gave guests the opportunity to check out the elegant Oakwood serviced apartment, enjoy a great live jazz performance, wines, and appetizing delicacies. They hosted another open house Nov. 24 to show the new Oakwood Apartments Roppongi Central. They are, as they say, a stylish sanctuary, moments from vi­brant Roppongi Crossing. A few months ago I visited a friend living in one of the Oakwood Apartments in upscale Makati in Manila, what a great place!
I have just checked out a Turkish fashion magazine Ambassador Solmaz Unaydin gave me, and I tell you it was full of beautiful people, cool fashion and the latest news and pictures on the entertainment, fashion and party scenes. Several friends who have visited Turkey recently told me it was great. Seems like Istanbul is really a happening city, and the beaches, resorts, etc. are very special. I hope to get back there one of these days soon — I hope you can too.
*First published at the Tokyo Weekender
*Images Copyright: Tsukasa Shiga