Bill's Partyline July 16th, 2004
PEOPLE
After three nights of sleeping on a plane, with one-day promos in Mexico and Australia and Japan, Executive Producer Jeffery Katzenberg and actor Antonio Banderas made a one-day visit to Tokyo to promote "Shrek 2" for UIP. They, of course, were really tired but enthusiastic at the press conference for the film. An animated Antonio, the voice of Puss in Boots in the super successful, computer animated film, told the media there was a bit of Zorro (from his film 'The Mask of Zorro) in his portrayal of Puss in Boots. He added he has two cats who are independent and sexy — both perfect for his research for his part. During the same period he was doing his part for "Shrek 2" ("coughing up hairballs…") he had nightly performances as the star (highly acclaimed, I might add) of the Broadway musical "Nine." it wasn't easy," Antonio said, laughing.
Japan had a star-studded promotion for "Troy," bringing in Wolfgang, Brad (Achilles), Eric (Hector), Diane Kruger (Helen) and Rose Byrne (Briseis), along with Benioff and producer Diana Rathbun. It was three days packed with interviews, press conferences and personal appearances for all concerned. The backdrop for the huge press conference was a dynamic replica of the pillars of "Troy," with hundreds of Spartan ships in the sea in the background. Brad had come down with a case of the flu, and there was considerable concern when he didn't show up for the first part of the press conference. Thanks to Dr. Eugene Aksenoff, though, and Brad's strength, character and devotion to the project, he came on stage at the end of the conference and spent considerable time answering the many questions from the media.
The Sony Entertainment people, as you're probably aware, have been super-busy promoting their big summer release — "Spider-Man 2." The Tobey Maguire press conference at the Park Hyatt in Shinjuku was well set up, as Sony had flown in several lighting technicians to do a dynamic visual presentation of trailers of the film with, of course, spiders. Tobey, a bit more subdued than usual, had hurt his back during the filming of "Seabiscuit," and there was talk he may not be able to do the strenuous stunts required for Spider-Man 2." But he exercised and went through some physical therapy, and the Sony people were relieved he was able to go ahead with the film. He was in Japan with his girlfriend Jennifer Meyer —daughter of Universal head honcho Ron Meyer — and didn't go out much. He, like Leonardo de Caprio, always brings a couple of film-related buddies with him, and they partied at the Lex. One of my favorite posters is a huge glossy Spider-Man, on which Tobey signed and wrote: "To Bill, my lighthouse in Tokyo." I appreciated this even more when I read in Entertainment Magazine he didn't like signing autographs.
Kirsten Dunst was here recently promoting "Spiderman 2" for Sony Pictures (check out our new entertainment section for more details). During her stay, she came to the Lex to relax after we had watched a show together. For some reason, there were a lot of U.S. Marines in the club that night, and a few really lost it when they saw the beautiful star walk in. With her security man's help, she got through the crowd, and back to the VIP section. I thought it was really nice of her to pose for a photo with one Marine who was having his birthday. It wasn't so nice when she went to the bathroom, and another excited- but a bit drunk- Marine grabbed her by the butt. Her securi­ty was furious, but she handled it very well. I appreci­ated that. The Marine by the way was thrown out of the club, and banned forever.
PARTIES
There was the six-day visit of the beautiful four-mast Chilean Naval Cadets Training Ship, the Esmeralda. The ship is on a six-and-a-half-month, around-the-world cruise and was docked at Harumi Pier. During its stay, Commanding Officer Antonio Idiaquez, along with Chilean Ambassador Demetrio Infante, hosted two grand receptions on the Esmeralda. We had 40 to 50 of the officers, cadets and crew at the Lex every day they were in port, and you could not meet a nicer group of guys who not only made friends for them­selves, but also for Chile. More on all that with photos later. Dean of the Diplomatic Corps, Nicaraguan Ambassador Harry Bodan Shields, and his wife Raquel had, as you can imagine, a very busy three days during the visit of Nicaraguan President Enrique Bolanos Geyer and a high-ranking accom­panying delegation.
The invitation read, "The Ambassador of Turkey Mrs, Sohnaz Unaydin and Mr. Tevfik Unaydin ( Rt. Amb.) request the pleas­ure of your company at a Made in Turkey Fashion Show followed by a reception'.' The event, a real extravaganza, took place at the Okura Hotel, and guests of honor included Prince and Princess Mikasa. There were 10 female and six male models, all terrific looking and very professional. The spectacular show featured the creations of more than a dozen of Turkey's top design­ers and performances by three of Turkey's most popular singers. The reception gave guests the opportu­nity to meet the models, singers and Turkish soccer player Ilhan Mansiz who plays in the J-League here and already has quite a following. Turkey should be proud to be represented by this special group of young people.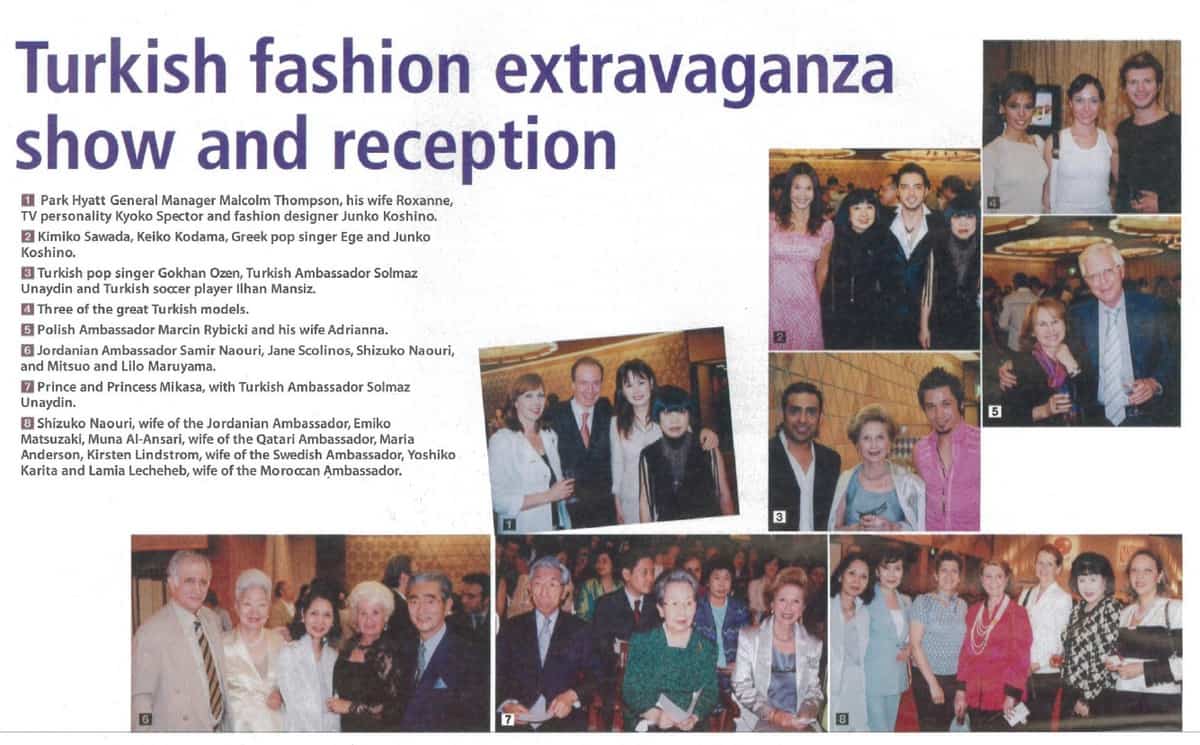 PLACES
It was a full house (in fact, they brought in extra seats) for Grace Saito's Grace-Kai Charity Concert in the Ballroom at the Park Hyatt. The special program featured soprano Taemi Kohama, tenor Kei Fukui, piano accompanists Jun Enomoto and Ryoko Kohama, and highly acclaimed pianist Hiroshi Arirnori. It was a marvelous interlude of classical music at its best and, of course, proceeds as with all of Grace's events, went to several worthwhile causes.
The Economist held another of its conferences, this one titled "China Business and Investment Roundtable:' It took place at the Four Seasons Hotel at Chinzan-So, and the list of government and business leaders who participated is much too long to list here, but you can be sure they had the top experts in their respective fields.
*First published at the Tokyo Weekender