Bill's Partyline July 1st, 2005
PEOPLE
In addition to the red carpet premiere of Batman Begins, at Warner Brothers, Roppongi Hills, being a star-studded event, everyone I spoke to really enjoyed the film. Comments included "more emotional, it's a bit darker", and "it's the best Batman ever!" Warner Brothers, as always, went all out to make it a special occasion. In addition to bringing in Christian Bale who plays Batman, they brought in several members of the all-star cast including Morgan Freeman, Liam Neeson, and Katie Holmes. The film is produced by Charles Roven and Emma Thompson, and directed by Christopher Nolen. Christian had his beautiful wife Sibi Blazic with him, and Morgan Freeman brought his cool daughter and granddaughter.
I first met Christian in 1987 when he was a child star here to promote Empire of the Sun. At a lunch, he told me he didn't think he was interested in doing any more films. He, as you know, went on to become a very versatile and highly respected actor. Thanks to my good buddy, Konishiki, I was able to take Christian and his wife Sibi to a charity Sumo match. The Bales had their two-month-old baby with them and we got out of the hotel a bit late so when one of Konishiki's boys met us, and he took us to one of our boxes, unfortunately, the last match had just finished and the variety show was about to begin. We stayed about 30 minutes. Christian said, "At least I get to hear a sumo wrestler sing!" Christian thanked Konishiki, saying "14 years ago, when I was in Kyoto, I remember meeting you, looking up and thinking, what a big man!"
PARTIES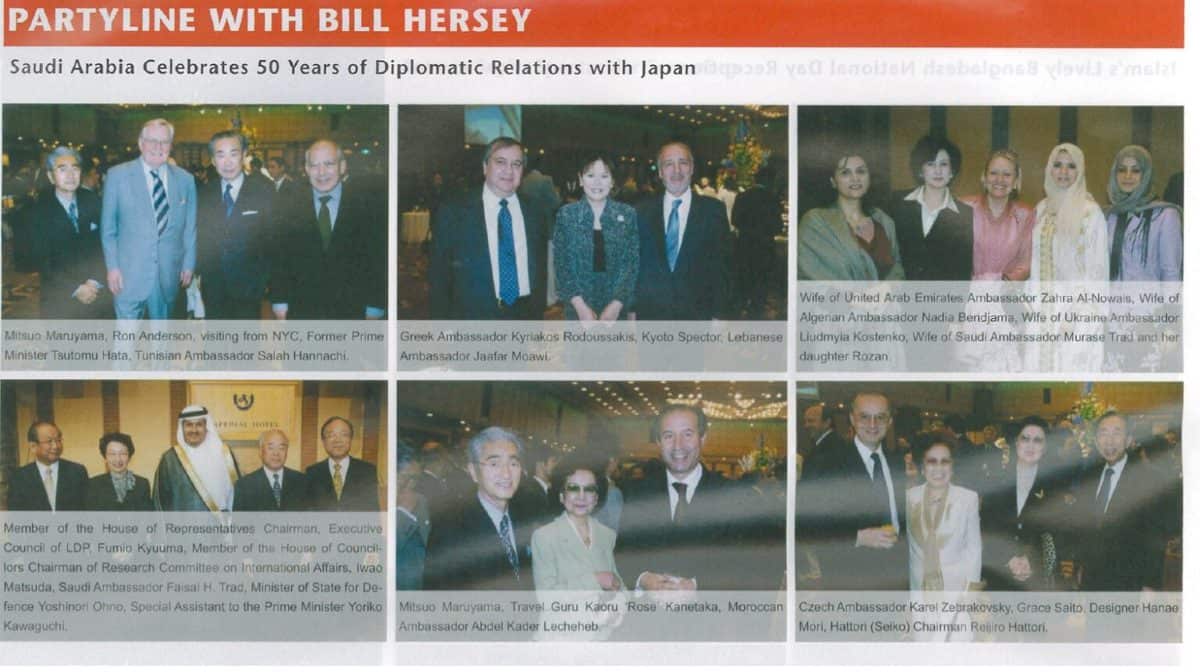 On Apt 12, Saudi Ambassador Faisal H. Trad and his wife Murase hosted a grand mid-day reception in the huge Peacock Room at The Imperial Hotel, to celebrate the 50th anniversary of the establishment of diplomatic relations between Japan and Saudi Arabia. There was no reception line that day and guests went directly into the Peacock Room to mix with the others there. These included top Japanese Government Officials, Diplomats, Business Leaders, Fashion Designers, TV personalities, familiar faces from law enforcement, and the arts and entertainment worlds. It was nice to see AIG's Ron Anderson. He and his dynamic wife Maria were visiting from NYC. It was also nice talking with former Prime Minister Tsutomu Hata, Hattori (Seiko watch) Chairman Reijiro Hattori, fashion icon Hanae Mori, and top lawman Atsuyuki Sassa. The program included a welcome speech by Ambassador Trad and congratulatory speeches by former Minister of Foreign Affairs, Yuriko Kawaguchi and several other dignitaries. A huge ice carving featuring the flags of Saudi Arabia and Japan had been set up in the center of the room, there was an excellent photo exhibition of Saudi Arabia's history and development and row after row of floral congratulatory arrangements. The bountiful buffet featured Japanese, Chinese, Western and, of course, Saudi favorites. A special brochure given to guests showed the many economic, trade, education, culture and sports projects that have been developed during the Saudi Arabia-Japan partnership.
I also want to congratulate Israeli Ambassador Eli Cohen and his wife Zvia on the 57th Independence Day of the State of Israel. To celebrate, the occasion they hosted a well-attended reception at The New Otani Hotel on May 12. On May 31, Greek Ambassador Kyriakos Rodoussakis hosted a reception at his home in honor of the President of the Hellenic Parliament H.E. Professor Anna Benaki.
PLACES
Finally, my thanks to Karl Hahne of Ashley Associates for the invitation to the International Theater Company London's performance of King Lear. Friends who were able to see the play said it was excellent. Check out the new three-meter-tall statue of the late great pop icon Freddie Mercury — the legendary vocalist of Queen — at Shinjuku Koma Theater. You should also catch the hit London Musical WE WILL ROCK YOU during it's three month run at the theater. Caroline and the girls at Weekender saw it and loved it.
*First published at the Tokyo Weekender
*Images Copyright: Tsukasa Shiga