Bill's Partyline July 7th, 2006
PEOPLE
Times are changing and it seems the powers that be are making things a bit easier for foreign film produc­tion companies to work here. It wasn't always that way. I can remember Hollywood super lady Sherry Lansing telling me about problems she had when they filmed Black Rain on location in Japan. "I did something I've never done before," she said to me, "I actually kicked the Japanese cameraman." Sherry also complained about "the endless red tape and rubber-stamped permits to shoot just about anywhere."
Sofia Coppola seemed to do a lot better when she filmed Lost in Translation in Tokyo a few years ago. Of course, much of it was shot at the prestigious Park Hyatt Hotel. That, of course, meant they had the full cooperation of the hotel's professional and always helpful staff.
Last year I joined Bill Ireton and highly-acclaimed Mexican director Alejandro Gonzalez Inarritu and several of his staff for an evening at the Kingyo showclub in Roppongi. Alejandro, who later won the directing prize for Babel at Cannes was in Japan hunting for locations to shoot the film. He shot Babel – a multicultural drama – all over the world, and didn't seem to have any real problems shooting here. Gaga will release Babel here later this year.
Clint Eastwood took the Japanese cast of his Warner Brothers film Letters from Iwo Jima to California to shoot most of a sequel showing the Japanese side of the battle of Iwo Jima as a follow-up to Flags of our Fathers, which shows the American side. The current population of Iwo Jima is for the most part Japanese military and the island itself almost a shrine for the many men (both Japanese and American) who died there. Even so, Tokyo Governor Shintaro Ishihara who has jurisdiction over the island allowed Warner Brothers and Eastwood to do some shooting there.
PARTIES
I had to fly back to Tokyo on May 26 for H.I.H. Princess Takamado, TAJ Enterprise and Hilton Tokyo's gala 'Wings of Love.' Proceeds of the evening went to Birdlife International, of which the Princess is honorary president.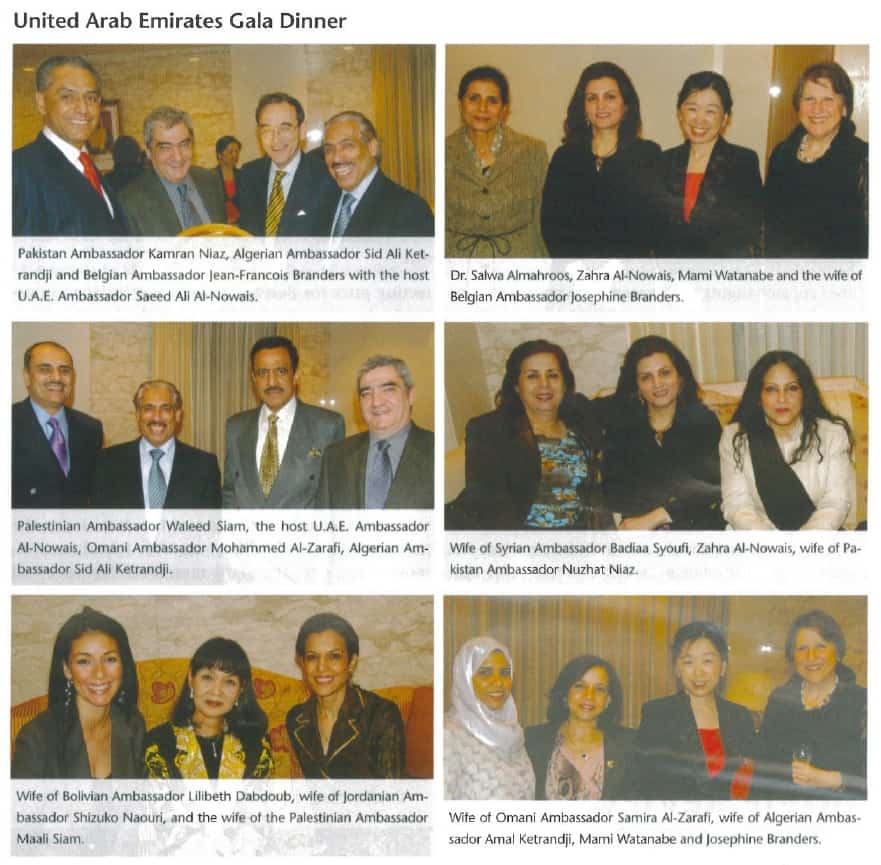 Arab hospitality is legendary, and it was certainly easy to see why at a dinner hosted by United Arab Emirates Ambassador Saeed Ali al-Nowais and his wife Zahra. I got to know Saeed very well when he was here with the Embassy from 1975-81. After Tokyo, his diplomatic career included high government positions in Abu Dhabi and his appointments as Ambassador to Pakistan, Spain and Sri Lanka. Back in Tokyo as Ambassador to Japan in 2005, Saeed is with his beautiful wife Zahra and their teenage daughters Fatima and Lalla. Their older daughter Fahah, a medical doctor, is In the U.A.E. The guests, the fantastic buffet of Middle Eastern, Western and Japanese foods, the warm relaxed ambiance and hospitality of the hosting couple added up to a truly enjoyable evening. I've visited the U.A.E. four times, and with all the mega-projects and development there, it's fast becoming a popular tourist destination. Dubai is really booming, Abu Dhabi is really building and Emirates Airlines a real winner.
First, there was Mitsuo and Lilo Maruyama's annual garden party at their one-of-a-kind rambling California style home in Tochigi. I heard from friends who were there that despite the rain, the people there enjoyed the Western and Japanese gardens, the Maruyama's fabulous collection of art that they've collected in their world travels, the bountiful buffet, and of course, Mitsuo and Lilo's warm hospitality made it all very much worthwhile.
PLACES
The first-ever showcase for New Zealand films in Japan with feature films, documentaries, and a short film selection was also a big success. My all-time favorite New Zealand film is Once Were Warriors, a film about the lives of several Maori families. It's heavy. I do hope some of the local distributors bring in some of the films that were in the festival to screen in regular theaters. I also had to miss Italian Ambassador Mario Bova and his wife Anna's midday reception on Jun. 2 on the occasion of the Italian National Day. That, I'm sure, was a crowded festive celebration. That same evening Karl Hahne of Ashley Associates invited friends to a performance of Shakespeare's Taming of the Shrew by the international theater company London at the Tokyo American Club.
Hilton Tokyo is certainly the leader in international culture and food promotions. Here are a few events to check out. Jul. 18-23 is the Philippines Food Festival. Jul. 28-Aug. 6 is the Peru Culture and Food Promotion.
*First published at the Tokyo Weekender
*Images Copyright: Tsukasa Shiga