Bill's Partyline June 15th, 2001
PEOPLE
Saturday, May 19, and I'm starting this column on Northwest's two-hour Flight 83 to Seoul. I've been to Korea many times, but this will be my first time to go through the new Inchon Airport. Anything new is always a travel adventure.
Ran into Shin and Kumi Inagaki, good friends of Bill and Charo Ireton, at Narita Passport Control. They were taking United Airlines direct flight to New York City where they planned nine days of "fun, food, theater and sightseeing" to celebrate their 25th wedding anniversary. Our congratulations.
Indonesia's former first lady Dewi Sukarno keeps busy. In addition to her controversial TV appearances here and her many social commitments, she's a frequent flier to destinations all over the world. Now the lady has taken on yet another project, the bringing in of international cultural events to Japan. Dewi's chairperson of the world renown IBLA Foundation which holds competitions for pianists, singers, composers and instrumentalists from the world over. The 200 I IBLA Awards were held at Alice Tully Hall in New York's Lincoln Center. This year Dewi was able to bring many of the winning artists to Japan to perform at Tokyo Opera City in a truly magnificent evening of fine music. Our congratulations.
PARTIES
Here in Tokyo, it was wall-to-wall people at the spacious reception room of the Saudi Arabian Embassy when Ambassador Mohamed Bashir Kurdi hosted a reception in honor of Prince Abdullah bin Faisal bin Turki bin Al­Abdullah Alsaud and a high-ranking delegation.
The personable prince, Chairman of the Board and Governor of the Saudi Arabian General Investment Authority, moved around and chatted with everyone. He was here as head speaker of a Saudi Arabian investment seminar and, from all reports, the wishes of Ambassador Kurdi were ful­filled with the seminar, "creating greater transparency" regarding investment opportunities in his country and further cooperation between the peoples of Japan and Saudi Arabia.
I'm sorry I couldn't stay for the Japan-Swiss Spring Ball 2001 but am happy I dropped by the Hilton Tokyo for the cocktail reception before the dinner and dancing. In addition to seeing a lot of old friends, I met some very interesting people as well.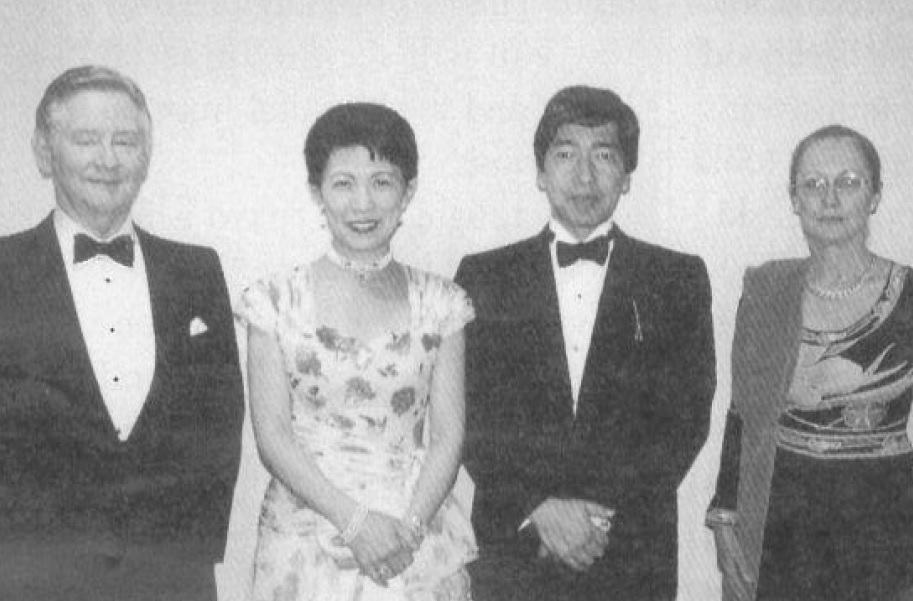 Prince and Princess Takamado were special guests that evening, and the main sponsors were the Japan-Swiss Society and the Swiss Chamber of Commerce. My thanks to Swiss Ambassador Johannes Manz, his wife Antoinette and Swiss Cultural Attache Christina Burgi for including me in that very special evening. Proceeds went to several worthwhile charities.
Music lovers were in all their glory at a special performance by one of the greatest chamber ensembles in the world, the New Budapest String Quar­tet. It all took place at a musical evening hosted by Hungarian Ambassador Istvan Szerdahelyi and his wife Reiko.
It was a mixed and interesting gathering at the Swedish Embassy when Ewa Kumlin, wife of the Ambassador, and others related to the big Swedish Style in Tokyo 2001 upcoming event, met the press. Scheduled for Oct. 12-26, it's going to be Swe­den's biggest ever promotion here in Japan. After the press confer­ence, everyone enjoyed a colorful and delicious traditional Swedish Easter buffet.
PLACES
The Okura Hotel is observing its 40th anniversary and, as part of the cel­ebration and coinciding with the Year of Italy in Japan, they're holding a three­stage Italian Food Fair. The first stage, Central Italy, is going on now at the hotel's Orchid Room through June 22. For further info, call 3506-6101.
Our congratulations to Polish Ambassador Jerzy Pomianowski and his wife Maria on the occasion of the grand opening of the new embassy at 2-13-5 Mita, Meguro-ku. I was in the Philippines so had to miss the opening ceremony and reception May 30 but hope to check it out soon.
*First published at the Tokyo Weekender