Bill's Partyline June 2nd, 2006
PEOPLE
Two-time Oscar winning director Clint Eastwood flew in to join the Japanese cast of Letters fom Iwojima for what several Japanese journalists told me was the best press conference they've been to in a long time. The film tells the story of the battle of Iwo Jima from the Japanese point of view, and features an all-Japanese cast, including Ken Watanabe, Kazunari Ninomiya, Tsuyoshihara, Ryo Kase and Shido Nakamura. Letters from Iwo Jima is a complimentary film to Flags of Our Fathers, also directed by Clint Eastwood. The project began when Clint decided to do a film adaptation of the book Flags of our Fathers. After reading an English translation of a Japanese book on letters from General Kuribayashi, he was then inspired to do Letters from Iwo Jima, from the Japanese point of view. In regards to working with the all Japanese cast, Clint said "acting is acting, and wherever, good is good. This ensemble was good, with high work ethics and professionalism. It was an easy and pleasant experience," he said, before laughingly adding "even though I didn't understand anything they were saying."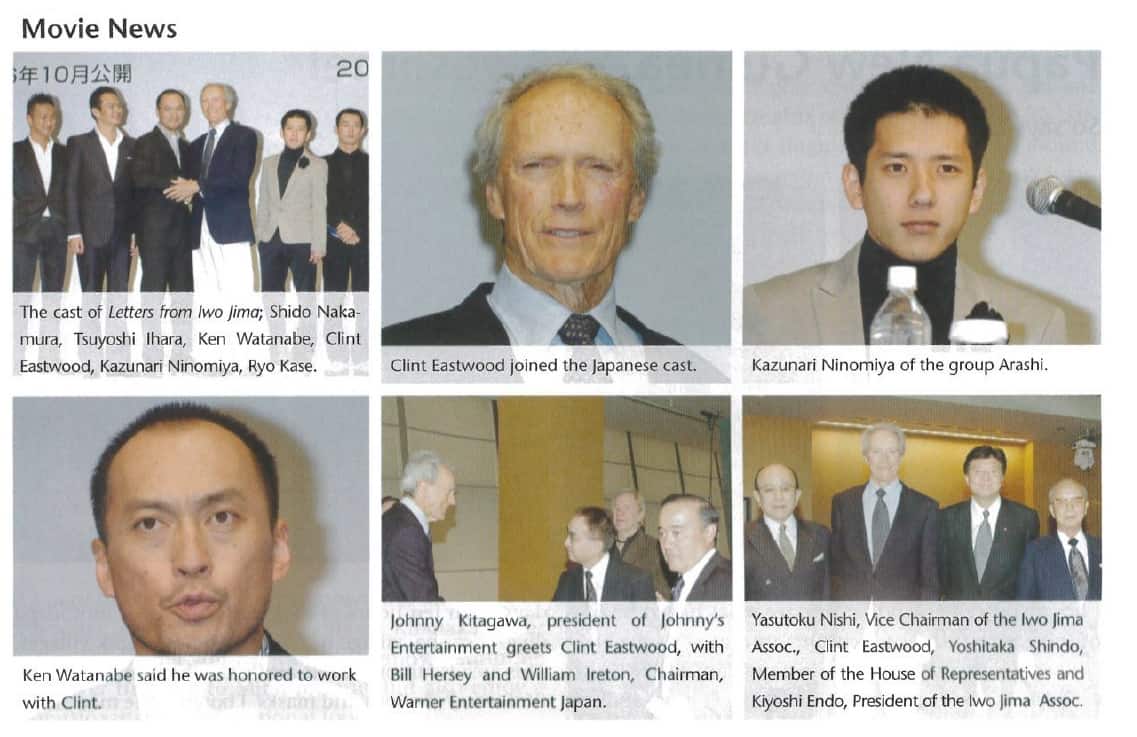 Eastwood went on to say "the films are not about winning or losing, but how the loss of so many lives affected so many." He found visiting Iwo Jima a very moving experience, thinking how many mothers lost their sons, wives lost their husbands and children lost their fathers. Warner Brothers will release Flags of Our Fathers here in October and Letters from Iwo Jima in December.
Intermission time at Johnny Kitagawa's group KAT-TUN concert at the Yokohama Arena, and the show set-up once again impressed me. As always with Johnny's productions, it was spectacular, and KAT-TUN are very good. A month or so ago I really enjoyed taking Lilibeth Dabdoub (wife of the Bolivian Ambassador) and her two gorgeous (like their mother) daughters Nabila and Alexia, as well as Maali Siam, wife of the Palestinian Ambassador, and her beautiful (again, like her mother) daughter Dima to Johnny's big musical Endless SHOCK at the Imperial Theater. They all loved the show with its flying, dancing, sword-fighting, singing and acting. Pop idol Koichi Domoto starred in the show along with a huge and talented Johnny's Entertainment cast. The costumes and the sets have to be seen to be believed.
A couple of weeks later I was a guest at another of Johnny's superstars – Takizawa "Tackey" – at the Shimbashi Embujo theater. The sets and costumes in this mega production were all Japanese. What a great production. After Shock, took Johnny's and my guests backstage for photos with the pop idols. That was fun, and a rare privilege.
PARTIES
St. Mary's annual ball – 'A Night in the Orient' at the Grand Hyatt really looked fun. I'm just sorry I couldn't stay, but am happy I was able to stop by, see a few friends, and snap photos of a few of the many VIPs there. Frank and Sonia Striegl, whose two sons Frank and Mark have both been wrestling champions at St. Mary's told me it was an enjoyable evening in every way.
Over at the Peruvian Embassy, Charge d' Affaires Jacques Bartra and his wife, along with their staff, hosted a colorful and very special Peruvian Fiesta. In addition to a lively performance by Peruvian trio Kuntur, there was a fashion show of kimonos made of Pe­ruvian design fabrics. Noted designer Junko Koshino was there and she thought the kimonos were "original and very tasteful." From what I heard later the lavish buffet of Peruvian food and other Latin American favorites was not only tasteful, it was downright delicious.
PLACES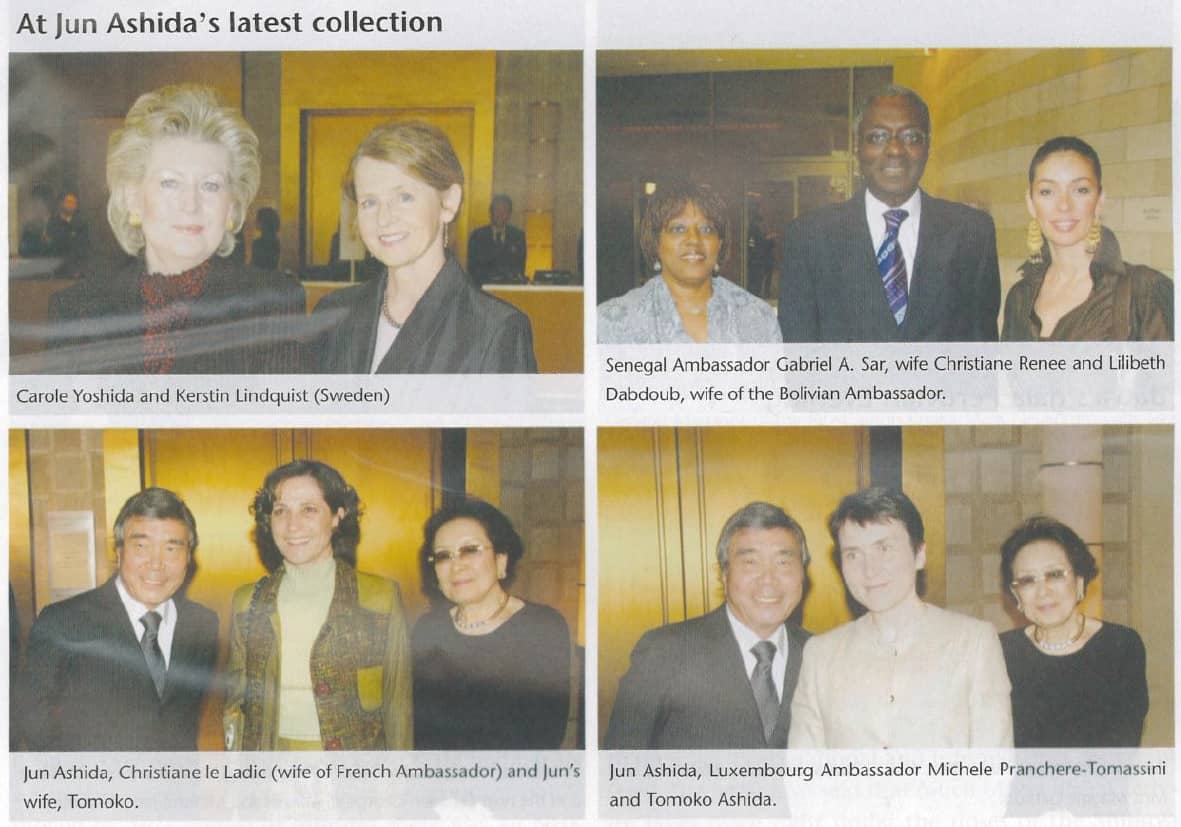 As always, every seat was full at all three showings of renowned fashion designer Jun Ashida's 2006-2007 autumn and winter collection. The shows took place in the grand ballroom of the Grand Hyatt. In addition to seeing many old friends there, I was able to meet some interesting people for the first time. These included Christiane le Ledic, the wife of the new French Ambassador. We wish them a long, happy and successful stay in Japan.
*First published at the Tokyo Weekender
*Images Copyright: Tsukasa Shiga