Bill's Partyline March 19th, 2004
PEOPLE
After five and a half very active years in Japan, South African Ambassador Krish Mackerdhuj has returned to his beautiful homeland. Prior to his departure, he hosted a sayonara in his home but, unfortunately, his wife Swninthra had already gone, so guests did not have the opportunity to say goodbye to her before she left.
Once again, I had the privilege of taking Wolfgang Puck's fiancee, Ethiopian fashion designer Gelila. Most of the other guests, as you can see by the photos, wanted Gelila in their photos, and I'm sure you can see why. Krish kept super busy while in Japan, always promoting South African business and culture. We wish him and Suminthra all the best back home.
Superstar Halle Berry flew in for a day to promote her film "Gothika" for Warner Bros. The actress, sometimes called the most desirable woman in the world, is as beautiful as you thought she would be, and as nice as you hoped. The film's producer, Joel Silver, and Halie's co-star Robert Downey Jr. could not be here, but she did a great job solo at the press conference.  Halle told the media she liked to do all kinds of films. "My Oscar gives me the freedom to choose;' she said.
Her next film is "Catwoman;' also for Warner Bros. She answered one journalist's question by saying she did believe in the supernatural and believes when people pass away their spirit remains. "It gives me a sense of comfort when I can still feel the presence of friends I lost;' she added. One of the things she really enjoyed about making "Gothika" was the liberating feeling of taking off her makeup, and even having a bad hair day. She feels "Gothika" will make you jump out of your seat in surprise at least twice and maybe even four times.
When asked about the then­upcoming Oscars, she laughingly said, "I'd like to do it again – just joking. I feel Rene Zellwegger did a great job as Ruby in "Cold Mountain" (a Toho-Towa release here Apr. 24). Rene, as you know, did win Best Supporting Actress, and will visit Japan for Toho-Towa soon. In closing, Halle was really sincere when she said, "There are times when I'm so surprised that people around the world know my work. I have to pinch myself'
Actress Diane Lane (Oscar nomination last year for "Unfaithful") has been like a little sister to me since she first gained fame here in Japan as Revlon's image girl. I worked with Gaga Communications on bringing her here to promote her really excellent "Lonesome Dove" mini-series" and hung out with her and her then-husband, French actor Christopher Lambert, whenever I was in L.A. She will be marrying Josh Brolin, actor son of actor James Brolin, and I really hope they'll be happy together. By the way, Diane's new mother-in-law will be the legendary entertainer Barbra Streisand.
UIP brought in one of my favorite actors, Ben Affleck, to promote the film "Paycheck:' Ben, as you probably know, won a screenwriting Oscar with his buddy Matt Damon for "Good Will Hunting:
I got to know and really like the guy when he was here to promote "Armageddon,, and "Pearl Harbor" for Buena Vista, and I set up parties for him and the producer, Jerry Bruckheimer, director Michael Bay and other stars of the films at the Lex.
Believe me, you couldn't meet a nicer guy. He was one of the first superstars to visit sailors and marines aboard the aircraft carrier USS Enterprise in the Persian Gulf, he was grand marshall for the Parade at the Daytona 500 car race this year, and he is involved in all kinds of charity projects. I was really sorry about his disastrous film "Gigli" with his ex-squeeze, Jennifer Lopez. He told the press, "As an actor, I have had my ups and downs. That's life."
I don't know about Lopez. She went to a baseball game with Ben at Anaheim Stadium, but only after the management agreed to have security guards rope off a large ladies john for her private use. Also read that, when she checked into a Vancouver hotel, she demanded they change the sheets – and the bed as well. She said, "I just can't sleep in a bed someone else has slept in." Come on, girl, look at your background. Be thankful for so many things and chill out. It's easy to see why Ben's relationship with her has cooled down. Ben's younger brother, Casey, also an actor, will soon be marrying another actor, Joaquin Phoenix's sister Summer. Their brother was, of course, the late River Phoenix Joaquin is slated to play country-western performing legend Johnny Cash, and Reese Witherspoon will play June Carter Cash in a film about the couple's life, titled "I'll Walk the Liner
PARTIES
It was wall-to-wall people on the third floor of the Saudi Arabian Embassy building on Jan. 26. The occasion was one of several to bid farewell to Saudi Charge d'Affaires Mohammad Ameen Wall. Special guests for the evening included Environment Minister Yuriko Koike who, people tell me, speaks perfect Arabic. Mohammad leaves soon for his appointment as Saudi Ambassador to the Philippines, ' and we wish him all the best.
The "2003 Year of Turkey in Japan;' with its many special events, has been so popular "The Year" has been extended to the end of May. I truly regret not being able to attend either of the performances by Tekfen Black Sea Philharmonic Orchestra here in Tokyo. The unique orchestra consists of more than 60 musicians from Turkey and 22 other countries, collectively performing with their own national instruments. The concert, titled "The Sound of Three Seas;' was sponsored by the Ministry of Foreign Affairs of Turkey and Tckfen Holding.
I felt like pinching – or rather kicking – myself when, due to a prior commitment, I had to pass on a dinner for Halle hosted by Warner Bros. at Hama Steakhouse. W.B. Japan Chairman Bill Ireton and wife Charo had nothing but praise for the superstar's down-to­earth and intelligent approach to everything and anything.
PLACES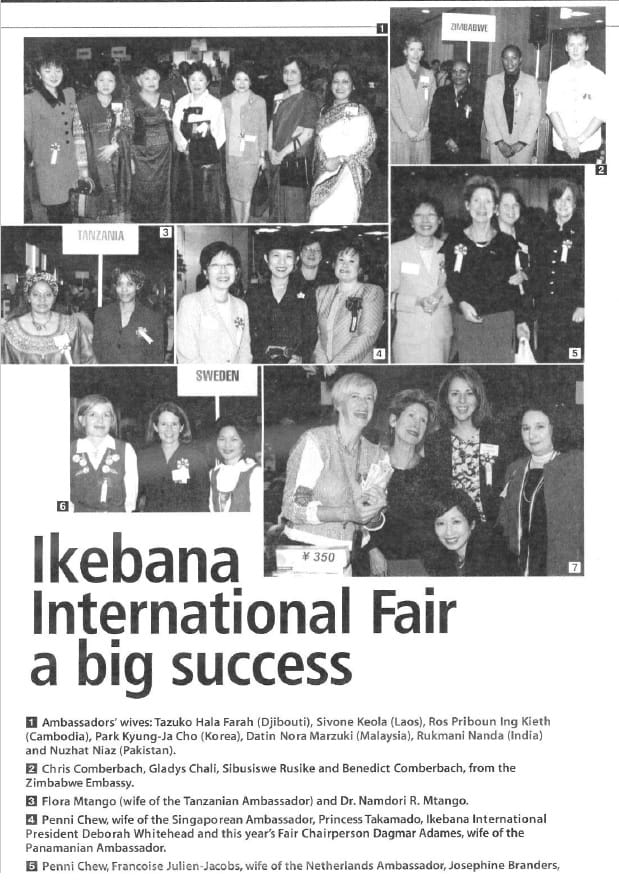 Happy to report the Ikebana International Fair was a huge suc­cess. The annual event was chaired by Dagmar Adames, wife of the Panamanian Ambassador. Princess Takamado was patron. The Ikebana (flower arrangement) by Masters was really impressive. The interna­tional bazaar was sponsored by many embassies, and a bake sale added fun to the always much­anticipated cultural event. Proceeds go to several worth­while causes.
Hilton International in Japan, and pretty much all over the world, is even busier than usual. The big news here is the announcement by Hilton and Mori Trust of Japan's first Conrad Hotel. Conrad Hotels is the luxury name of the Hilton Family of Brands. The Conrad Tokyo, with 231 deluxe rooms (mini-mum size will be 48 meters square) and 65 superior suites, is scheduled to open in the spring of 2005. It will be in the top 10 floors of a 37-story multi-purpose tower in the heart of the ultra-modern Shiodome development.
We'd also like to congratulate Hilton Tokyo on its 20th anniversary. As part of the celebration, the hotel staff will host a gala dinner on Mar. 20. Entertainment for the evening will represent the 21st Century for jazz musicians, and we'll have a rundown on this later. Then there is the luxurious new Hilton Resort and Spa in Odawara. We'll have more on that later as well.
*First published at the Tokyo Weekender