Bill's Partyline March 2nd, 2007
A dear friend of mine, top celebrity security man Nestor Takamiyagi who worked with former vice-president Al Gore during his recent visit here, had nothing but good things to say about the man. Gore was here to promote the documentary film An Inconvenient Truth for UIP as well as a book signing session at Maruzen for the translation of his book on global warming. He took a strong stand saying that the US should have, along with other world leaders, ratified the 1997 Kyoto Protocol—a treaty aimed at reducing greenhouse gas emissions. I heard on BBC that Gore might be a candidate for the Nobel Peace Prize. From the looks of things he deserves It.
Here in Japan, pop singer Harada Shinji sang the theme song I Need to Wake Up for the Japanese film version of the movie. I was really surprised to see a woman who sort of disappeared from the party scene, Kaoru Nakamura, at one of the Gore happenings. She caused a big controversy several years ago when she wrote a book saying she was the illegitimate daughter of a member of the Imperial family. I also remember Julio Iglesias telling me someone knocked at his Japanese room door at the Hilton when it was still in Akasaka about two in the morning. You can imagine how surprised he was when he opened the door, and saw Nakamura who told him "I want to interview you." Needless to say, he declined.
PARTIES
Our friends from South of the Border (as an American I'm talking about Mexico) went all out to promote the inauguration of the direct flights between Mexico and Japan on their highly regarded airline, Aeromexico. The airline, along with the Secretary of Tourism of Mexico, the Mexico Tourism Board and the Embassy of Mexico hosted a series of parties (fiestas) all over the city to celebrate the very special occasion. I did get to two of the parties—one at the Imperial Hotel, the other at the City Club of Tokyo—both colorful, lively and fun happenings. Lots of interesting people at these happenings, including airline executives, government officials and business leaders. I especially enjoyed meeting the family of Martha Ruiz-Cabanas, the wife of Mexico's excellent ambassador to Japan, Miguel Ruiz-Cabanas. The family group included Martha's mother, Elvia Cantellano de Espinosa and two sisters, Patricia and Eliva. Miguel has a good sense of humor so I teased him a bit about having his sister-in-law as a boss (Patricia was the Mexican Ambassador to Austria and now is the Minister of Foreign Affairs for Mexico).
Several of Mexico's top chefs flew in to plan and prepare the food for the parties. It was great. The large Mariachi group that was also flown in to entertain at the parties was great as well. The Minister of Tourism Rodolfo Elizondo told me they were considered one of the best, and after their performance, I could certainly see (and hear) why. There was also a very colorful and impressive fashion exhibition by one of Mexico's top companies, Pineda Covalin. They have boutiques all over the world including one here in Nagoya. Kudos to our Mexican amigos (and amigas) who are making it easier for those living in Latin or South America to get back home if they're in Japan and many other parts of the world. Until now the quickest way to fly to Buenos Aires from here was via the States, which involved obtaining a US Visa even if the passenger is only in transit. This means the hassle of a trip to a US embassy, probably a long wait, and paying for the visa. A huge travel-industry campaign titled the Discover America Partnership found that most foreigners they surveyed feel when it comes to obtaining a visa, and entering the country, the US is right at the top offering the world's worst travel experience. Well, now, thanks to Aeromexico, twice a week, Saturday and Wednesday you can now fly from Narita to Tia Juana (the border city near San Diego), and on to Mexico City where you can catch a connecting flight to about anywhere in that part of the world. Do hope to do that later this year.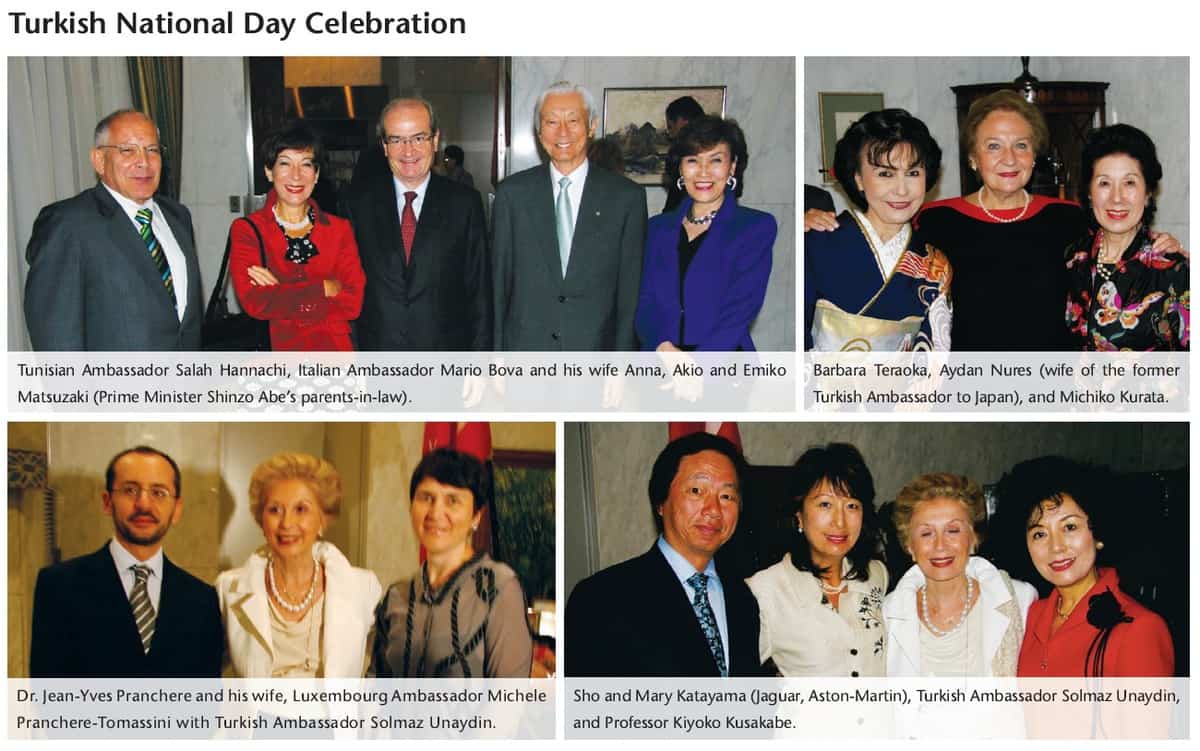 The highly respected and super popular Turkish Ambassador Solmaz Unaydin returned to Istanbul in mid-January. On Oct. 29 she went all out to make her celebration of the 83rd anniversary of the proclamation of the Republic of Turkey, the best ever. The Embassy residence and garden were full of a wide variety of Solmaz's friends—people from all walks of life. There were long tables of really delicious Turkish food in both reception rooms as well as the garden. It was a laid back, thoroughly enjoyable evening, perfect for the occasion. More on several of Solmaz's many sayonaras later.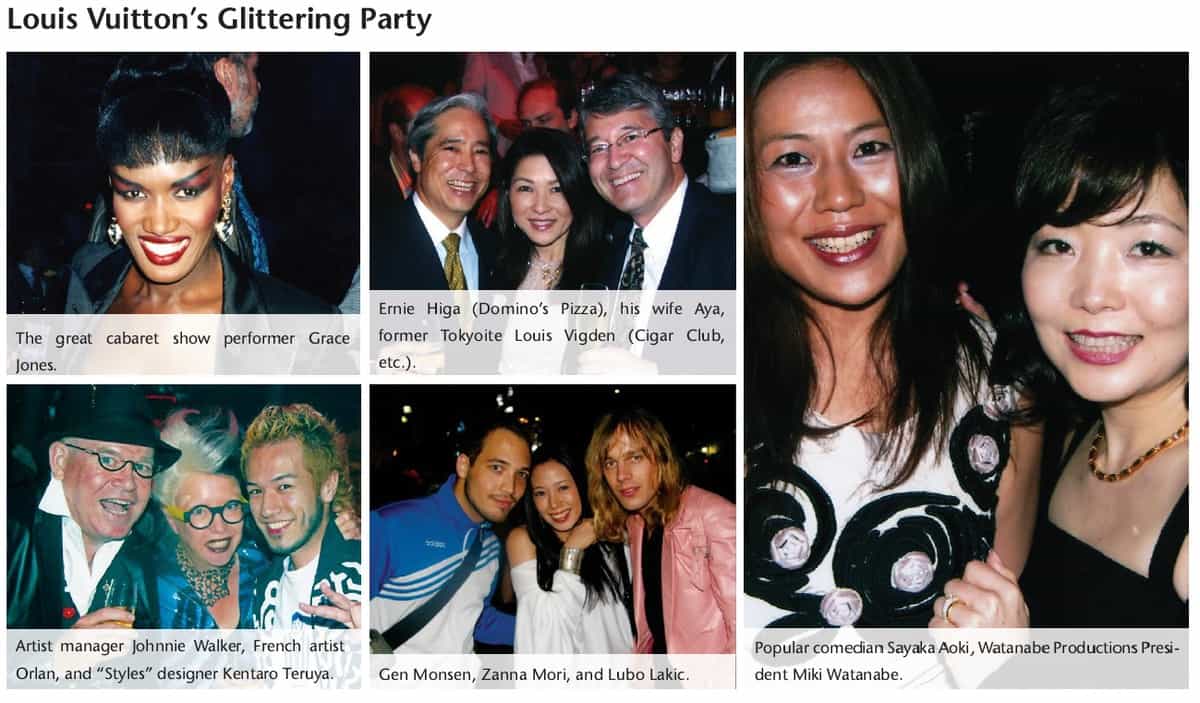 Going back a bit—quite a bit, but did want to run a few photos I took at Louis Vuitton's grand, glittering and extravagant party here in Tokyo. Thousands of our city's trendsetters descended on the huge transparent dome set up in Yumenoshima Park in Koto Ward for a wild night of gourmet food, drink, dancing, posing, and a show by Grace Jones who I consider the best cabaret performer in the world. I've loved Grace since the day I first met her in Paris with her then live-in boyfriend, Swedish actor Dolph Lundgran. A few weeks after I met her I read she and Dolph had a lover's spat, and she burned all his clothes. There's no business like show business.
PLACES
H.I.S. chairman Hideo Sawada has really created a lot of Japanese interest in Mongolia. First he bought banks there and now one of his executive staff, Across Travel's Tokuichi Kanatani told me they've opened a travel agency there as well. On the film scene, successful director Haruki Kadokawa is just back from filming on location in Mongolia. More on this later. I really feel movies really show us how others live. If you're interested in Mongolia check out The Weeping Camel and Mongolian Ping Pons. You'll not only enjoy them, you'll learn a lot.
Just Talk As many of you know the Lex is closed. I am deciding which of several offers on a new club. I'll take, but really don't want to be all that involved in Roppongi nightlife again until they clean it up. Along that line, several knowledgeable, reliable, and concerned people have told me that police are really cracking down on young foreigners who are caught selling or using drugs. Stay away from all that, it This  really isn't worth it.
*First published at the Tokyo Weekender
*Images Copyright: Tsukasa Shiga