Bill's Partyline March 3rd, 2006
PEOPLE
There have been lots of special films, and lots of special visitors over the last few months. Catherine Zeta-Jones had a great smile and a real sense of humor at her press conference for The Legend of Zorro. She especially likes Zoro, "because he doesn't fly and is a real person." This was her first visit to Japan, but she could only stay a few days, saying "I have to get back to my babies," adding "I love Japan and the Japanese, and the service and care here at the Park Hyatt is really very special." She also spoke very highly of the distributors Buena Vista and Shochiku.
UIP brought in a big delegation (see photo) to promote a huge film, King Kong. Before the premiere showing of the film at the Tokyo International Forum, New Zealand Ambassador John Anthony McArthur hosted a reception at the Forum. The director, New Zealander Peter Jackson, filmed most of the over three-hour film in New Zealand. Australian actress Naomi Watts did a remarkable job of acting as Kong's love interest. Everyone seems to feel the same way including the editor of highly­rated Vanity Fair magazine who ran a cover story on her recently.
Sayonaras to good friends are never easy – and like all who knew them, really miss Croatian Ambassador Drago Buvac and his wife Andjelka ("Angel"). After al­most five years in Japan, the popular couple have re­turned home to be near their family and to enjoy their beautiful country. Prior to their departure, they hosted a wall-to-wall people sayonara at their residence. The get-together also gave me the opportunity to say goodbye to two other friends, outgoing Bosnia and Herzegovina Ambassador Vladimir Raspudic and his wife Tatjana.
PARTIES
On Tuesday, Feb. 7, Polish Ambassador Marcin Rybicki and his wife Adrianna hosted a New Year's concert at their residence. Shohei Sekimoto, who won fourth prize in the Chopin International Piano Competition 2006, performed some beautiful music that evening. There was also an exhibition of Chopin manuscript courtesy of Yushodo Company Ltd.
On Feb. 8 the Egyptian Ambassador Hisham Badr hosted a ceremony and party at the Badr Residence. The occasion was in honor of Toshu Fukami, chairman of the newly established 'Japan-Egypt Arts and Culture Friendship Association.'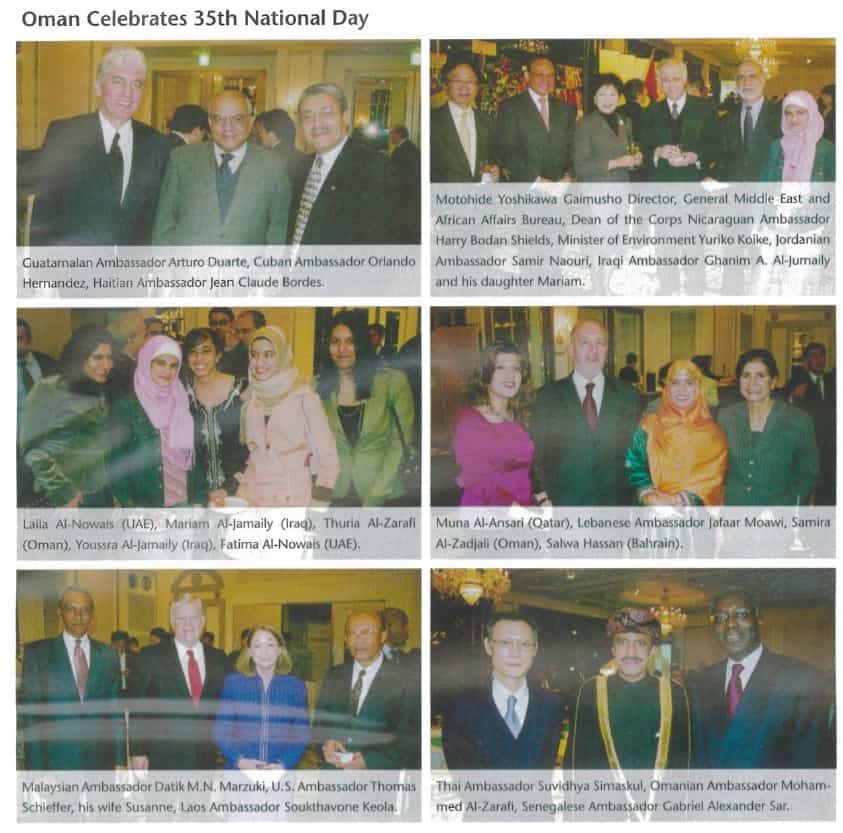 Oman Ambassador, Mohammed bin Yousef Al­Zarafi and his wife Samira made their country's 35th National Day very special in every way. The hosting couple, in regal national costume, spent well over an hour at the entrance of the New Otanis' huge Ho-oh-no-ma room, where they greeted the many people who came to congratulate them on the occasion. A beautiful illuminated ice-carving of Oman's National emblem faced a huge gold framed picture of Oman's ruler HM Sultan Qaboos bin Said, Al-Said. This was flanked by floral tributes to the man and his country. There was also an interesting and colorful exhibition of photographs of Oman's people, development and scenery.
PLACES
On Feb. 9, Development tycoon Minoru Mori (Art Hills, Roppongi Hills , etc.) invited guests to a preview showing his latest development, Omotesando Hills in Omotesando. This is the several block long con­crete and glass building that has replaced the historic Dojunkai apartments. One Italian Fashion guru who saw the development in its early stages said, "It looks like a Russian govern­ment building." I drive by daily and am happy to see, with its 93 shops and restaurants, and dynamic window displays, it has taken on a colorful and exciting ambi­ance, and may well become "the showcase platform for the latest fashion and taste" Mori built it to be. Omotesando Hills opened to the public on Feb. 11
On the art scene Joan Miro showed a collection of her abstract paintings at the Togo Fine Art Gallery in Minami Azabu Feb. 3-25. Photographer Irene Gashu, a Japanese-Argentine lady who was once a lawyer, and is now a photographer, is as fascinated as I am with the people and culture of Papua New Guinea. Irene recently did a slide show on the 'People of Papua New Guinea.' This was part of one of the many events of the sixth South Pacific Festival in Tsurugashima City showing the city's amazing collection of over 1,725 Oceanian works of Art. I'm really sorry, I did not get info on this exciting program in time to let you know it was going to happen. Once again, I'd like to say we work ahead at Weekender, so please tell me about any news or announcements you would like to put in the paper at least three weeks in advance. Thanks for your consideration on this.
*First published at the Tokyo Weekender
*Images Copyright: Tsukasa Shiga