Bill's Partyline March 5th, 2004
PEOPLE
I'm so lucky in that I meet so many interesting and nice people. When people ask who are the favorite celebs I've met, Liza Minnelli is one of those right at the top. I hung out with Liza, got her a haircut by Peekaboo's Fumio Kawashima, and had a VIP-fun people party for her at the Lex. Visited her a few months later at her fabulous New York apartment, and a few years later went with her to the Broadway musical "Bring in the Music, Bring in the Funk:'
I love Liza and have always hoped she wouldn't go through what her mom, the legendary Judy Garland, did. Unfortunately, it hasn't worked out that way. She's been married four times, was used by fashion designer Halston and his druggie models group, has had an alcohol prob­lem, put on about 90 pounds (it's off now) and has had all kinds of physical problems (hip replace­ment, for example).
When Liza married producer David Gest about 17 months ago, I just knew the guy, with his waxed eyebrows and bronzer­colored face, was a user and not right for Liza. From all reports, he was a real control freak as well and went all out to cut her off from her old friends.
PARTIES
Thai Ambassador Kasit Piromya and his wife Chintana held a mid-day reception to celebrate the birthday of their much respected and much-loved King Bhumibol, and it was a people packed event. It was cold that day, but the superb variety of Thai food favorites (much of it hot and spicy) helped keep guests in the garden warm.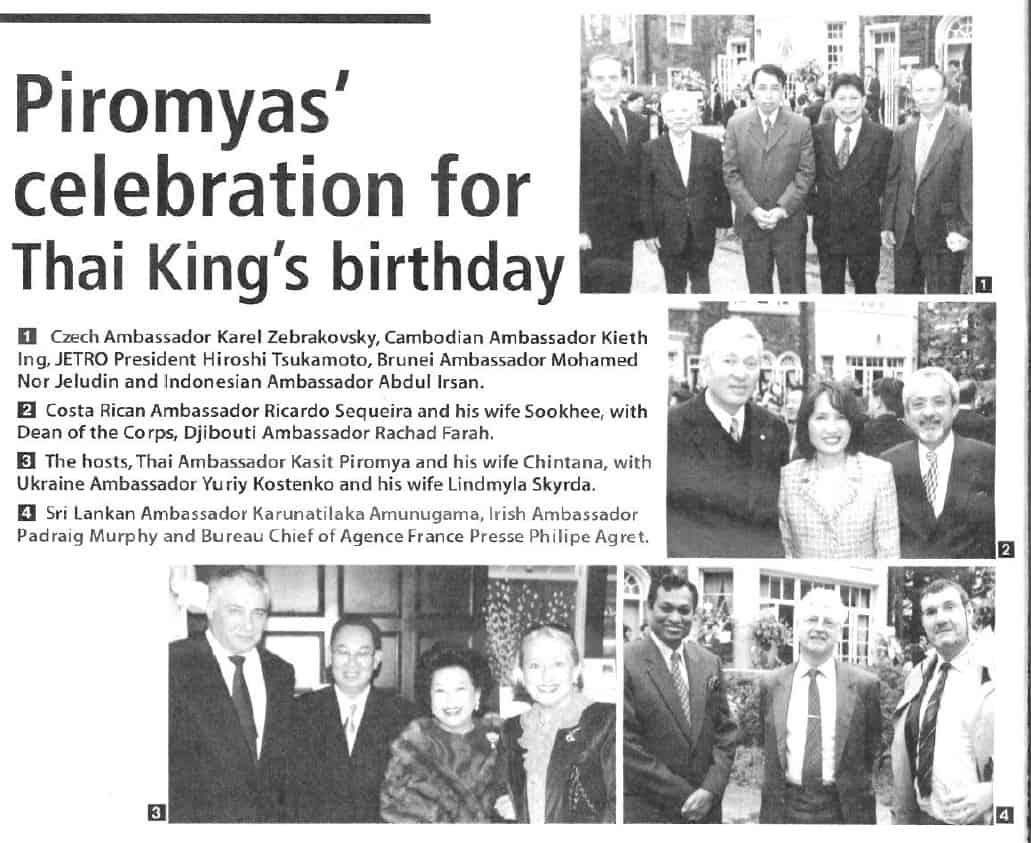 Mitsuo and Lilo Maruyama's Chinese lunch at the Capitol Tokyu on Jan. 11 was, as always, very special. The hotel had gone all-out to make the 15-course meal of Chinese favorites the best. Interesting people, great food and very warm ambiance – what more can anyone ask for?
For the first time in a long time, fashion designer Jun Ashida changed the venue of his fashion show. Instead of the Akasaka Prince Hotel's Crystal Room, Jun held the showing of his 2004 spring and summer col­lection in the Grand Ballroom of the Grand Hyatt Tokyo. From all reports, the show was a big success.
PLACES
No doubt about it. New Zealand has become a very popular place for film locations. All the marvelous scenery in "The Last Samurai" and "Lord of the Rings" trilogy are proof positive of why. In addition to the spectacular natural wonder, "Samurai" director Edward Zwick and "Lords" director Peter Jackson both told me the New Zealand government and people go all out to make shooting in their country a pleasant experience.
To celebrate the opening of "The Last Samurai" in Tokyo, New Zealand Ambassador Phillip Gibson and his wife Chansuda hosted a reception at the Imperial Hotel. The 50 or so guests were a mixture of Japanese and New Zealand government officials, business leaders and VIPs in the travel and tourism business. After a superb buffet of New Zealand food specialties, guests moved to the nearby Warner Bros. screening room where they joined W.B. Japan Chairman Bill Ireton and his wife Charo for a special screening of "The Last Samurai?, Still on New Zealand, our congratulations to Phillip, Chansuda and our N.Z. friends on the celebration of their Waitangi Day Feb. 6.
Hobbits galore flew in with "Lord of the Rings" trilogy director Peter Jackson to promote the last of the series, the award-winning "Lord of the Rings: The Return of the King." Nippon Herald Films and Shochiku had an event-filled schedule for the visitors.
The SRO press conference was held in the ball room of the Park Hyatt Hotel. The Japan premiere event was a huge, colorful ceremony at Zojoji Temple where thousands of young fans gathered to see the stars. The dramatic ceremony ended with Hobbit Frodo (Elijah Wood) throwing a huge wooden ring into a fire.
The premiere that evening was held at the Marunouchi Piccadilly theater in Ginza. In addition to the Japanese celebrities, special guests included Ambassador Gibson and Chansuda and important government officials.
Once the director and actors made a stage appearance before the film, they went directly to the Park Hyatt for a small and prestigious Japanese-themed party with the film's investors. Elijah introduced me to his 18- year-old sister Hannah, and it's amazing how much the outging and trendy girl looks like her brother.
After the traditional breaking of the sake barrel, guests enjoyed a program of Japanese dance, a variety of 011,arsuri (festival) games and superb buffet of Japanese favorites. Kudos to
Nippon Herald, Shochiku, the Park Hyatt's General Manager Malcolm Thompson and his staff for creating a very special atmosphere and mood that evening.
*First published at the Tokyo Weekender