Bill's Partyline May 13th, 2005
PEOPLE
It's never easy to say goodbye to really good friends, and that couldn't be more true than at the sayonara party for Cambodian Ambassador, Kieth Ing and his wife Ros Priboun. After almost five years in Japan, Kieth and Priboun have returned to Cambodia. They'll divide their time between there and Paris, where several of their children live. The Ings were a popular couple, and as expected, there was a big turnout for their farewell. It was a relaxed evening with an interesting mix of people, and an excellent buffet of Cambodian food — a perfect way to say goodbye to two truly good friends.
CONGRATULATIONS to former Jordanian L.Ambassador, Zarouk Kasrawi on his recent promotion to Foreign Minister of Jordan. He, his wife Muazaz, and their son Omar send their best regards to their friends here in Tokyo.
It's really great having two of the nicest people I know, Ron and Maria Anderson, back in town. They were also, I might add, one of our city's most popular couples during their eleven years in Japan. The Andersons, who live in New York now, flew back to see friends, and attend the annual International Ladies Benevolent Society Ball at the Okura Hotel on Apr. 15. Maria served as ILBS President during her stay in Japan. Needless to say, the popular couple were wined and dined at endless breakfasts, luncheons, and dinners in their honour. I really appreciated Maria taking time out of her super-busy schedule to have breakfast with me at the Okuras light and bright Camellia coffee shop. It was also nice seeing Ron at Saudi Arabia Ambassador Faisal H. Trad's big, and I do mean big party at the Imperial Hotel to celebrate the 50th Anniversary of Saudi Arabia-Japan Diplomatic Relations, more on that later. Taking a break from my movie column this week. In addition to misplacing a roll of film, like most of you, really swamped (and lazy) before Golden Week. Do, by the way, hope you have good one.
PARTIES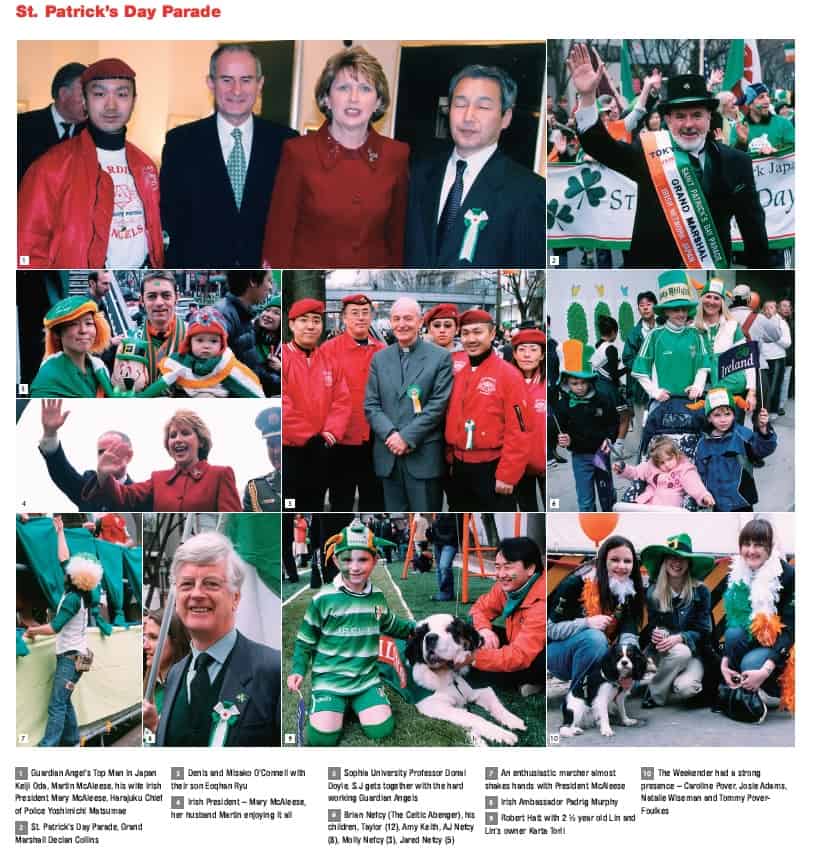 Sunday, May 20, was a warm sunny day — perfect for the bigger, better, and more colourful-then-ever St. Patrick's Day Parade. Like many there that day, I really enjoyed the marching bands, the bagpipes, the drum majorettes, and the Irish setters (other dogs as well), and the hundreds in the Irish colours (hats, shamrocks etc.) orange, green, and white. The energy and enthusiasm had to be seen to be believed. In addition to the Irish Ambassador, Padriag Murphy, who was marching in the parade, there was another very special guest — Irish President, Mary McAlesse. I appreciated having the opportunity to talk with the president, her husband Martin, and VIP members of their delegation in a restaurant waiting area before they went to the grandstand to watch the parade. The president really kept busy while she was here. In addition to all of her official duties and visits, she was at Ambassador Murphy's St. Patrick's Day reception and the Emerald Ball. Our congratulations to President McAllesse, Ambassador Murphy, and the Irish people on all the events to celebrate St. Patrick's Day. I'll have a rundown of the Ambassador's reception in my next column.
PLACES
Just about everyone I know is well aware of all the great work the members of the Refugees International Japan do. Believe me, they really believe in what they're doing, and put a great deal of time and effort into help-ing refugees around the world. I'm really happy that RIJ's main fundraiser, The Art of Dining Charity Exhibition, which was held at the Westin Hotel, was a huge success. All 21 of the participants' table settings were original and very special. Sorry, I don't have the space to write about each and every one here, however, I would like to mention a few that, like all, were exceptional.
As an anthropology major, I found Vidula Tawadey-Glaentzers "A Feast for the Gods" colourful and meaningful. The "Prayer" table was the inspiration of her grandmother when she was growing up in Calcutta. I am sorry to hear Vidula and her husband, Italian minister, Counsellor Claudio Glaentzer, will be leaving Japan in June. They're a very popular couple here. Catherine de Montferrand's (wife of the French Ambassador) setting was based on planning the celebration of the baptism of her first grandchild — "All Pure and Simply Perfect, just like the Baby." Kazuko Saizon's (wife of the Philippine's Ambassador) table was a traditional merienda, with everything on the table from one of my favorite countries — the Two of the youngest participants, Ima Ma and Hiroko Takeda's exhibit "For our Grandmother," paid respect to Ima's legendary grandmother, Chinese cooking expert and author Nancy Ma, and Hiroko's grandmother, who helped her learn professional flower arrangement. No space to list all the charitable companies who supported RIJ either. They did include The Westin Hotel, the Grand Hyatt Tokyo, Jaguar, JP Morgan, Morgan Stanley, Virgin Atlantic, and United Airlines. Kudos to all concerned on a truly excellent and worthwhile event. I don't go to Roppongi Hills all that much, but when I do go it seems like there's some kind of 'happening' in the arena area.
My timing was right a few weeks ago when a IS-member marching band from Munich gave a thirty minute performance. Each of the members wore red and black, but there were no uniforms, with each in their own individual style. Great energy, humour, and talent brought back some great memories of the New Berlin. The show was one of the many events to open the German Year in Japan; a full schedule of German musk, ballet, art etc. for twelve months. Check it out weekly in one of the dailies.
*First published at the Tokyo Weekender
*Images Copyright: Tsukasa Shiga