Bill's Partyline May 2006
Those who left or are leaving include Honduran Ambassador Carlos Manuel Zeron and his wife Lilian Maria, Lebanese Ambassador Jaafar Moawi, Greek Ambassador Kyriakos Rodoussakis, Bangladesh Ambassador Serajul Islam and his wife Nasrin, Uruguayan Ambassador Carlos Clulow and his wife Ana Cristina, Ukrainian Ambassador Yurii Kostenko and his wife Liudmyla and Czech Ambassador Karel Zebrakovsky. I'll really miss these good people, good friends, and sincerely wish them all the best back home or in their new postings.
Warner Brothers' premiere of V for Vendetta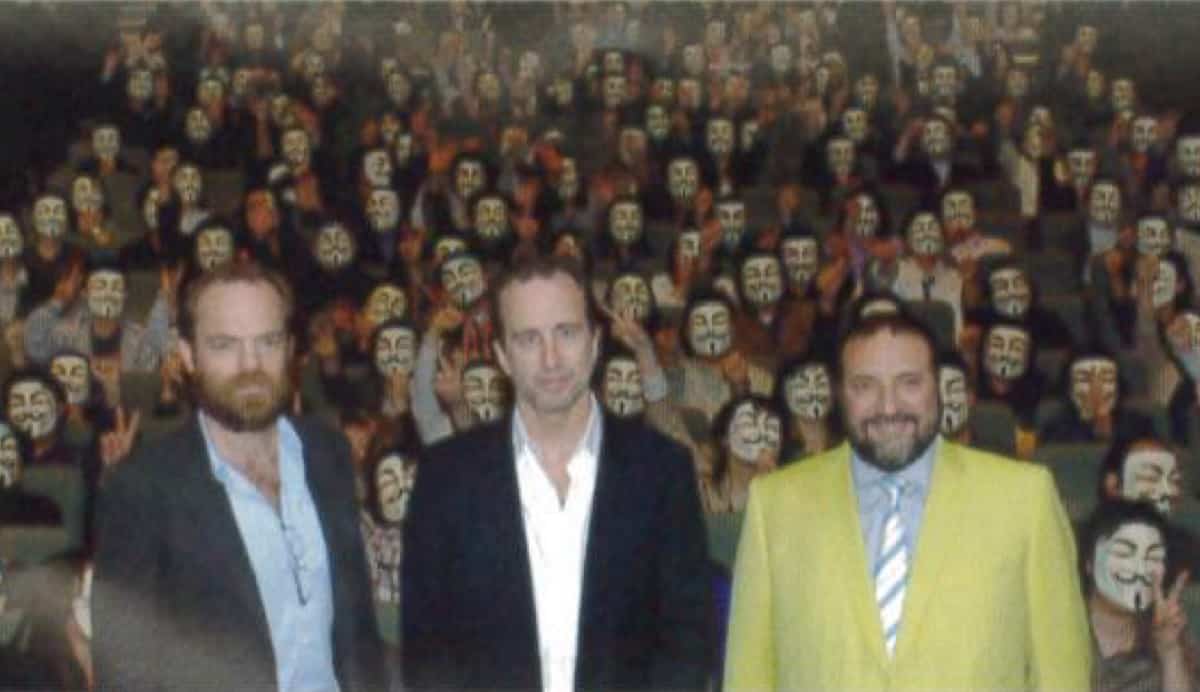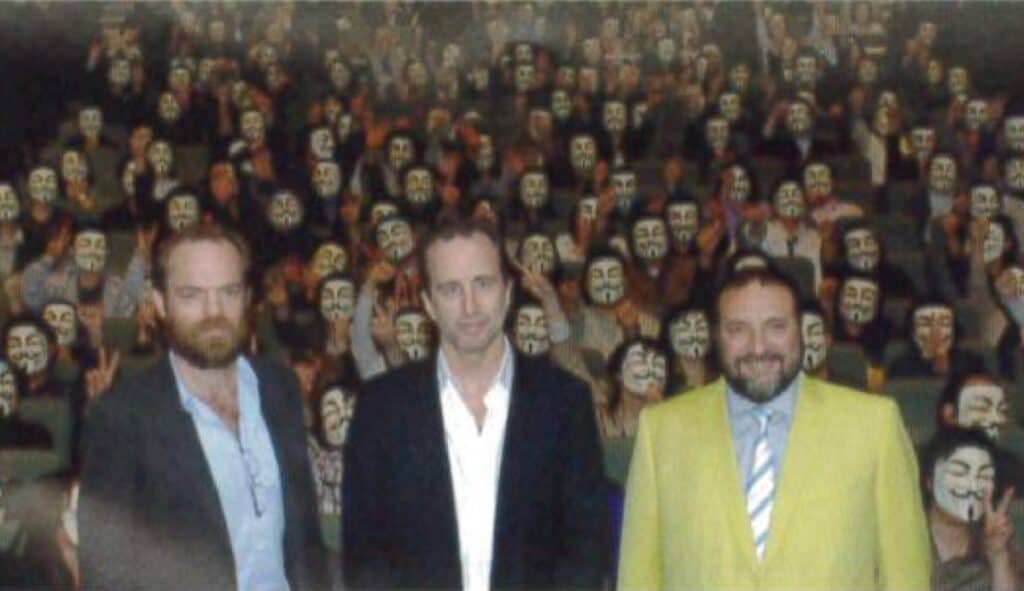 at Tokyo International Forum in April was one of the most colorful film events our city has seen for some time. A wide long red carpet was at the entrance and there were a couple of dozen young Japanese actors dressed in the caps, capes and masks of the film's main character V.
Everyone who came to the premiere received, and wore, the V mask. At the press conference the next day, a journalist asked the producer Joel Silver who his hero is. He answered: "after the super premiere and looking into a sea of faces with the V masks, Bill Ireton is my hero!" Sue Kroll, President of International Marketing for Warner Brothers Picturs, was also a huge factor. From what I heard, about 4500 people were wearing the masks.
Other worthwhile happenings around our city included a visit by world-famous chef Roy Yamaguchi for the third anniversary of his Roppongi Hills Restaurant. Another of the world's top chefs Nobu Matsuhisa was here for Nobu week at Nobu Tokyo. Both restaurants in Japan belong to the Soho Hospitality group.
PARTIES
Austrian Embassy Gala
It was a beautiful evening at the home of Austrian Ambassador Peter Moser and his wife Elisabeth when Austrian Airlines, the Vienna Philharmonic Orchestra, and Austrian Mint joined the Mosers in a commemoration event to celebrate the 250th anniversary of Mozart's birth. It was wall-to-wall interesting people at the Mosers — all enjoying the musical performance, the superb buffet, and Austrian hospitality. The following day the Tanaka Kikinzoku group invited special guests to a private showing of the V25 million Philharmonic Gold Coin cake. Austria is a favorite destination for people In Japan, and Austrian Airlines a favorite carrier. For those who can't get to Vienna this year, there are over two hundred concerts here in Tokyo, as well as many other special events to celebrate Mozart's 250th anniversary.
Luxembourg Photo Exhibition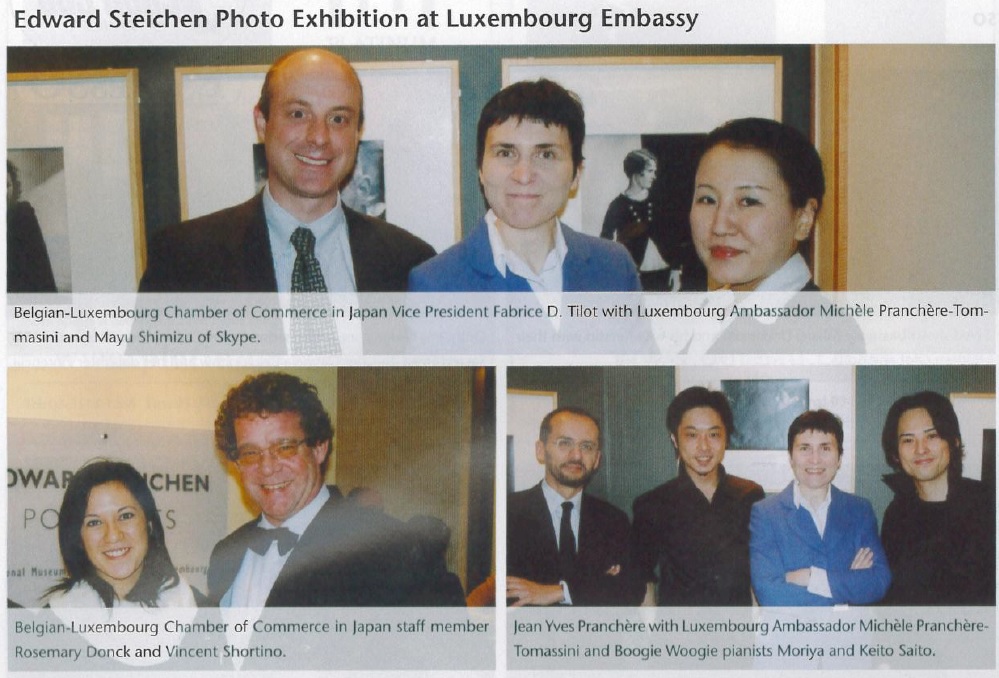 It was an enjoyable evening when Luxembourg Ambassador Michele Pranchere-Tomassini invited friends for a glass of Moselle wine and a special viewing of Edward Steichen portraits. It was really interesting to look at and meditate over the classic black and white photos of legendary film and stage stars that included Lillian Gish, Charlie Chaplin, Greta Garbo, Pola Negri and Myrna Loy.
Swiss Chamber of Commerce and Industry Annual Ball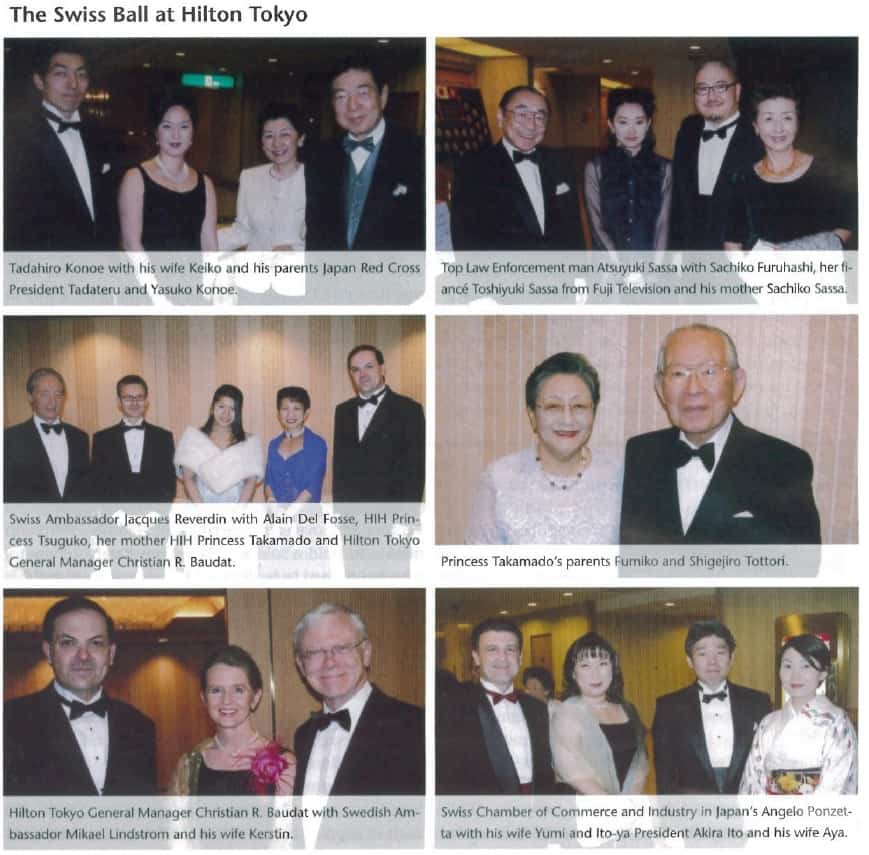 After cocktails over at the Hilton Tokyo, guests moved into the hotel's Koku ballroom which had been beautifully decorated for the annual Swiss Chamber of Commerce and Industry in Japan's annual ball. It was an evening of excellent food — mostly Swiss favorites, a contemporary dance performance by Swiss-Japanese dancer Heidi S. Durning, a long list of prestigious door prizes, and dancing into the early hours.
HIH Princess Takamado whose presence always graces any of the many events she attends, brought her daughter Princess Tsuguko to the ball. The Princess, who's a student at Edinburgh University in Scotland, flew home to celebrate her 20th birthday (Coming of Age Day) on Mar. 8. The Swiss Ball was where she made her social debut, which made the evening and the ball even more special.
Lady Fry's Garden Party for Queen Elisabeth II.
I'm sure things like this happen to all of you, but they seem to be happening to me more and more. On Apr. 22, I was driving to the British Embassy for Ambassador and Lady Fry's garden party to celebrate the Queen of England's 80th birthday. 'limited on the radio and heard Ricky Nelson singing a song I hadn't heard for a long time — Going to a Garden Party. At the Frys' and in their garden I was talking with Hisanaga and Takako Shimazu when Ambassador Fry proposed a toast to Queen Elizabeth and his majesty the Emperor of Japan. Takako, as most of you know, is the sister of the Emperor. Talk about timing. There was a lot of it that day.
PLACES
Check out nakata.net Café — a new ultra-modern cafe run by Japan's best-known soccer player, Hidetoshi Nakata. It's located where Kinokuniya market used to be on Aoyama clod.
That huge complex, the Tokyo Midtown Project, that will house the Ritz-Carlton Hotel near Roppongi crossing is really going to be spectacular from the looks of things. Construction there is going on 24 hours a day and the scheduled opening is mid-2007. Meanwhile, rumor has it Roppongi Hills tycoon developer Minoru Mori is grabbing all the real estate he can in and around Roppongi. People say his dreams include expanding Roppongi Hills into 'a city of the future.' Sounds good. When new things go up it often means old things have to go down. Can't tell you how unhappy I was to hear the Marubeni Gas Station at Iikura Katamachi
The Lexington Queen (Lex) in Roppongi celebrates its 26th anniversary this year. The big party's on Saturday, May 27. The Lex is looking for foreign waiters and bartenders. It's hard work, but fun. And you meet a lot of interesting people. A few of the many who partied there recently included the casts of the films Grudge 2 and Lords of Dog-town, about 15 Indy race car drivers, U.K. pop artist James Blunt, the band The Darkness, and the cast of Tommy the musical.
*First published at the Tokyo Weekender
*Images Copyright: Tsukasa Shiga