Bill's Partyline November 5th, 2005
PEOPLE
Our sincerest congratulations to our Islamic friends on their holy month of Ramadan. This year Ramadan started on Oct. 5. The festival commemorates the first revelation of the Holy Qur'an by Allah to Muhammad. Fasting, compassion, charity, and increased devotion are the highlights for Muslims during Ramadan. Salaam to our Muslim friends on this very special and important time. Just before Ramadan I really enjoyed a coffee break at Segafredo's in Hiroo with two of our city's coolest and chicest women: Muna Al-Ansari (Qatar Ambassador's wife) and Lamia Lecheheb (Moroccan Ambassador's wife). Another super lady, Nadia Benjama (wife of the outgoing Algerian Ambassador) had planned on joining us, but was flying out that evening to Algeria with her family, and just as you can imagine, got caught up in a last-minute rush. The Bendjamas, who'll certainly be missed, had a big sayonara party at their home a few days prior to their departure. A rundown and photos later.
PARTIES
I've long been a fan of Mutsuko Mild, the wife of the late and great Prime Minister Takeo Miki, and I was really sorry I had to miss much of the lunch the members of the Asian Pacific Ladies' Friendship Society (APLFS) held in her honor. The occasion was Mutsuko's retirement, after many years as President of APLFS. The special event was held in the Orchid room of the Okura Hotel. Each of the organizations' members had worked hard to decorate their tables in a theme reflecting their national heritage. I arrived late, and my seat was at Thai Ambassador Suvidhya Simaskul's wife Boontipa's table. In the center of the table there was a big colorful fruit carving bouquet. The program included speeches by APLFS executive director Mimi Kuriyama, President H. Koumura, and Nuzhat Niaz, wife of the Pakistani Ambassador who was the Chairperson for the lunch. Mild-san made an emotional sayonara speech, and there was a toast by Mrs. Machimura, the wife of the Foreign Minister. H.I.H. Princess Hitachi was a special guest that day. Each of the hosting Ambassadors' wives had prepared an omiyage bag of interesting items from their country for guests at their table. I left with a bag that contained instant Thai curry and soup, shrimp chips, shredded coconut, dried mango, etc. It was a nice day in every way — perfect for the occasion.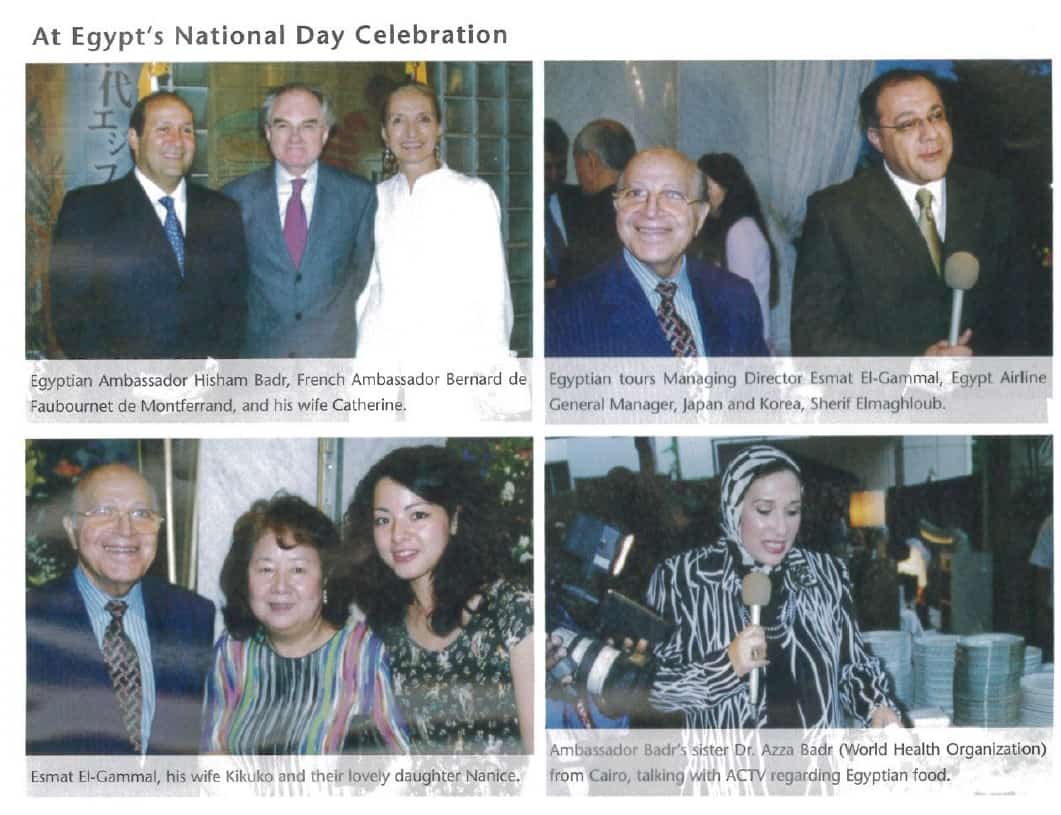 Egyptian Ambassador Hisham Badr and his staff went all out to make their National Day celebration at the residence Egyptian all the way. On the patio, there were impressive Pharaonic statues, and in the reception and dining area, a nice collection of paintings. The colorful Egyptian fabric I see used for special events in Cairo was draped at the entrance and on the many long buffet tables. ACTV's Dan Smith went with me to film the party for my 'People, Parties and Places' website and we really appreciated Hisham's sister, who was visiting from Cairo, giving us a run-down on the many Egyptian foods being served. She's an interesting woman. It was nice seeing the fashion designer Yamamoto Kansai, who hopes to do a super Kansai show in Egypt. Sticking with the adjectives good and dynamic, the only thing we really missed at the celebration was Ambassador Badr's wonderful wife Dalhia. She had to be in Cairo at that time. I am happy to report she's back in Tokyo now.
I'd also like to congratulate Polish Ambassador Marcin Rybick and his wife Adrianna. They hosted a reception, the screening of a documentary film and electronic exhibition, Way to Freedom, and piano concert of Polish music by noted pianist Reiko Awa-zu at their Embassy. The occasion was to celebrate the 25th anniversary of the founding of 'Solidarity'. Congratulations to Soho Tsukikawa's hospitality group on their new location in Roppongi Hills for their popular and prestigious Roys restaurant. Roys Tokyo Bar and Grill is now on the 5th floor of Roppongi Hills, West walk. Tel 03-5474-8181.
PLACES
Over at Soho's Nobu Tokyo 7th anniversary event, world-reknowned chefs Nobu Matsushita and Roy Yamaguchi prepared a special joint dinner. That was really some-thing special.
Our sincerest congratulations to Norio and Midori Ohga on the opening of the beautiful 700 seat Ohga concert hall in Karuizawa. When Norio retired as Chairman of Sony, he and Midori talked about what to do with his retirement money. As they both studied classical music in Europe, he singing and conducting, her piano, they decided to build the concert hall "with the hopes it will bring music and joy to many for years to come." Many of the Ohgas' friends from all over the world came to Karuizawa for the opening. The hall, by the way, is on Ohga street. Several years ago I had the privilege of going to Berlin with Norio, Midori and a group of their friends for the opening party of the Sony Center. The highlight of the big celebration was Norio's conducting the Berlin Philharmonic Orchestra. He really is an exceptional man.
*First published at the Tokyo Weekender
*Images Copyright: Tsukasa Shiga