Bill's Partyline October 21st, 2005
PEOPLE
Tokyo's really been a star-studded city the last few months with a barrage of producers, directors, actors and actresses here for a few days to promote their films. A sweet and humble Renee Zellweger was here to promote Cinderella Man for Buena Vista. A few days later I read she had her four-month marriage to country singer Kenny Chesney annulled. Others included Jessica Biel and Jamie Foxx for Sony Entertainment's promotion of Stealth, and Mickey Rourke, Devon Aoki and Brittany Murphy for Gaga's Sin City. One of the most anticipated visits was by superstar Johnny Depp who came in with director Tim Burton to promote Charlie and the Chocolate Factory for Warner Brothers. The last time Johnny was in Japan was ten years ago, but judging by the number of fans at Narita, the press conference, and the premiere, he's right at the top here in Japan. He is, as you can see by the photo, a very cool individual — and really intelligent as well.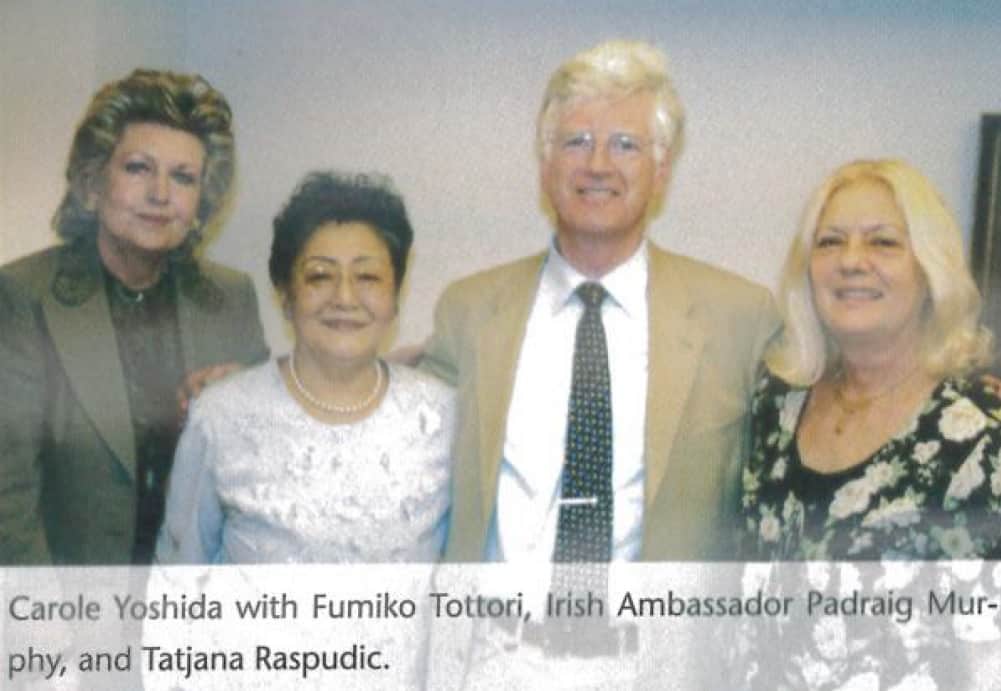 After four very active and "thoroughly enjoyable" years in Japan, Irish Ambassador Padraig Murphy returned to beautiful Ireland. Prior to his departure he hosted a crowded Sayonara party at his home. Everyone was enjoying the Irish buffet, and appreciating the opportunity to see and talk with their friend Padraig before he left. His last few weeks here were even busier than usu. al. His sons Christian and David, as well as Christian's wife Susan, visited, and from what they said, Padraig really showed them Japan. David works for a German software company in Dresden, Germany. Christian lives in Chicago where he works with a charity helping the victims of landmines. and Susan works with Rotary
PARTIES
Croatian Ambassador Drago Buvac and his wife Andjelka are an active and popular couple. It was, as expected, wall-to-wall interesting people at the reception they hosted on the occasion of Statehood Day of the Republic of Croatia. It was a relaxing mid-day break with a delicious buffet and lively conversation with a wide variety of guests. Croatia is becoming more and more of a popular tourist destination. I had the privilege of visiting Split and Dubrovnik about ten years ago, and I'm planning another trip there in the near future.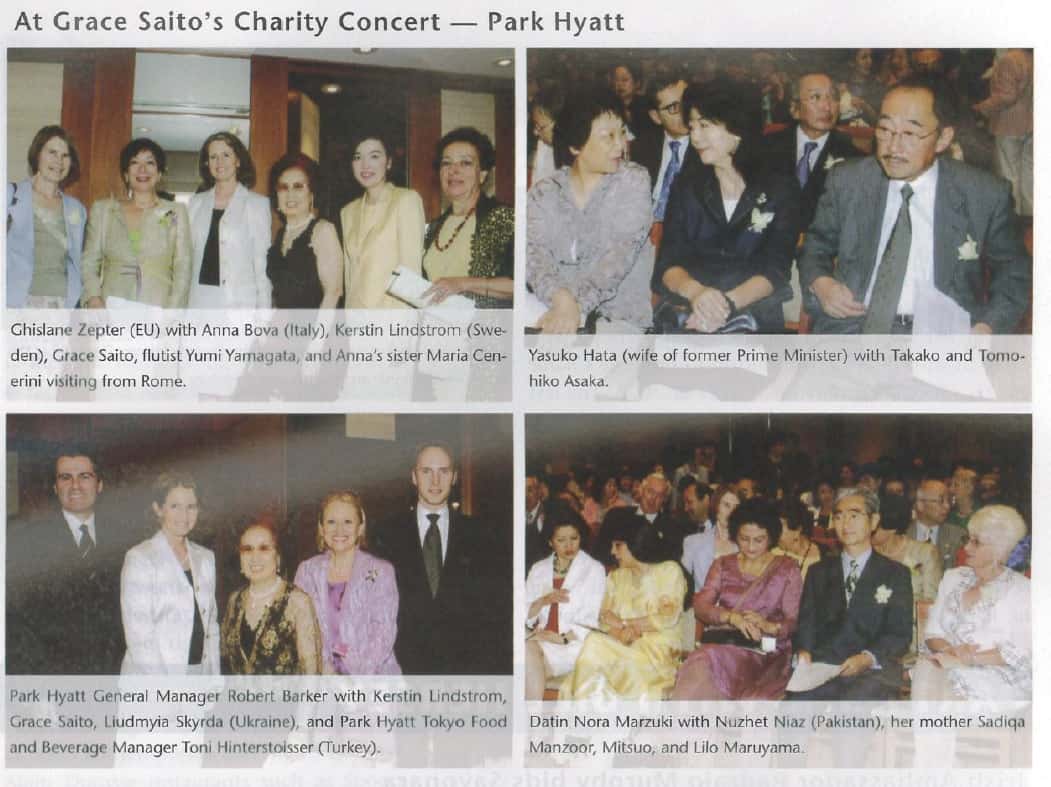 Once again, philanthropist Grace M. Saito sponsored one of her popular classical concerts, which was, as always, for a good cause. The afternoon of 'Flute, Tenor, and Piano' was held in the 39th-floor ballroom of the Park Hyatt Tokyo. Proceeds were donated to The Polio Eradication Fund.
Thanks to outgoing Sri Lankan Ambassador Karunatilaka Amunugama and his wife Nandika, a large group of their friends were able to enjoy a marvelous evening of Sri Lankan song and musk at the Japan Foundation Forum. In addition to a performance by acclaimed and awarded composer/musician violinist and professor Maestro Amaradeva, there were songs by three of Sri Lanka's popular vocalists T.M. Jayartne, Deepika Priyadarshani, and Asanka Priyamantha. After the program, there was a reception where guests were able to meet and that with the performers and enjoy a buffet of Sri Lankan food.
PLACES
Well, Aichi Expo 2005 has come and gone, and I'm happy to report, in spite of gloomy predictions, it was a huge success. I'm really sorry I wasn't able to accept invitations for several very worthwhile events at Expo. These included the official ceremony of the Central America National Day at Expo-Dome on Aug. 19. The hosts were: Harry Bodan-Shields, Ambassador of Nicaragua, Ricardo Paredes Osorio, Ambassador of El Salvador, Carlos Manuel Zeron, Ambassador of Honduras, Arturo Duarte, Ambassador of Guatemala, Alfredo Martiz Fuentes, Ambassador of Panama, Alexander Salas Araya, Ambassador (Designate) of Costa Rica, and Yasuo Inaba, General Commissioner of Belize.
*First published at the Tokyo Weekender
*Images Copyright: Tsukasa Shiga