Bill's Partyline September 15th, 2006
PEOPLE
Ken Hirai sang the theme song in the original film, and Tae-Hyun, who has a huge following of mostly young girls in Japan, sang the song for the Korean version. Hae-Kyo speaks English and I had the opportunity to talk with her at a dinner party. She's well known for her acting on television, and this was her first feature film. "l didn't do much sight-seeing here-too busy­but I did have time to shop," she told me, pointing to a Hysteric Glamour t-shirt she had bought at a Shibuya boutique, and was wearing. The beautiful Hae-Kyo reminded me of Chinese actress Zhang Ziyi (Sayun).
By the way, another Asian beauty model-actress Devon Aoki (Sin City) is the image girl for Hysteric Glamour. Tae-Hyun, who recently married, doesn't speak much English, but did try. When I told him he looks like one of Johnny Kitagawa's rock stars, he smiled and said, "It's really nice to hear that. I will soon play a rock star in a new film project." Movies really are one of the best (and most enjoyable) ways to see, become more familiar with, and understand other cultures.
PARTIES
Wings of Love Our city always has a full schedule of worthwhile charity events, and the annual Wings of Love at Hilton Tokyo is one of the most prestigious, elegant and enjoy-able. The first gala charity dinner party was initiated in 2002 by Taj Enterprise in conjunction with Birdlife International. The fourth—this year—opened with a short, and always meaningful speech by HIH Princess Takamado, honorary President of Birdlife International. The theme this year was China, and the Hilton had created an original and delicious dinner based on Chinese cuisine. The show that followed was the concept of internationally acclaimed jewelry designer Kazuo Ogawa. There was a performance by renowned Chinese opera singer Sai Yanguang, and a fashion presentation by noted designer Yumi Katsura.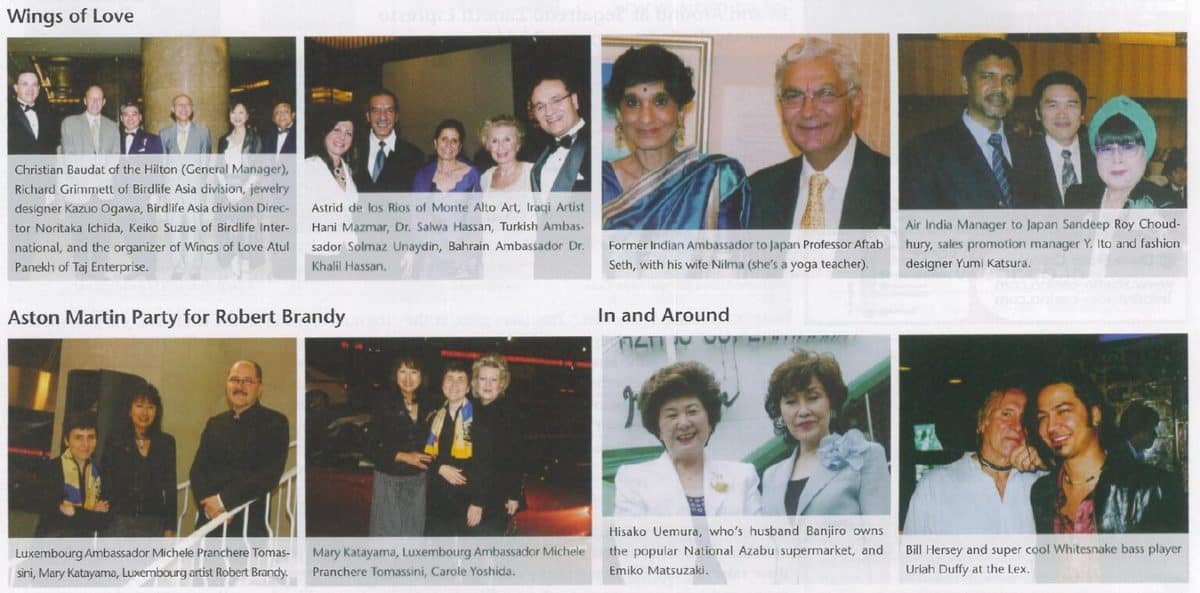 Aston Martin Party for Artist Robert Brandy When two of 'Ibkyo's most popular and creative ladies get their heads together on putting together an event, you know it's going to be very special. Luxembourg Ambassador Michele Pranchere Tomassini and Mary Katayama invited friends to an exhibition (actually exhibitions) of paintings of cars by Luxembourg artist Robert Brandy. The evening started out at the Katayama's beautiful automobile (Aston-Martin Japan) show-room on Aoyama Dod. After meeting the artist and viewing the exhibition, guests enjoyed cocktails, canapes and conversation, as well as checking out the prestigious cars on display. An hour or so into the reception there was a drawing and the lucky winners were driven in beautiful Aston Martins to the Luxembourg House. As I said, Michele has a great sense of humor, and she came up with the idea of a "booby prize" (she didn't call it that). The winner of that prize was driven to the second party in my old red BMW. Once guests arrived at the Luxembourg House, they enjoyed the exhibition of Brandy's larger than life paintings, a buffet, and of course, Michele's hospitality.
PLACES
Cheesecake for Everyone! I, and just about everyone I know, loves cheesecake. Due to popular demand, Hilton Tokyo is repeating their "Cheesecake Promotion." This takes place at the Hilton's Marble Lounge daily from 2:30pm to 6pm, from Sep. 1 to Oct. 14. Nine kinds of international cheese-cakes that include Camembert, pumpkin, tiramisu, and Gouda pound cake will be available. The buffet includes a variety of cheese, German cream waffles, sandwiches, hot foods and the chocolate fountain. See you there!
Park Hyatt Deli While you're in Shinjuku, check out the Park Hyatt's chic and well-stocked Deli. Just inside the hotel's main entrance you'll find an excellent pastry boutique. From there take the stairway down to the main deli. Their many, and I do mean many food specialties include one of my favorites—a frog's legs dish. With cooler weather coming up you can enjoy the deli food on the outdoor patio or take-out to enjoy at your office or home. In response to guests' demands nationwide, you can now shop for over 250 items at Park Hyatt's new online shop. This gives you easy access to a wide range of gourmet delicacies and hotel amenities. Check it out at http//shop.parkhyatttokyo.com.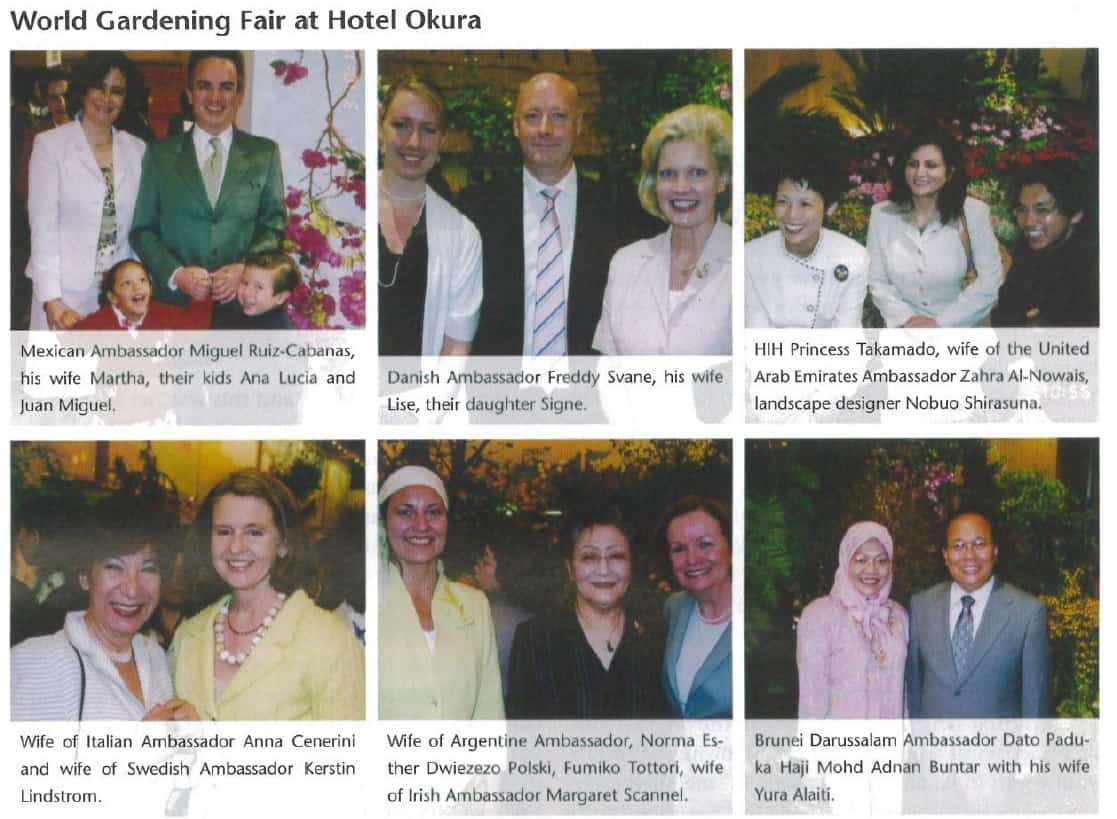 Seventh annual world gardening fair at Hotel Okura, so will settle for spectacular. The gardens created by ten Ambassadors' wives who worked with one of Japan's top landscape designers, Nobuo Shirasuna, were all different, all original and, well, spectacular. HIFI Princess Takamado cut the ribbon to officially open the exhibition, and visited each garden where the participating diplomats' wives explained the theme and history of their creation. The participating countries, and the garden themes, were: Denmark's "Smiling Garden," Morocco's "A Feat for the Sense," Romania's "Countryside Happiness," Italy's "Sinfonie di Primavera," United Arab Emirates' "Palm Garden," Brunei Darussalam's "Taman Seri Kenangan," Australia's "Preserving Nature's Gift," Argentina's "Twelve Roses Garden," and Mexico's "Meditating with Luis Barragan."
*First published at the Tokyo Weekender
*Images Copyright: Tsukasa Shiga