Celebrating 40 years of Rubik's Cube in Japan
Celebrating 40 years of Rubik's Cube in Japan the Embassy of Hungary and MegaHouse Japan (Part of Bandai Group) invited guests and the media to a special conference. The Rubik's Cube was released in Japan on July 25, 1980, following the worldwide popularity of this unique puzzle invented by Erno Rubik in 1974.
CEO of MegaHouse Hiroshi Sakakibara and Hungarian Ambassador to Japan Norbert Palanovics had a special treat for their audience. For this special occasion, Megahouse with the help of Iriso Seimitsu Co Ltd, revealed the world's smallest functioning Rubik's Cube. Each side of the cube measures precisely 0.99cm, and yes, you can play with it. This special cube, however, doesn't come cheap. With a price tag of 198,000 yen (ca $ 1,800), this cube is only for die-hard fans or collectors with deep pockets.
Dedicated to the next generation of players
The Embassy of Hungary in Japan in collaboration with the National Council of YMCAs of Japan co-organized a lecture and a workshop for children with special needs to commemorate the 40th Anniversary of the Rubik's Cube in Japan at the Hungarian Cultural Center. YMCA Executive Director Hiroko Ohiwa: "We have decided to provide children with an opportunity to experience the world of the Big Cube. This workshop aims to help children understand diversity, develop an unbiased mindset, and develop a rich heart."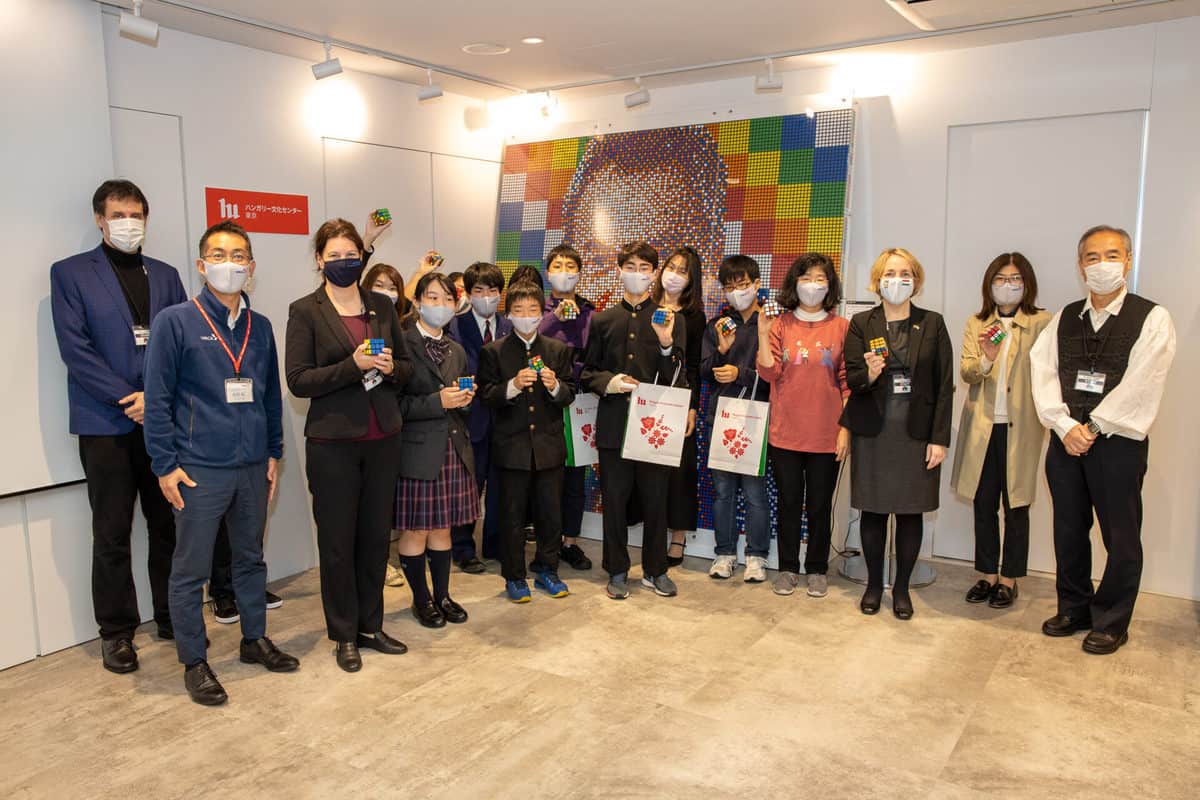 Erno Rubik was born on July 13, 1944. He invented the Rubik's Cube in 1974 while he was a professor of architecture in Budapest, Hungary's capital. According to the official press release, it was created by Rubik to explain three-dimensional geometry to students. Rubik found that once the colors broke apart, it was difficult to get them back together. At that time, it is said that it took more than a month to restore it. That led to the idea of selling these colorful cubes as puzzles.
It was a big hit when it was released in Hungary in 1977 under the name "Magic Cube". Later, it was released worldwide under the name "Rubik's Cube" after the name of the inventor. Over 100 million units have been sold it two years since 1980. "The King of Puzzles" is still loved all over the world.
For more information visit: