Celebrating Lithuanian Independence "Freedom is what you win"
In 2023, the Embassy of the Republic of Lithuania in Japan celebrated its 105th Independence Day with people connected to Lithuania.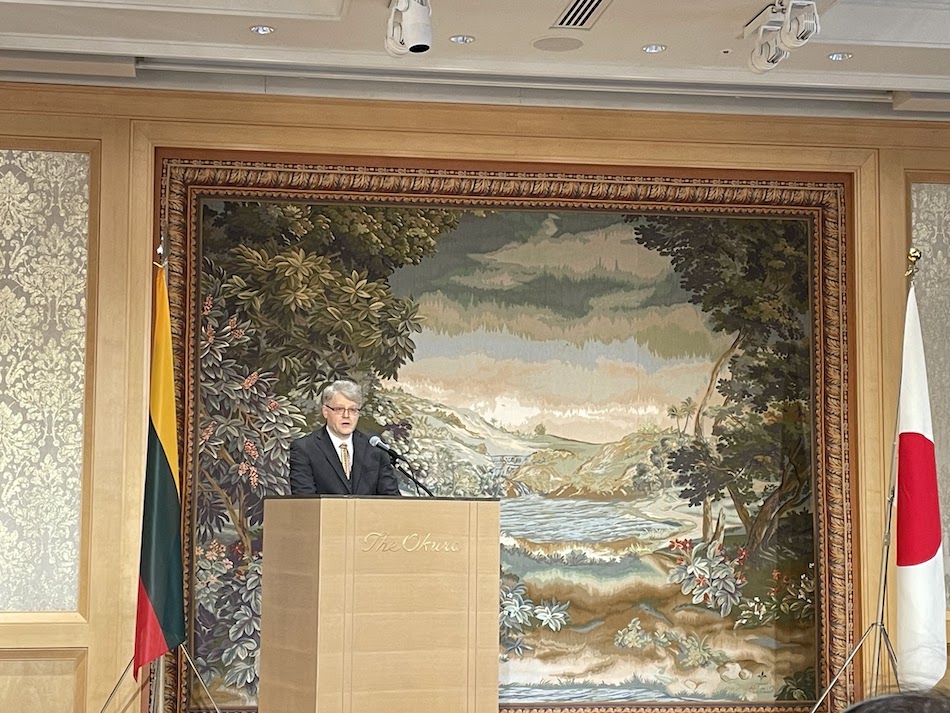 Lithuania and Japan have a long history of exchanges, and the Lithuanian Embassy in Japan has honorary consulates in Sapporo, Chiba, and Osaka, as well as in Gifu, the hometown of Chiune Sugihara, who was the Consul General of Japan in Lithuania.
The current Ambassador, Aurelijus Zykas, has experience studying abroad at Waseda University and Kanazawa University. He is also the best Japanese expert in Lithuania and also speaks perfect Japanese.
Since Ambassador Zykas assumed his post, he has been actively promoting exchanges in various parts of Japan, and many prominent people related to Lithuania attended the Independence Day Reception from all over Japan. Ambassadors from various countries also attended, including the U.S. Ambassador to Japan, Rahm Emmanuel, and member of the House of Councilors Hirofumi Nakasone, who was awarded the Lithuanian Meritorious Service Cross for his work in the Lithuanian Parliamentary Friendship League.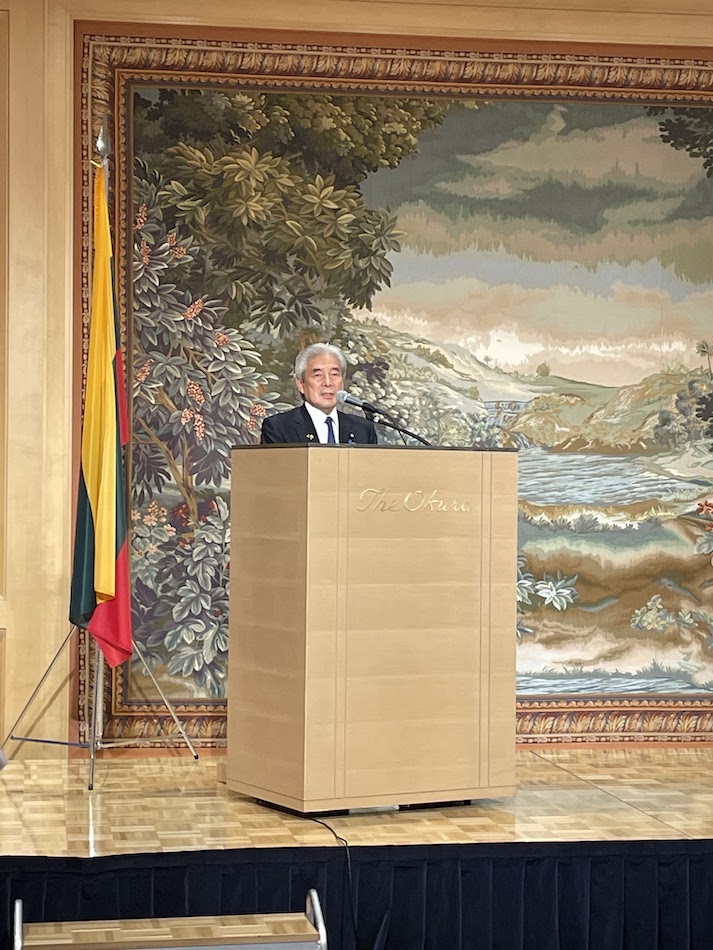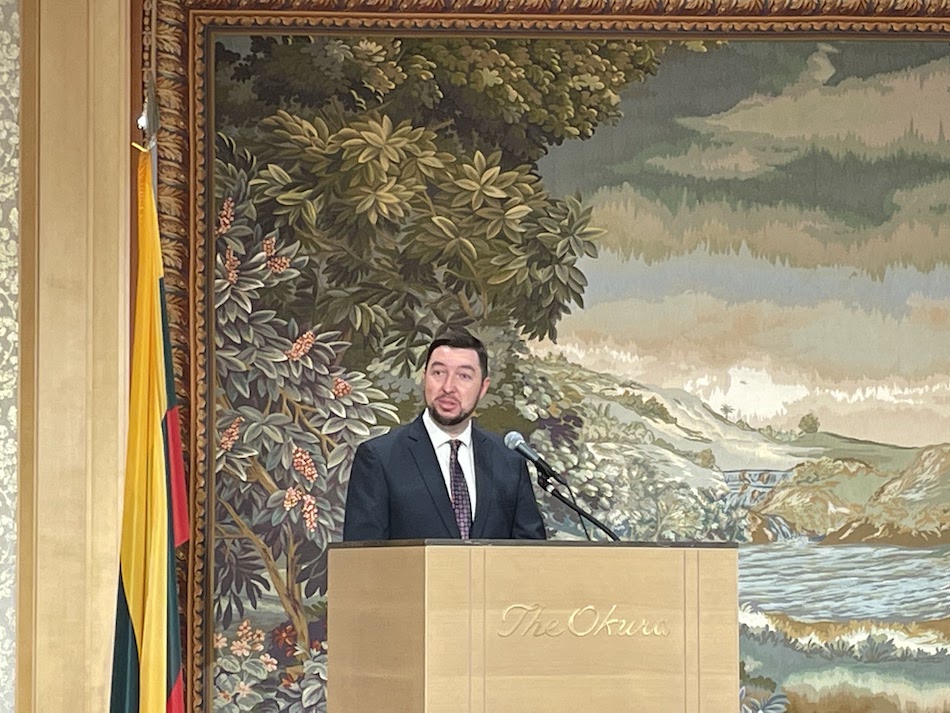 At the beginning of the reception, Ambassador Aurelijus Zykas delivered a powerful message that expressed the feelings and spirit of the Lithuanian people: "Freedom is not something that is given — it is something that is earned." In addition, Vytautas Mitaras, Vice-President of the National Assembly, who was visiting Japan, delivered a message saying, "I hope that the bonds of friendship linking Lithuania and Japan will contribute to the resolution of the issues we are currently facing."
Afterwards, an awards ceremony was held to honor those who have made significant contributions to the development of bilateral relations between Lithuania and Japan and the promotion of Lithuania in Japan. The Embassy of the Republic of Lithuania in Japan received a letter of appreciation from Ambassador Zykas.
The most impressive thing was that Chiune Sugihara presented the original visa signed for the departure of Jewish refugees in Lithuania. Chiune Sugihara, a diplomat working at the Japanese Consulate General in Kaunas at the time, and Jan Zwartendijk, a Dutch diplomat working as a Dutch consul at the time, issued the "Visa for Life" in Kaunas in 1940, and the visa arrived at the Lithuanian Embassy in Japan just before this year's Independence Day. The valuable original of the "Visas for Life," which helped many Jewish refugees, will be exhibited at the Chiune Sugihara Museum in Yaotsu, Gifu Prefecture, where Chiune Sugihara was born. As proof of the friendship between Lithuania and Japan, Chiune Sugihara's achievements and spirit will never be forgotten.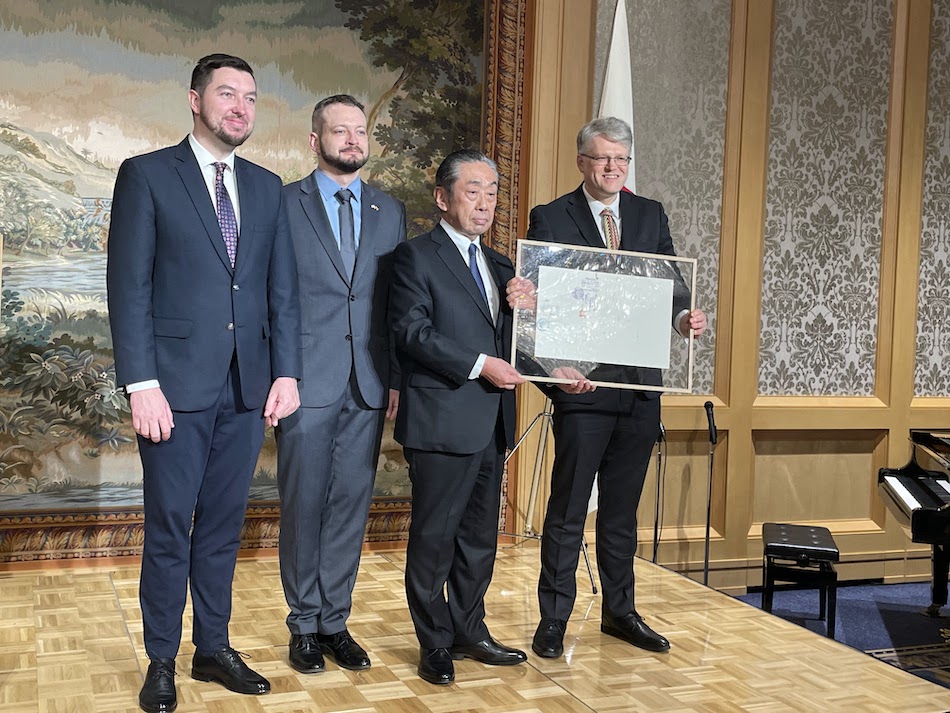 Today's Lithuania is blessed with a bright national character and excellent human resources and continues to develop vigorously. The beautiful country is also very attractive to tourists.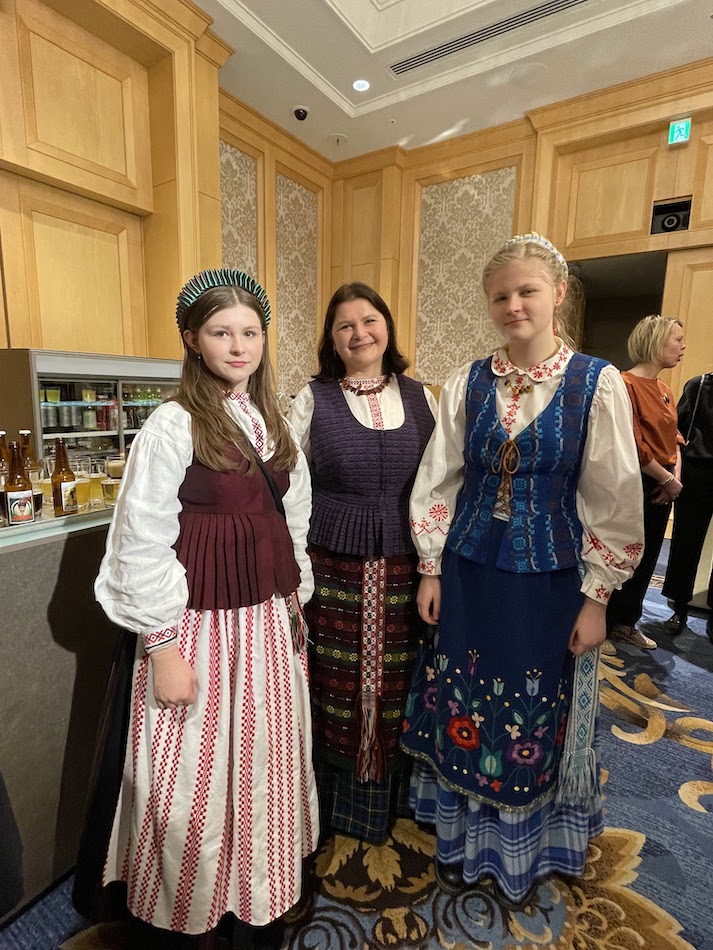 ---
【External Links】
Documentary Movie "Mr.Landsbergis" trailer(Jump to YouTube )
The Chiune Sugihara Memorial Museum Official Website
Embassy of Republic of Lithuania Website (Ministry of Foreign Affairs of Japan)