"Future Lithuania and Japan"
Interview with His Excellency Aurelijus Zykas, Ambassador Extraordinary and Plenipotentiary of the Republic of Lithuania to Japan. The new ambassador is an international political scientist who studied in Japan.
This year, the Embassy of Lithuania in Japan welcomed a new ambassador, Aurelijus Zykas. On June 24, he had an audience with His Majesty the Emperor and presented his credentials. The new ambassador, Aurelijus Zykas, who is quiet and soft-spoken, is said to have originally taught at a university. He is one of Lithuania's most proficient Japanese speakers and has experience working as an interpreter for Lithuanian government officials, including the president.
This interview was answered in perfect Japanese. The personality of the new ambassador overflows in his polite Japanese, spoken in a soft voice. We were able to hear a very good narrative about the country of Lithuania.
Q: Your Japanese is very good. Where did you study?
Ambassador: I came to Japan as an ambassador only three months ago, but my first visit was in 1998. I learned Japanese because I had the impression that Japanese is the most complicated language in the world, and I wanted to try it. However, at that time, Lithuania did not have any materials for learning Japanese. I got a dictionary by chance and started studying with it. Then, in 1998, I came to Japan for the first time, first studying at Kanazawa University, then Waseda University, and spent a total of three years there.
Q: What kind of work did you do in Lithuania?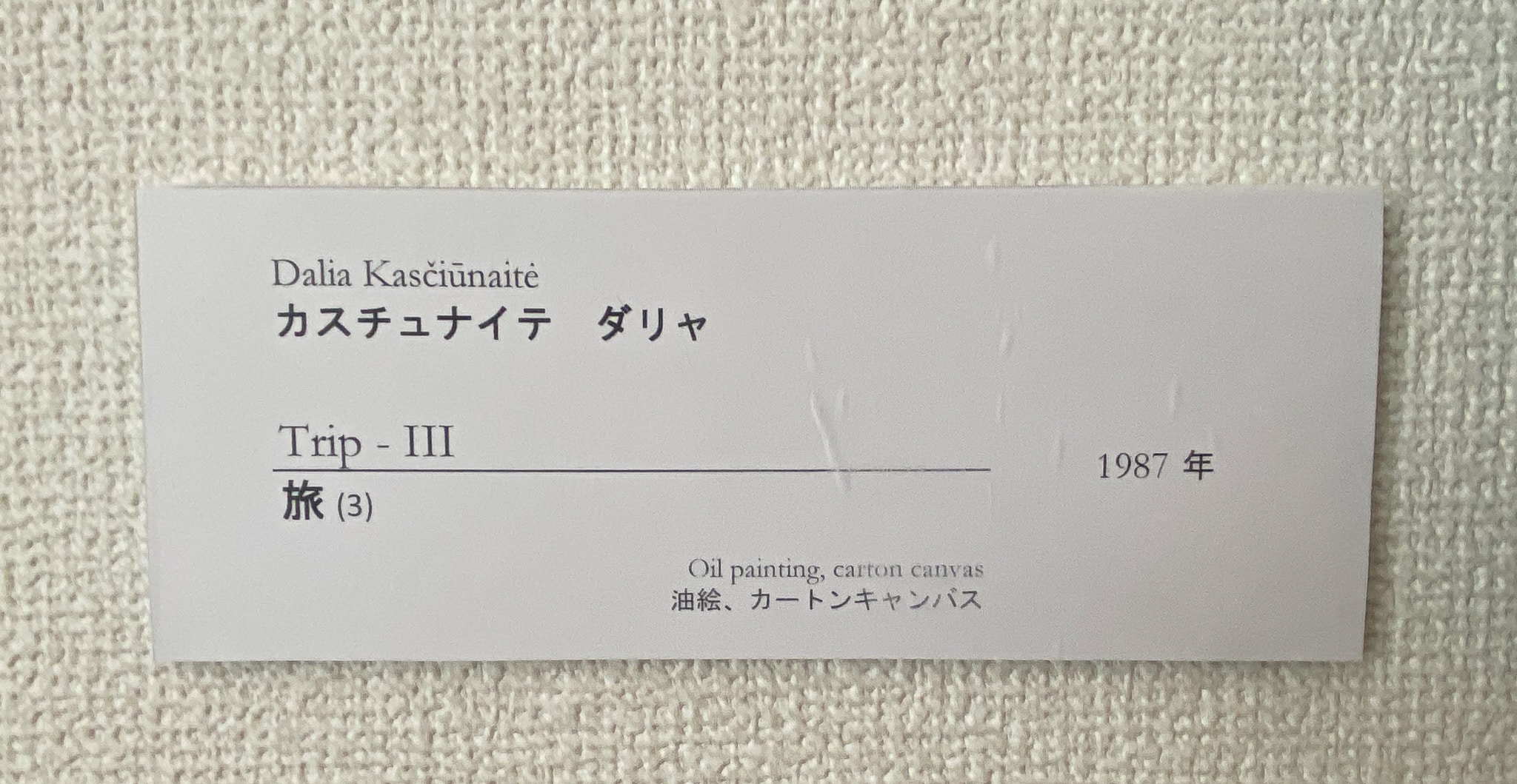 Ambassador: After completing my studies in Japan, I was teaching as an associate professor at a university for 17 years. In Lithuania, the number of people who could speak Japanese was very limited, so I sometimes served as an interpreter for the President and Prime Minister, and without realizing it, I entered the field of diplomacy.
Regarding my appointment as ambassador, to be honest, I never dreamed of becoming a diplomat, nor did I aim to. Last autumn, I received a phone call from the Ministry of Foreign Affairs out of the blue, and the Senior Vice Minister asked me to become an ambassador to Japan. I was very surprised when I heard that my contributions thus far had been recognized. I hesitated for a long time whether to accept it or not. The current international situation is a difficult time.
Luckily, I am encouraged that my major is political science, and having studied it for a long time, I knew quite a bit about it. Also, I thought that with my Japanese language ability and understanding of the culture, I would be able to lead this mission successfully. Furthermore, I felt that this was my mission in life, and decided to do so.
Q: What would you like to do during your term in Japan?
Ambassador: There are three important things in diplomacy — politics, economy, and culture/people to people exchange — but what I am most aiming for is economic exchange. Lithuania's establishment of a representative office in Taiwan last year has soured relations with China, bringing trade and economic exchanges to zero. Lithuania has begun efforts to develop a market in East Asia instead of China. South Korea, Singapore, and Taiwan have become very important trading partners, and Japan is also one of them.
Lithuania has successfully shifted its trade from China to exporting to East Asian countries. There is a Lithuanian proverb, "In difficult times you find a true friend." We have an important friendship with Japan, and although it is a difficult time now, I think it would be better to promote economic exchanges more in the future.
Q: When most Japanese think of Lithuania, they think of "Japanese Schindler, Mr. Chiune Sugihara" in Kaunas. Is his achievement recognized in Lithuania?
Ambassador: Yes. Mr. Sugihara is well-known even in Lithuania, and I think it is the most important bond between the two countries. In Lithuania, Mr. Sugihara's story is included in textbooks, and his name recognition in the media is high. Lithuanians respect Mr. Sugihara.
Question: Lithuania is called one of the three Baltic countries. After independence from the Soviet Union, Lithuania's IT and industrial development has been remarkable. What do you think?
Lithuania is one of the three Baltic states, but these three countries have little in common. The language, identity, history, and religion are also different, so it can be said that the pan-Baltic identity in Lithuania is not very strong. But our countries have to work together.
During the former Soviet Union era, the three Baltic States were economically blessed. As a Soviet territory in the West, the Soviet Union was also proud of it. After gaining independence, they moved to free market economy, so the 1990s were tough, but over the past 20 years, the three Baltic States have developed remarkably, progressed economically, and achieved success in terms of democracy. Currently, Lithuania is a member of both NATO and the EU, making it the most-eastern country in the member of NATO.
However, even after gaining independence, the three Baltic States remained economically subordinate to Russia for a long period of time. The reason is that energy resources are scarce. For quite some time, we have been importing cheap gas from Russia. However, about 10 years ago, Lithuania spent a lot of money to build an LNG terminal called "Independence" in the country. At that time, there were some words of criticism about this construction. However, as of this year, it has been said that this is a very big success story. Lithuania does not rely on gas supplies from Russia — on the contrary, it sells gas to the neighboring countries.
Recently, the Baltic States have been focusing on the development of ICT. Lithuania is also very advanced in ITEC. In fact, what is increasing in exports is not bread, cheese, agricultural products, etc., but lasers. Huge percentage of Japanese scientific lasers are exported from Lithuania. Medical lasers are widely used. Lithuania has excellent laser technology and even newer technologies are emerging.
Q: Lithuania has produced many excellent scientists. What areas are you interested in? Do you have exchanges with Japan?
Ambassador: It is true that Lithuania has produced many excellent scientists. Virginijus Šikšnys was nominated for a Nobel Prize for his work on genetics. In particular, Lithuania excels in fields such as life sciences, and I believe that we will be able to interact with Japan in this field in the future.
As for cultural exchange, unfortunately it has been slowed down due to COVID-19. Just before COVID-19, we were able to realize various things, such as conducting joint research with Keio, Kwansei Gakuin, Kyoto University, and several university in Lithuania. Even now, joint research projects are being carried out in the field of cancer treatment, etc., with the support of Japan's AMAD National Research and Development Corporation Japan Agency for Medical Research and Development.
Q: Could you tell us about the national character of Lithuania?
Ambassador: Lithuania's position is to say things as clearly as possible. This is not the case in Japan. It is often said to be a more courageous country. Lithuania has been continuing to say that Russia is a threat. The world says Lithuania was right since the invasion of Ukraine began.
Q: What is the population of Lithuania? Is it an aging society?
Very few compared to Japan. The area is slightly smaller than Hokkaido. It has a small population of less than 3 million people. However, because the country is fertile, the food self-sufficiency rate exceeds 100%, and we also export it overseas.
As the country develops, the problem of aging begins, but Lithuania has a lot of young people. Personally, I am happy that young people are in important positions. From the point of view of the Japanese people, people ask whether such a young person can become an ambassador or a minister. The Minister of Foreign Affairs is 40 years old, and the Minister of Economy is also young.
It should also be noted that women are in better positions than in Japan. Currently, the Prime Minister is a woman, and the Speaker of Parliament is also a woman. The previous President was a woman. I think this has something in common with Nordic culture in terms of welfare, as well as women being very powerful, Lithuania has adopted the Nordic model to a large extent.
Q: Could you talk about tourism?
Ambassador: Lithuania has many beautiful old towns with ancient culture and medieval scenery. Blessed with nature, there are forests and sand dunes along the coast, making it a very good place for sightseeing. Lithuanian food is delicious and seems to suit Japanese tastes very well.
Before the COVID-19 pandemic, the tourism industry was developing, and many Japanese tourists visited. A visit to the Sugihara Memorial Museum was also included in the sightseeing trips. However, the tourism industry has stagnated due to the pandemic, and tourism from Japan in particular has been hit hard. In fact, last year only a few hundred people came. Recently, tourism from Europe has revived, returning to the situation before the pandemic. I think that tourism from Japan will come back also.
Q: What is typical Lithuanian cuisine?
Ambassador: Eastern European cuisine have commonalities. Meat dishes are common, and potatoes are the staple food. I think it is hard for Japanese people to imagine that potatoes are the staple food. One of the most famous is the brightly colored Šaltibarščiai, a pink soup, which is a refreshing and tasty soup made with beets and yogurt. This is also surprising because it is difficult to imagine a pink color for Japanese people.
Q: Finally, could you tell us about Lithuanian art?
Ambassador: Famous artists in Lithuania are mostly Jewish. The most famous composer is Mikalojus Ciurlionis. He is a true genius and the pride of Lithuania.
The new museum, "MO Museum," has opened in the capital Vilnius. A very modern museum showcasing modern art, and it is visited by many tourists.
The paintings displayed in the embassy were borrowed from the Lithuanian National Museum. Currently, about 10 items are displayed inside. Next year, it will exhibit another works. A new cultural attache will be appointed soon, so I expect to be able to carry out various cultural projects.
Mr. Ambassador, thank you very much for taking the time to speak with us today.
Read more