Celebrating the 67th Anniversary of Tunisia's Independence
Tunisia is an important African country. Diplomatic relations were established with Japan in June 1956, immediately after it gained independence. With such a long and good relationship, the reception commemorating the 67th anniversary of independence was attended by State Minister for Foreign Affairs Kenji Yamada, as well as by many parliamentarians and related parties who are close to Ambassador Mohamed Elloumi.
At the reception, sincere appreciation was express to former Defense Minister Nobuo Kishi, Chairman of the Parliamentary Friendship Association Japan-Tunisia, who played a very important role in the relationship and friendship between two countries. Ambassador Elloumi presented a letter of appreciation to the Secretary General of the Tabata Association instead of Nobuo Kishi, who was absent due to health reasons.
Tunisia and Japan have built a very good relationship over the past 67 years, during which there were many exchanges in politics, economics, arts, culture, and workforce training. Through these exchanges, the two countries have built mutual trust, respect, and shared values.
This good relationship reached a new heights in August 2022, when Tunisia became the host country for the TICAD8 Summit. TICAD8 was attended by 20 leaders from 48 African countries, even in the midst of the COVID-19 crisis. Japanese Prime Minister Fumio Kishida attended all the summit meetings online, and Foreign Minister Yoshimasa Hayashi attended on-site.
At this TICAD8, the "Tunis Declaration 2022" was adopted, and Japan announced public and private financial support in various fields. On the eve of TICAD8, President Kais Said and Prime Minister Fumio Kishida issued a joint statement entitled "Tunisia-Japan: A New Partnership for Sustainable Development, Peace and Prosperity."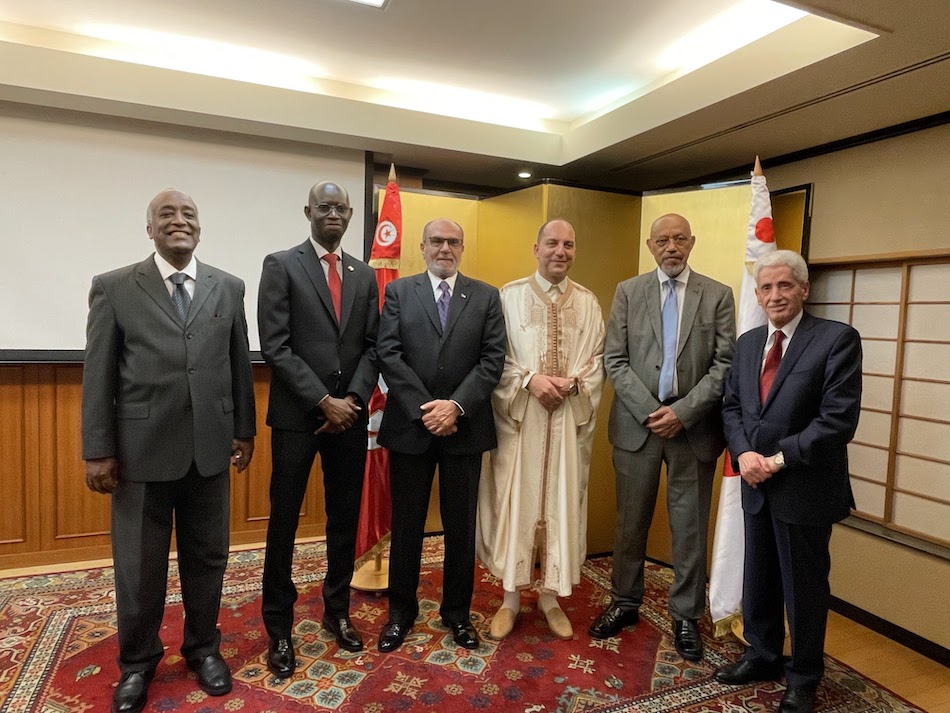 Tunisia has been leading African countries and showing its potential to the world. Its location in the heart of the Mediterranean Sea makes it ideal as a gateway to Africa and a hub for exchanges and connections with the Middle East, Asia, and Europe.
In addition, this country has abundant resources, wonderful people, rich nature, and beautiful townscapes that are wonderful for tourism. The current political system is righting the course of the revolution and is transitioning to a new one that respects and responds to the freedom and dignity of the Tunisian people. Such domestic stability and complete economic recovery will lead to the further development of Tunisia and its investment value to the world.
At this reception, a large birthday cake was prepared to celebrate Tunisia's 67th birthday, and Ambassador Elloumi and State Minister for Foreign Affairs Kenji Yamada cut the cake. The cake was distributed to the participants along with Tunisian delicacies such as couscous.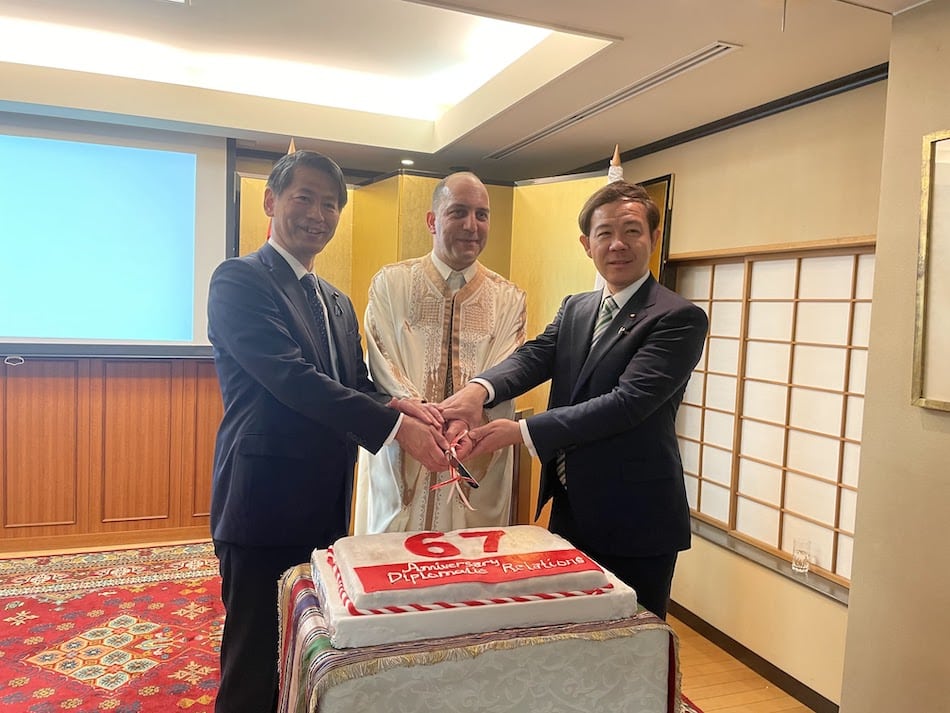 Tunisia is also known for its wine production. With the finest Tunisian wines selected by Ambassador Elloumi, everyone celebrated Tunisian independence and the future.