Tunisia at the Tourism EXPO Japan 2022
Tunisia, a major tourist destination, welcomes Japanese visitors.
The comprehensive travel event "Tourism EXPO Japan" has been held every year since 2014, gathering information on tourist destinations from around the world and all over Japan. However, due to the impact of the COVID-19 pandemic, the event has been once cancelled. In 2022, it was held in response to the expectations of those involved.
At this world-class travel event, many diplomatic establishments in Japan also set up booths to promote the attractiveness of their country's tourism.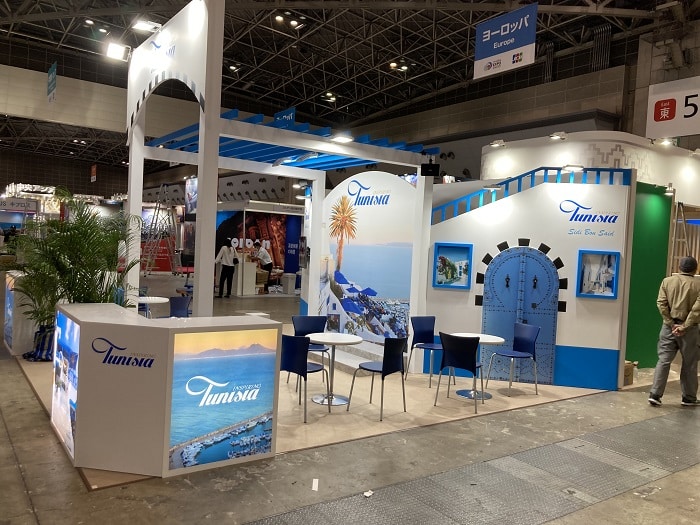 Tunisia, which is attracting attention as a location for Hollywood movies such as "Star Wars," is a tourist country representing Africa. Tunisia, a world resort, is also focusing on attracting Japanese tourists.
The Embassy of Tunisia in Japan, in cooperation with the National office of the Tunisian Tourism (ONTT), set up a beautiful booth at the Tourism EXPO venue with the image of the "blue city" Sidi Bou Said, which is said to be particularly beautiful. Tunisia's famous products, such as olive oil and dates, were introduced. A screening was also held to introduce sightseeing spots and cultural heritage. Mohamed Elloumi, Ambassador of Tunisia to Japan, was the moderator of the screening. Everyone can have a quick look at the beauty of Tunisia through the ambassador's YouTube presentation:
Now that restrictions on the COVID-19 pandemic are being eased, people are once again thinking about traveling to places they've never been before. Tunisia is definitely one of the candidates!