CHARITY BAZAAR Organized by AWAAJ
AWAAJ, Association of Wives of African Ambassadors in Japan will hold a charity bazaar at the Embassy of the Republic of Angola on April 20th, Wednesday.
At the bazaar, you can taste African food and enjoy shopping for handicrafts. We can also dance with African music.
Day and Time:
Wednesday, April 20th, 2022
10:00-12:00 Or 13:00-15:00
Venue:
Embassy of the Republic of Angola
2-10-24 Daizawa, Setagaya-ku, Tokyo
Access:
Inokashira Line: Ikenoue Station, 4 min. walk from South Gate
Odakyu Line: Shimo-Kitazawa Station, 12min. walk from Central Gate
Entrance Fee:
JPY1000 Part of the proceeds will be donated to different charitable Organizations in Africa and in Japan.
For those who would like to join the bazaar please take a look at the details below.
Contact:
Embassy of the Republic of Angola
TEL: 03-3464-8451
Email: m-xavier@angola.or.jp
Phone: 080-5867-3701.
Person in charge: Fátima Xavier (Spouse of Ambassador, Angola)
Or you can buy tickets on the same day at the entrance at JPY1000.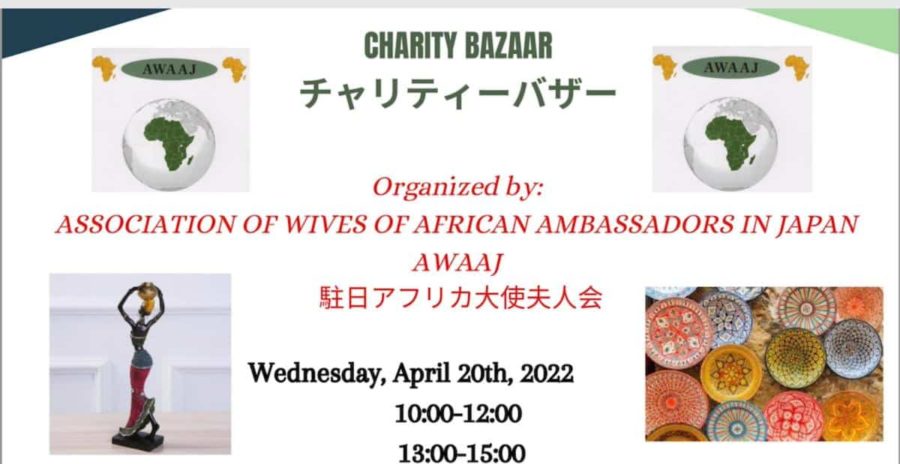 If you are interested in these activities, please visit the following site: http://wfc.or.jp/
Read also: