Cultural Exchange Event at the Kuwaiti Embassy in Tokyo
A cultural exchange meeting was held at the Kuwaiti Embassy to enjoy Arab, European and Asian cultures.
The event was organized by Mrs. Manal, the spouse of H.E. Mr. Hasan Mohammed Zaman of Kuwait. Mrs. Manal has a deep understanding of culture and art, and has held various wonderful cultural exchange meetings.
At this event, thanks to the efforts of Ms. Hoshino Tsuji (Director of Kyokane Co., Ltd.), an Italian designer introduced accessory for the Japanese Obi using coral and pearl and Italian jewelry, Kimono, and Uchikake, a Japanese wedding robe.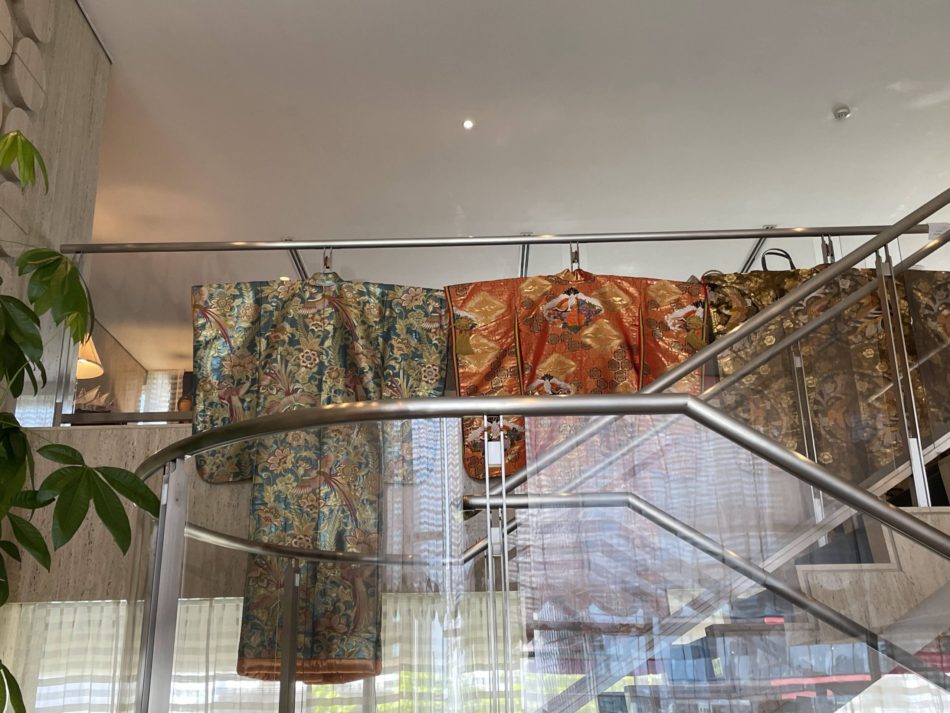 Kimono, dresses with remodeled Japanese Obi and Tomesode – Black formal Kimonos are popular among foreigners. Thanks to their popularity many different designs have been created. At this event, Mrs. Hiroko Kitazume, the spouse of Yukio Kitazume, a former Japanese ambassador to Qatar, enthusiastically explained about the history, pattern, and style of the Japanese kimono to the attending guests. A strong contribution to cultural friendship and understanding.
An Arabian-style teatime was prepared with Mrs. Manal, and the participants enjoyed authentic Arab food and sweets that represents a unique experience in Japan.
The Embassy of Kuwait is also known to have been designed by Kenzo Tange, Japan's world-renowned architect. For the attending guests, this cultural exchange meeting was a great opportunity to take a closer look at the building. The beauty and decoration of the space is known as "architectural beauty" a concept Kenzo Tange is famous for globally. A true delight for any enthusiast of architectural design
Ambassador Zaman respects the value and historical significance of the embassy building and is trying to preserve this wonderful building.
Link:Embassy of the state of Kuwait
Read more: