The Beauty and Intricacies of Learning Japanese Art
When a diplomat is transferred, their family is simultaneously blessed with opportunities to experience the culture and art in each country. This time, we bring to you details about an experience the ambassadors' spouses were delighted to partake in – studying Japanese painting.
The Japanese painting class presided over by the Kyoshinkai, has a long history as an opportunity to teach Japanese painting to the ambassadors' spouses of each country. The instructor is Suiko Ota, who succeeds Shoko Ota, the predecessor of the Japanese painter who held numerous solo exhibitions.
The spouses gathered in a room at the Icelandic embassy, with everyone concentrating on running their paintbrush. The subject of the work was a bird-and-flower painting, which has disappeared in China and now only remains in Japan.
Mrs. Maria Amparo Barberis of Ecuador replicated the Irises screen of Korin Ogata, the most famous artwork in the Nezu Museum. Next to that, Mrs. Charlotte Han Paranovics of Hungary reproduced "Hydrangea and Swallow" by Shinsui Adekawa from the ceiling mural of Eiheiji Kasamatsukaku. Similarly, Mrs. Halldora Malfridur Hermannsdottir of Iceland painted her impression of the autumn leaves of Tonoumi Engen in a paulownia tea box.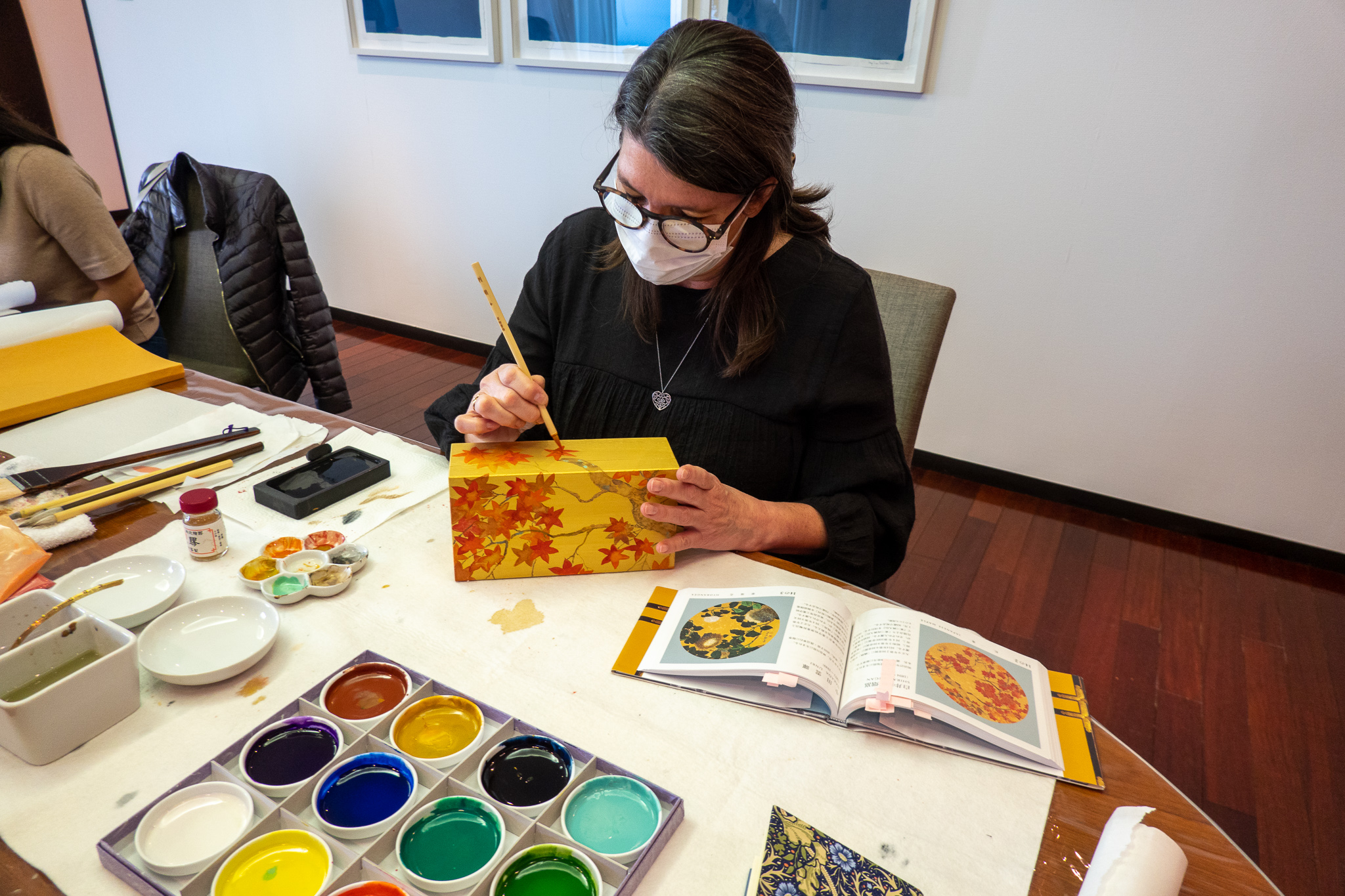 No one has ever touched the world of Japanese painting. However, under the proper guidance of Suiko Ota in English, her students use Japanese brushes to melt mineral pigments and draw on Japanese paper and silk. The method of drawing expresses one's own world through skillfully using Japanese unique techniques such as a combination of free drawing and Rinpa school's 'Tarashikomi' in which lines are blurred, and the expression reflects the culture of the world that has been seen so far.
Besides participating in this class, the ambassadors' spouses visited the Yamatane Museum of Art, Nezu Museum, etc. with "something" that they learned by drawing Japanese paintings themselves, and it was truly a great pleasure for them to experience the works of famous painters.
"Coming to this class is a kind of meditation," everyone agreed. It was evident that it was such a fulfilling moment and there was an understanding of true Japanese culture here.
For more information on Shoko Ota visit: SHOKO OHTA WORKS