Bill's Partyline November 2013
PEOPLE
After 8 years in Japan, British Air's Vishal Sinha and his family have relocated to New Delhi where he'll continue as top manager for the airlines. Vishal and his wife, Juhee are good friends who really supported the Weekender. They'll really be missed. We wish them all the best, and would like to welcome his replacement Jonty Brunner here, and wish him all the best as well.
I recently got a very original birthday card from Cirque du Soleil's thunder and owner Guy Laliberte. I really appreciate his friendship and thoughtfulness. This card features a photo of guy in clown makeup with a gift and reads "a little laughter, a little magic and many many little pleasures for your special day." What a special and thoughtful friend.
Macho actors Michael Douglas and Matt Damon both deserve the awards they won for the acting ability they showed in the controversial HBO film Behind the Candelabra. Michael plays the part of the legendary super flamboyant and openly gay pianist Liberace and Matt Damon plays his lover. The Jerry Weintraub production won 11 prime time awards. Tohokushinsho is distributing the film in Japan, and I just heard Jerry will be visiting here soon. I actually met Liberace in an elevator in Rome's Excelsior Hotel one time, and we talked about shopping and Italian designers.
PARTIES
France Masset's Spectacular Bastille Day Blast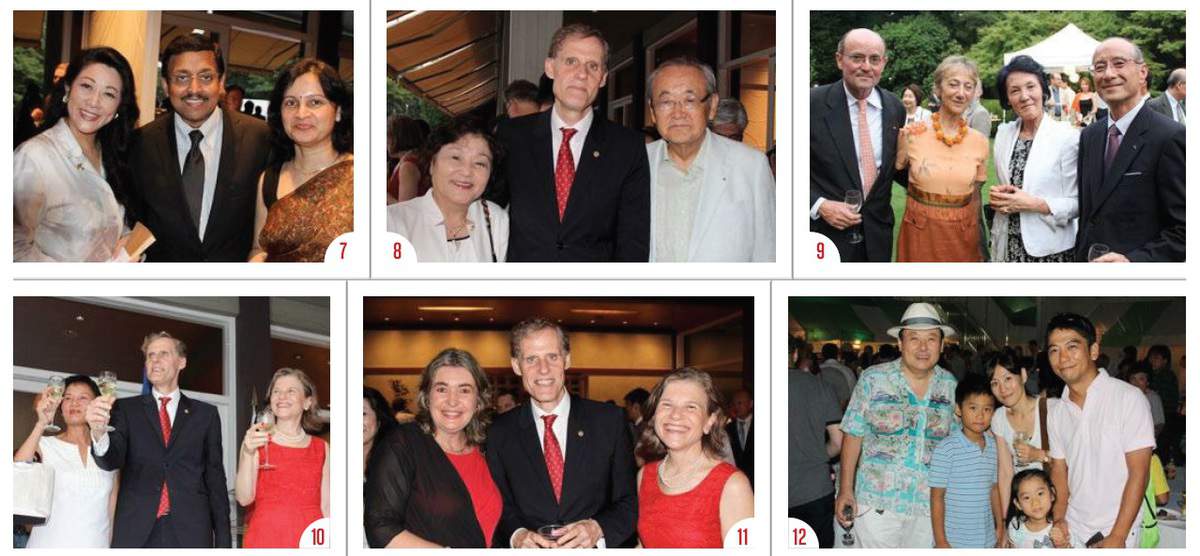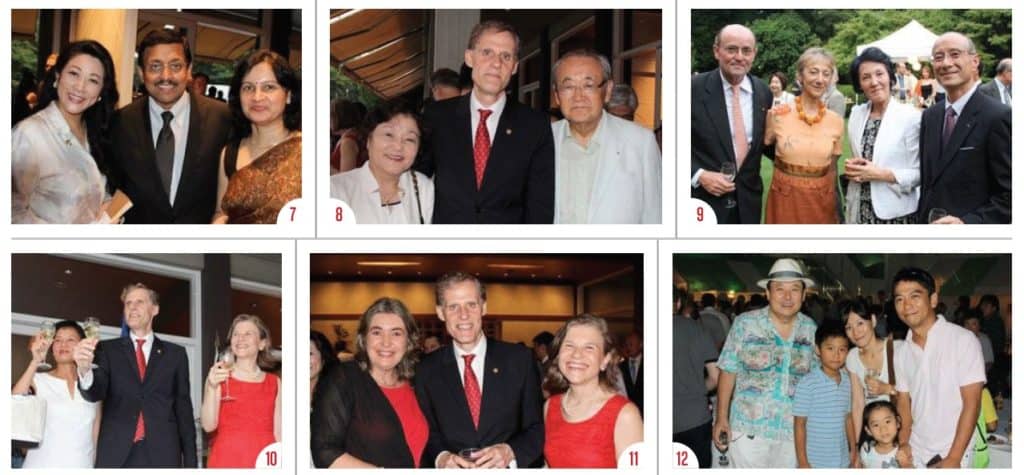 I was sure French Ambassador Christian Masset and his wife Helene's reception a l'occasion de La Fete Nationale of France would be very special and it sure was that and more. The colorful event was held in their beautiful residence and huge garden which were both packed with Tokyo's beautiful people from all over the world and all walks of life. The program in the garden included meaningful speeches by Ambassador Masset and Dr. Lutz Gorgens of the German Embassy, the singing of the Japanese and French national anthems by the students of L'Ecole Gyosei, and a toast by a local dignitary. In addition to the National Day celebration, the Massets were joined by their neighbors, German Ambassador Volker Stanzel and his wife Mei Fang, to celebrate the 50th anniversary of the Elysee Treaty.
PLACES
International Festivals-Yoyogi Koen
The annual Vietnam Festival was really happening this year. It started out on a Friday night in Shibuya Kokaido Hall. The two-hour show featured top Vietnamese entertainers and a group of beautiful models who showed amazing collection of Vietnamese fashion—mostly updated in bold, bright, well-coordinated colors. The girls all had long black hair and gorgeous smiles. The national Dress 'Ao dai' never looked better. The following two-day festival in Yoyogi Park was full of mid-morning to early evening performances by the top talent Vietnam Air had flown in for the event. These included models, dancers, top singers and several really hot bands. Vietnamese restaurants in Japan are popular and most had booths at the festival selling all their country's food at really reasonable prices. It all brought back a lot of great memories of my visit to Hanoi and Sapa in the north to spend time with the mountain tribes. Meanwhile, congratulations to Vietnamese Ambassador Doan Xuan Hung his wife, Doan Nguyet Anm, their staff and many friends on this great cultural exchange.
Hilton Celebrates 5O Years In Japan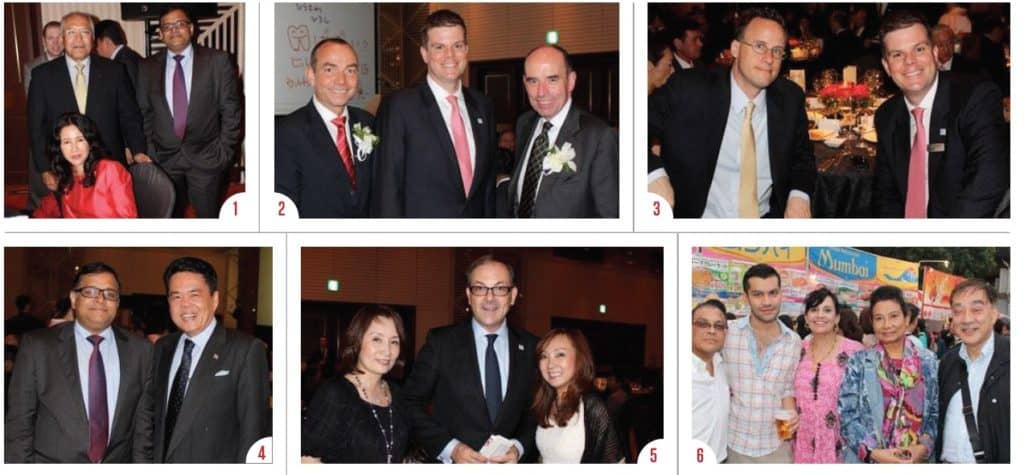 It was a very special night over in Shinjuku when Hilton Worldwide held a glittering dinner party to celebrate their 50th anniversary in Japan. The program opened with short and very meaningful speeches. Hilton Tokyo's dynamic General Manager Jamie Mead (he's Australian) talked about the $50 million renovation currently going on at Hilton Tokyo. I see the many changes every time I visit the hotel. The beautiful new executive and deluxe rooms will be completed in the near future, plus three new restaurants, a new lounge and an informal dining space in 2014. They're replacing all guest and service elevators. This work, which is pretty much completed, offers the ultimate in safety. The sports center and swimming pool has also been beautifully updated and really offers excellent facilities and service. The multi-course dinner features food and beverages from several Hilton updated and really offers excellent facilities and service. My thanks to Jamie Mead the General Manager and the PR Manager Momoko Gonohe and the great Hilton Staff who have been so kind and helpful over the years.
*First published at the Tokyo Weekender
*Images Copyright: Tsukasa Shiga