"Christian Dior Designer of Dreams" Held at the Museum of Contemporary Art Tokyo
From December 21, 2022 (Wednesday) through May 28, 2023 (Sunday)
The traveling exhibition, which was held at the Brooklyn Museum in New York and the Museum of Decorative Arts in Paris, has finally opened in Japan.
Speaking of Christian Dior, he is a designer who has fascinated women all over the world. Following Dior himself, the Maison has six designers, including Yves Saint-Laurent, Marc Bohan, John Galliano, Gianfranco Ferré, and the current Maria Grazia Chiuri, who have maintained the aesthetics. Dior has always been a fashion leader.
However, what many viewers felt through this exhibition was not only the existence of fashion, but Dior's aesthetics. Fashion is not trendy — it can even be said to be universal. Well-designed clothes don't go out of style. Here you can see the essence of Dior sublimated into contemporary art by Dior himself and the many art people who surrounded him.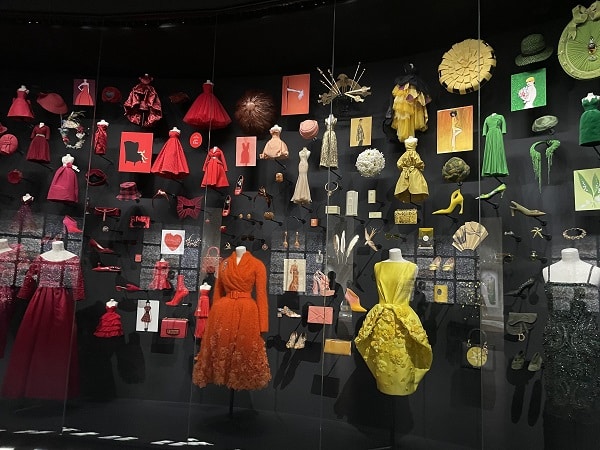 The exhibition is curated into several chapters: "Postwar Paris and the 'New Look,'" "Dreams and Forms," "Dior and Japan," and "Art and Fashion." However, it is the scenography by Shohei Shigematsu that makes this exhibition stand out.
Every chapter is accompanied by a beautiful setting, like the performing arts. Scenography means the fusion of scene and graphic. In other words, it is about grasping the scene and scenery spatially through sight and hearing, and the spatial beauty created by Shohei Shigematsu is beautiful and undeniable.
In the chapter "Dior and Japan," Shigematsu reveals the curves and ephemeral beauty of Japanese paper and wood culture. Japan and Christian Dior have had a very long and brilliant relationship. The name of the wonderful designer Dior has become widely known to the Japanese people, probably because of the marriage of the Crown Prince (currently Emperor Emeritus) and Miss Michiko Shoda (currently Empress Emeritus).
Dior designed the wedding dress for Miss Michiko Shoda, then next Crown Princess. The first civilian Crown Princess wore a wonderful wedding dress made of thick silk taffeta called Meiki Zuicho Nishiki, a fusion of Japanese and French culture. It was initiated by Christian Dior and then completed by Yves Saint Laurent, who took over Christian Dior at the age of 21. In this chapter, "Dior and Japan," you can see images from that era, as well as a portrait of Princess Takamatsu, who poses like a fashion model.
As we move on to the next chapter, we see beautiful works that Dior has continued to present along with new scenographies. Then, the atrium space that suddenly appears as if viewed from above overwhelms me again. Dior's evening gowns are displayed in a staircase-like space that looks like a towering obelisk. All the dresses are so gorgeous that they stand as if they are proud of their beauty beyond time and space. The viewer cannot resist the overwhelming aesthetic sense of Dior in that magnificent and splendid space. Before I knew it, I was caught in the illusion that I was wearing this gorgeous dress.
Before becoming a designer, Dior wanted to be an architect. The human body is three-dimensional, and fashion design is also very three-dimensional. Dior must have understood three-dimensionality better than anyone else. Shohei Shigematsu, the architect who worked on the scenography of the venue, has revived Dior's "three-dimensionality" in modern times.
There is no doubt that Christian Dior was a rare genius artist born in France who transcended the framework of a clothing designer. The exhibition was fantastic!