Enjoy curation with rich ideas
The world of world-famous masterpieces that you want to take your time to see displayed at the Otsuka Museum of Art
The Otsuka Museum of Art is located in an area blessed with beautiful nature facing the Naruto Strait in Tokushima Prefecture. The Otsuka Museum of Art continues to be loved by tourists and locals alike as a place of relaxation where many people can spend their time freely.
The unique feature of the Otsuka Museum of Art is the extremely accurate reproduction of approximately 1,000 Western masterpieces on ceramic panels. Carefully observing the original painting, even the slightest brush strokes and layered expressions are fully reproduced. I can only say that the technique is admirable.
Another great advantage is that the masterpieces are meticulously researched and reproduced on ceramic plates in their original form. Viewers can actually walk up to the numerous masterpieces, bring their faces closer, and appreciate the finer details.
However, I believe that the true beauty of this museum lies in the ideas and power of its curation.
Many famous paintings that can never be seen together in famous museums around the world are displayed according to themes at this museum, so you can compare them in detail.
A number of works on the theme of "Annunciation" are also exhibited in one space. Works on the same theme by world masters such as Fra Angelico and Leonardo da Vinci are exhibited together, and you can compare them up close as if you were holding them in your hand.
Leonardo da Vinci's Madonna of the Rocks, owned by the National Gallery in London and the Louvre, respectively, are also displayed here next to each other. I'm sure there are many art fans who unintentionally say, "It was a dream to see it like this."
Even Van Gogh's "Sunflowers" are gathered here in the same exhibition room. The state of the exhibition is overwhelming, and you can see the transition of Van Gogh's paintings and even this movement of mind. Bruegel's "Tower of Babel" can also be seen here in detail. There must be many art fans who once again learned that the "Tower of Babel" was also a place of daily life.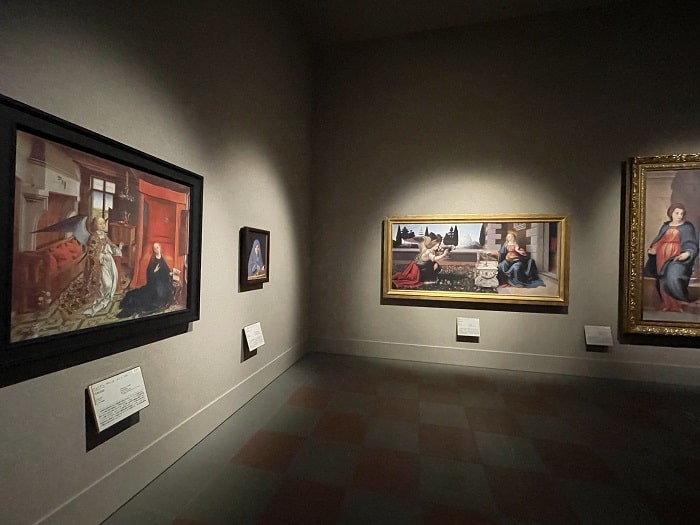 The Otsuka Museum of Art is a wonderful and fun place to spend the day, whether you are a student of art history or an art fan. It is also a place of education for children. Children who visit this museum will surely know the splendor of masterpieces by experiencing them.
Spending time surrounded by many masterpieces in this museum must be a "moment of supremacy" for many people. If you get tired of watching masterpieces, you can take a break at the attached cafe "Cafe de Giverny" while watching the water lilies (the best time to see them is from mid-June to September).
The Otsuka Museum of Art was created to commemorate the 75th anniversary of the Otsuka Group's founding, with the desire to give back to Naruto City, where the Otsuka Group was born and raised. Since then, many people have visited this museum, not only from Tokushima but also from all over Japan.