Farewell Reception for Colombian Ambassador Santiago Pardo
Farewell Reception for Colombian Ambassador H.E. Mr. Santiago Pardo and his spouse, Antonia Sanin on June 10th, was held at the Ambassador's residence in Tokyo. It was, as expected, a full house with many VIP guests and friends and supporters of the Colombian embassy attending.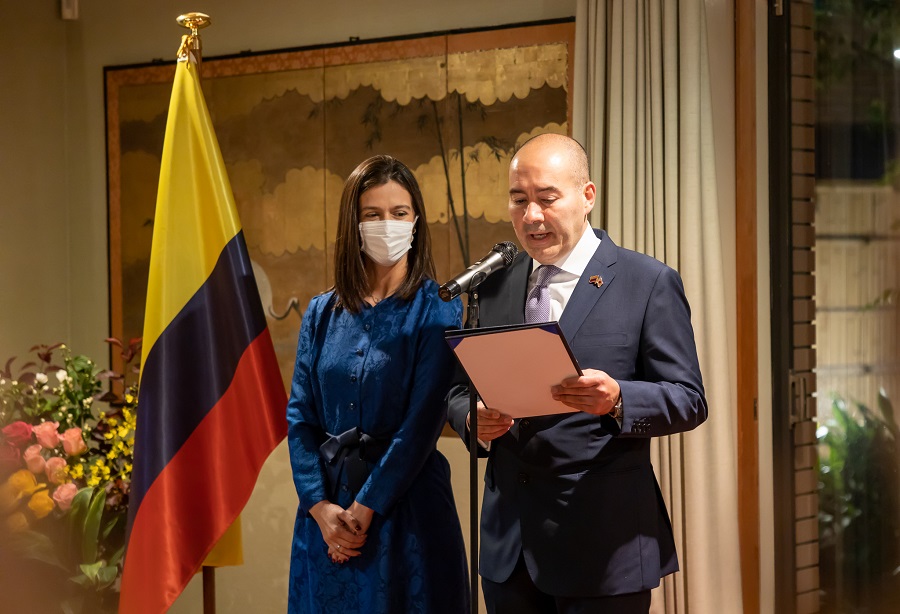 Farewell address in perfect Japanese – H.E. Mr. Santiago Pardo

In a short farewell address Ambassador Pardo highlighted in fluent Japanese, his experiences and many friendships he and his spouse maid during their 11 years in Japan. He was proud to mention that he visited all 47 prefectures of Japan sharing his some of his best memories. He emphasized the long-standing friendship between Japan and Colombia in politics, business and culture and concluded, he would continue to work for towards strong relations between Japan and Colombia.
The Ambassador thanked his spouse in particular for the strong support he received during their time in Japan. Mrs. Antonia Sanin Pardo herself contributed strongly to promoting Colombia culture in Japan. As active member of several good-will organizations including as co-president of the Japan-Latin American and Caribbean Ladies Association (ADNLAC) she supported many charitable projects and cultural exchanges in the community.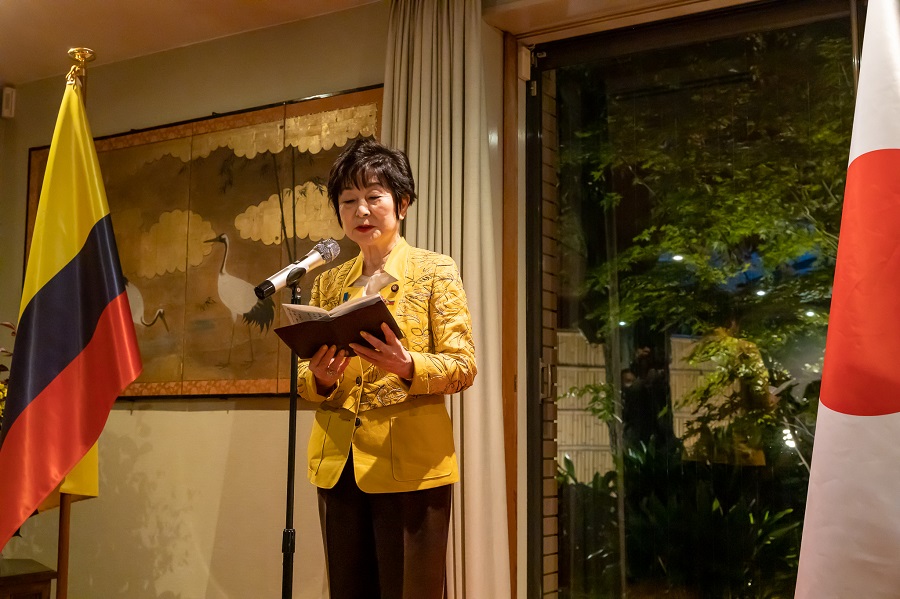 President of the House of Councilors Mrs. Akiko Santo expressed her sincere respect for the passion and action of Ambassador Paldo, who worked hard to strengthen the win-win relationship between Japan and Colombia and promote regional exchanges.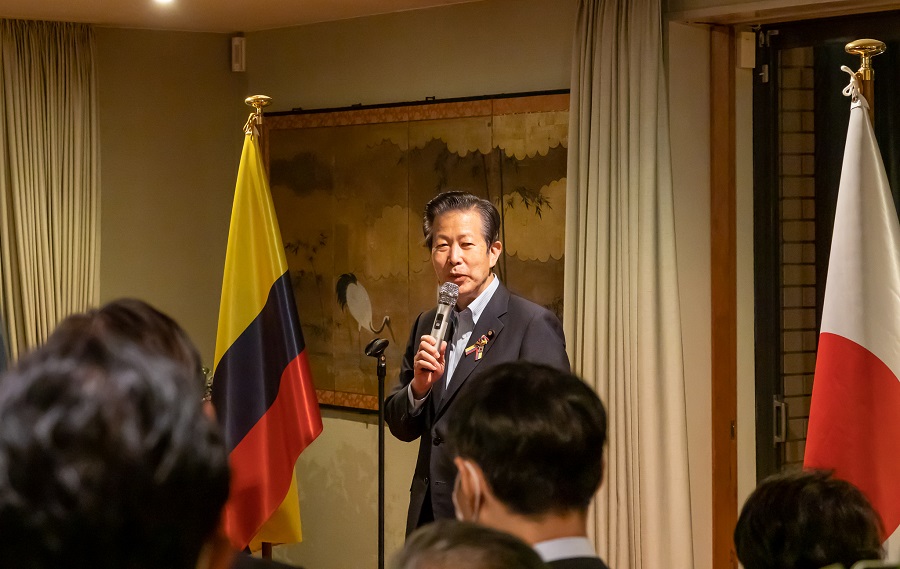 KOMEITO party leader Mr. Natsuo Yamaguchi (Advisor to the Japan-Columbia Parliamentary Friendship League) said that he felt the relationship between Japan and Colombia had deepened from his experience of visiting Colombia twice in the past. He is hoping Ambassador Paldo will continue to help strengthen bilateral relations using his proficient Japanese language skills.
Mr.Kentaro Uesugi (Parliamentary Vice-Minister for Foreign Affairs) emphasized that Colombia is an important partner of Japan, and he is confident that the partnership between Japan and Colombia, which shares the same core values, will become stronger in the future.
Colombian Ambassador to Japan H.E. Mr. Santiago Pardo
H.E. Mr. Santiago Pardo is the current Colombian Ambassador to Japan. Between 1994 and 1999, he attended the Universidad de Los Andes logo for his bachelor's degree in Economics. Pardo further attained his master's degree in International Relations from the Columbia University in the City of New York Logo. Between 2004 and 2009, he was the Vice President of Asociación Nacional de Comercio Exterior (National Association of Foreign Trade) – Analdex.
Also, between 2007 and 2008, he was the Coordinator of International Trade Negotiations in Colombia. Moving forward, he became the Chief Trade Negotiator at the Ministry of Commerce, Industry, and Tourism in Colombia. From 2007 to 2009, he became the director of the Colombian Coffee Growers Federation (FNC) in Japan. And then from 2nd April 2019 to the present, he has been the Ambassador of the Republic of Colombia to Japan.