[INTERVIEW] with the Ambassador of Croatia H.E. Dražen Hrastić
Croatian Ambassador to Japan talks about Croatia, a beautiful and elegant country. Croatia has long been an attractive tourism hotspot with millions of tourists from all over the world, including Japan, exploring the country every year. But this is not all the country has to offer, as Croatian ambassador to Japan, H. E. Mr. Dražen Hrastić, gladly explains in this interview session. The seasoned ambassador takes us through his experience as the ambassador to Japan, the patterns of the relationship between Croatia and Japan, the key industries in Croatia-Japan trade relations. And even the different cuisines that together make up Croatian cuisine.
Q: How did your family react to you being transferred to be stationed as Croatian Ambassador to Japan?
Allow me to start by saying that it has long been my wish to be posted as ambassador to Japan, without too much hope that it would ever happen. The same goes for my family. Both my son and daughter have been in love with Japanese history, its long and rich culture, and its food. My son studied the Japanese language and some of his childhood heroes are from Japanese manga characters.
So, my whole family and I, personally, were absolutely delighted to be stationed here. It was a new challenge. Japan is far beyond all our expectations and we all love the country.
Q: You have been stationed in Japan since 2015. Please reflect on your time as Ambassador and what areas would you like to continue seeing progress?
Croatia is very close to Japan. We are like-minded countries and in terms of economy both our countries are pushing for stronger ties.
The mission given to me by state leadership before our departure for Japan was to continue making progress in all areas of trade and economy, taking into account the excellent political relations between our two countries. More specifically, the mission is to work on the increase of trade between our two countries in both directions and preferably to stimulate an increase in investments in both countries.
Q: How has Covid-19 impacted your work?
One of my core responsibilities as a diplomat is to interact and cooperate with members of Japan's society. One of the biggest assets most Croatians have is our personal communication skills. Online meetings, which have become a staple of our daily work routine, just cannot exercise that advantage to the full extent.
Diplomatic receptions and other diplomatic gatherings have been extremely constructive in facilitating numerous responsibilities of an ambassador. At these events, I am able to meet ministers and other leading politicians and fellow ambassadors. At the same time, it allows me to initiate talks with leading members of Japan's business community. Zoom meetings just can't replace in-person gatherings especially in a country like Japan that puts a strong emphasis on personal relations.
Unfortunately, we have missed many opportunities since the pandemic started in early 2020. Due to Covid-19 many of the important events were either postponed or completely canceled. There is no denying that valuable work has been hampered to a certain degree by the global pandemic and we all look forward to an improved situation when we can resume the work we had done so effectively before the pandemic.
Q: In trade, what are some of the major challenges you are facing?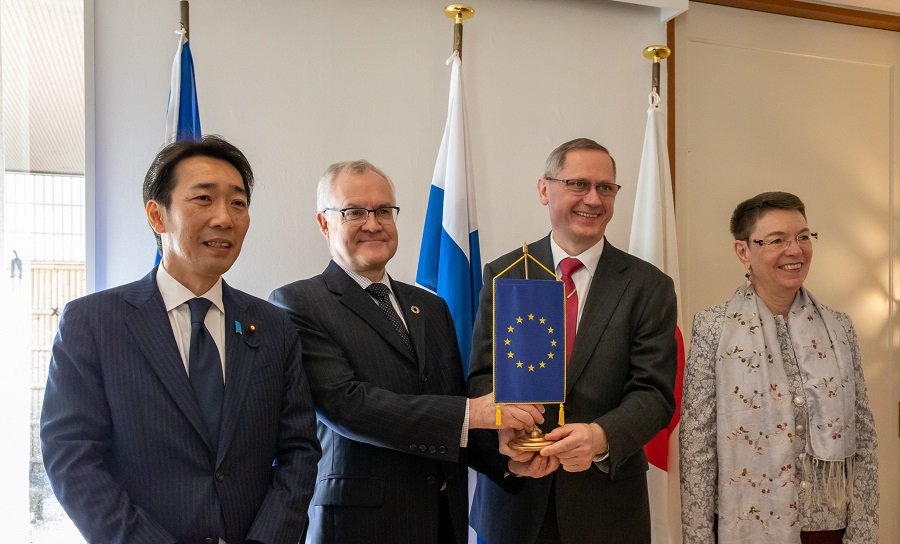 Much progress has been made over the last 10 years in our trade relations particularly within the EU-Japan context. Since 2019, there have been Economic Partnership Agreement and Strategic Partnership Agreement between the EU and Japan. It helps our bilateral economic relations tremendously. However, there is still a lot of work to be done. We can't be satisfied with the current level as it is much lower than the potential. When you look at the preferences of Japanese companies in terms of international trade and investment overseas, Croatia finds itself and the whole Europe for that matter in a challenging situation.
In annual national trade survey of Japanese companies, that have at least one branch abroad, which was conducted to learn about their preferred regions to conduct business abroad among the top 20 countries for 2021, only two European nations appeared in this ranking; Germany and the UK. And even those two countries ranked only 11th and 18th respectively. There is no denying that Japan's predominant focus is on countries in greater Asia and South-East Asia, besides the USA. This fact can be challenging at times for me and my European colleagues. Nevertheless, Croatia is highly motivated to further improve its trade relations with Japan and to stimulate investment opportunities for both countries.
Q: What are the key industries in Croatia-Japan trade relations?
CHEMICAL INDUSTRY AND SHIPBUILDING
The economy of Croatia is a developed high-income service-based economy with tourism as a core pillar of our country. However, Croatia is a well-diversified economy with strong contributions from the chemical and pharmaceutical industry, as well as high-level shipbuilding and the technology sector.
For example, Croatia has always been a leader in shipbuilding. In the 1990s Croatia was the fourth biggest shipbuilder in the world. But not anymore, as the industry now specializes in producing high-quality ships, boats, and particularly luxury yachts that are famous around the world among a bespoke group of clients.
TUNA FARMING
When it comes to the trade relations with Japan, tuna farming is one of our core industries. Unlike most other countries, Croatia has a trade surplus with Japan thanks to bluefin tuna being our main export product to Japan. Croatian bluefin tuna is one of the most expensive and highest-quality types of foreign tuna available in Japan, and many prestigious restaurants serve it.
One of the biggest tuna farming firms is Kali Tuna Croatia, which is now owned by a Japanese company. Tourists can actually swim with their tuna!
We have also commenced selling canned fish such as anchovies, and sardines as our sea provides rich fishing grounds and a fleet that is already equipped for these.
TECHNOLOGY
Croatia has a very fast-growing IT sector. Some of our companies are present all around the world including the United States. They develop various applications for global market. Asia and Japan in particular are very important markets. For example, Japan is the third biggest market for Croatian game developers. They make some of the world's leading titles.
However, we are very proud of one sector and one person in particular: Mate Rimac, founder of the Croatian electric sports car company Rimac Automobili and newly appointed C.E.O. of Bugatti-Rimac.
Rimac Group makes the fastest electrical car in the world and provides core technology such as the production and supply of battery systems, drive trains and other EV components to car manufacturers such as Porsche, Aston Martin, and of course, 112 year old French brand, Bugatti. At just 33, Mate Rimac is called the European Elon Musk.
Earlier this year, Rimac released the Nevera, electrical hyper car, 1,914 horsepower with a top speed of 258mph and the ability to leap from zero to 60mph in less than 2 seconds. We expect first cars to be delivered from Croatia to Japan within this year. Certainly, we hope for more cooperation with the Japanese automotive industry.
TOURISM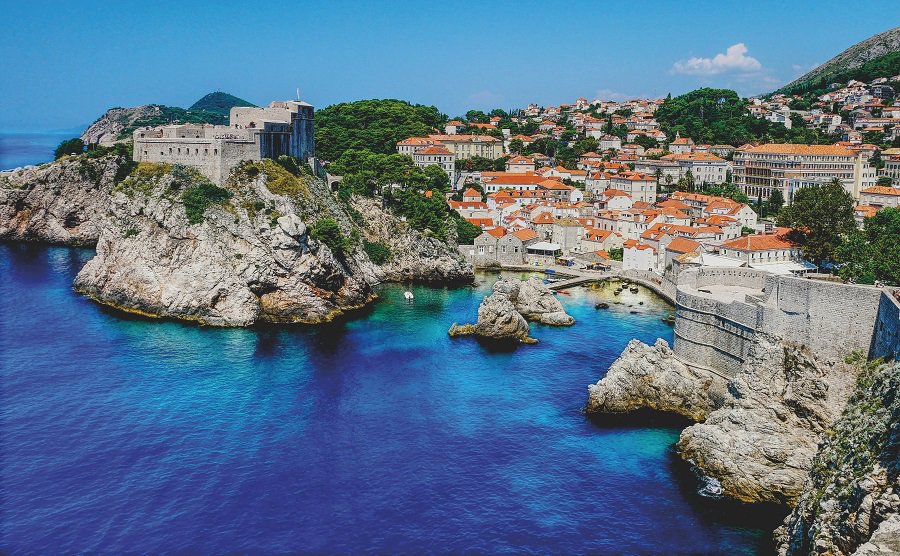 Finally, as previously mentioned, tourism is one of core contributors to Croatia's economy. Let me start off with a quote. George Bernard Shaw said: "Those who seek paradise on Earth should come to Dubrovnik."
In popular culture, not just since Game of Thrones, which depicted several popular spots including city of Dubrovnik that is also known as the Pearl of Adriatic. Croatia has always been a popular tourist and filming destination. Movies such as Mamma Mia, Star Wars and Robin Hood were partially filmed in Croatia stimulating interest in our country and its tourism.
However, Croatian tourism is a very old industry which started over 170 years ago. Already, during the Austro-Hungarian monarchy huge number of tourists visited Croatia each year due to its proximity and its stunning coastal areas. Since then, we have always been considered a very attractive tourist spot within Europe and among many Mediterranean countries.
Under normal conditions, tourism generates about 18% of Croatia's GDP, which has positive and negative aspects. In 2019 we hosted over 18 million foreign tourists, and the projections for 2020 were over 20 million. Unfortunately, Covid-19 happened and numbers obviously declined. [In comparison, Japan has over 30 million at peak times with a population of over 125million – vs. Croatian population of ca. 4 million]
Obviously, it is very important revenue for our economy but a high dependence on tourism makes us vulnerable to systemic shocks such as Covid-19.
TOURISM FROM JAPAN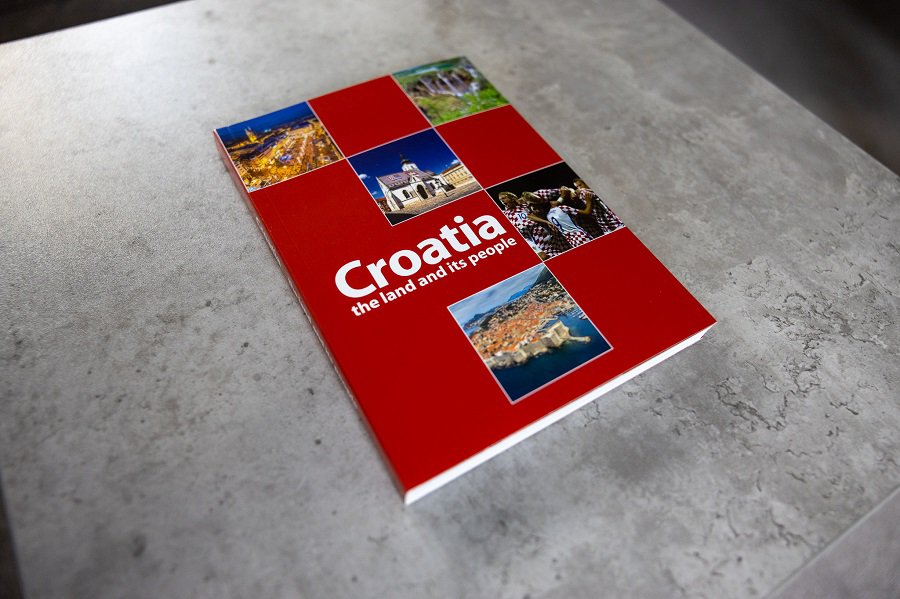 In 2018 visitors from Japan reached 160,000. I mention the year 2018 as a reference year because in 2019 it was about 10,000 less.
The decline, however, is not attributed to a decline of interest among Japanese tourists. On the contrary, interest from Japan during that period was substantially higher. Unfortunately, there was simply no capacity to deal with the increased demand from Japan without risking overbookings. Once the pandemic subsides we are hopeful to stimulate further interest among Japanese tourists.
CROATIAN CUISINE
Croatian cuisine is actually composed of four completely different cuisines, and two of them are coastal cuisines, namely the Dalmatian and the Istrian. These are part of the Mediterranean diet which is considered one of the healthiest in the world.
Dalmatian cuisine is very Mediterranean with some flair from Italy and Italian cuisine. Slavonia cuisine in the eastern part of Croatia, is very focused on pork, sausages, spicy food, and fresh water fish. That cuisine is influenced by Hungarian and Ottoman cuisine due to some geographical and historical links.
In addition, Croatian spirits as well as wine making have a long and rich history. It was started by Greek colonists 2,500 years ago. One of our many archeological sites is a 2400-year-old vineyard and olive grove that are preserved in their original shape.
ARTS AND CULTURE
Music festivals, theater plays, public fiestas, adventure, tourism — you name it. Every day something is happening, especially during summer time. Dubrovnik, surrounded by some fortresses built to protect the city, was considered as the most beautiful place in the world to play Hamlet.
In town of Pula in Istria there is a large 2000-year- old amphitheater, called Arena, It is in a much better shape than comparable amphitheaters since it is completely preserved. Every stone is there, untouched. Arena serves as a stage for film festivals as well as concerts such as Placido Domingo's, Hussle's, Italian Peralta Aerostar. Originally it was built for gladiator fights and today gladiator costume "fights" are a tourist attraction.
We thank Ambassador Hrastić for this interview.
For more information visit: Croatian Embassy in Japan
About Dražen Hrastić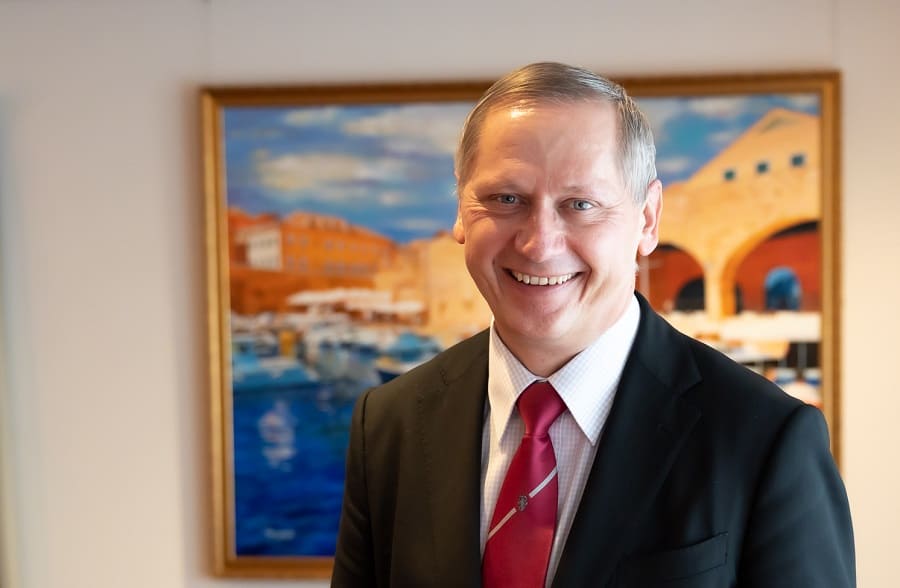 With a background in Political Science, H. E. Mr. Dražen Hrastić began his work as the Extraordinary and Plenipotentiary Ambassador of the Republic of Croatia to Japan in 2015. Prior to this, Mr. Dražen Hrastić was the Ambassador of Croatia to Turkey between 2011 and 2015. His extensive experience as a diplomat is further seen in his cross-cutting work with the North Atlantic Treaty Organization (NATO), where he held several positions including Deputy Permanent Representative. He served in Afghanistan as a Deputy Director of Civilian Affairs in Provincial Reconstruction Team in Fayzabad and as a Political Advisor to NATO Senior civilian Representative. He was also a lecturer in various NATO trainings and has been involved in diplomatic work as far back as 1993.
Interesting Fact
The modern necktie, used for formal and business occasions all over the world today, was originally an invention by Croatians.
Its origin can be traced back to the 17th century, during the 30-years-war (1618-1648). The French hired Croatian mercenaries who wore traditional knotted neckerchiefs around their necks as part of their uniform. This held the top of their jackets together and was more practical than stiff collars.
Toward the end of the war, Croatian soldiers were being presented to French King Louis XIV. During his inspection, the king noticed these neckerchiefs and took a strong liking to them. The French named the early neckties "La Cravate," after the Croatians who invented the fashion piece and is still the French word for necktie today in many other European countries.
The king made cravats a mandatory accessory at royal gatherings. With the king and other nobility wearing cravats, the new fashion trend caught on like a wildfire across Europe. We can thank Croatians for the necktie, but the French made it the fashion staple it is today.
*Source: Croatian Digest
Read More: