[INTERVIEW] Deep Cultural Understanding as the Foundation of a Strong Friendship
On the 14th of February, we had the honor to interview H. E. Mr. Teimuraz Lezhava, the Georgian ambassador to Japan. One of the youngest acting ambassadors with impeccable Japanese language skills. He also has a deep understanding of Japan talks about a young country with a long history and its charm
Wine, culture, music, ballet – you name it — Georgia is a hub of relaxation and unique traditions. We got to sit down with the Georgian ambassador to Japan, Mr. Teimuraz Lezhava, as he took us through what really makes Georgia special, the future of Japan-Georgia relations, how similar the two countries are, Georgia's focus on renewable energy and much more.
H.E. Mr. Teimuraz Lezhava was born in the capital of Georgia, Tbilisi, in 1988 but spent much of his childhood overseas due to his father's work which yielded a need to relocate often. He lived in both Japan and the U.S. over the course of 20 years. Teimuraz Lezhava graduated from Waseda University's School of International Liberal Studies in 2011 after which he worked at Kikkoman Corp.
Lezhava wasn't always a diplomat nor planned to be one but upon returning to Georgia, he joined the Foreign Ministry in 2018 where he became the charge d'affaires ad interim at the Georgian Embassy in Japan in 2019. He officially became the Georgian ambassador extraordinary and plenipotentiary to Japan in November 2021. As someone with a friendly personality, Lezhava has amassed a large Twitter following of up to 50,000 followers where he posts interesting information related to Georgian culture on Twitter in Japanese.
Q: Please tell us about your background and what brought you to Japan initially?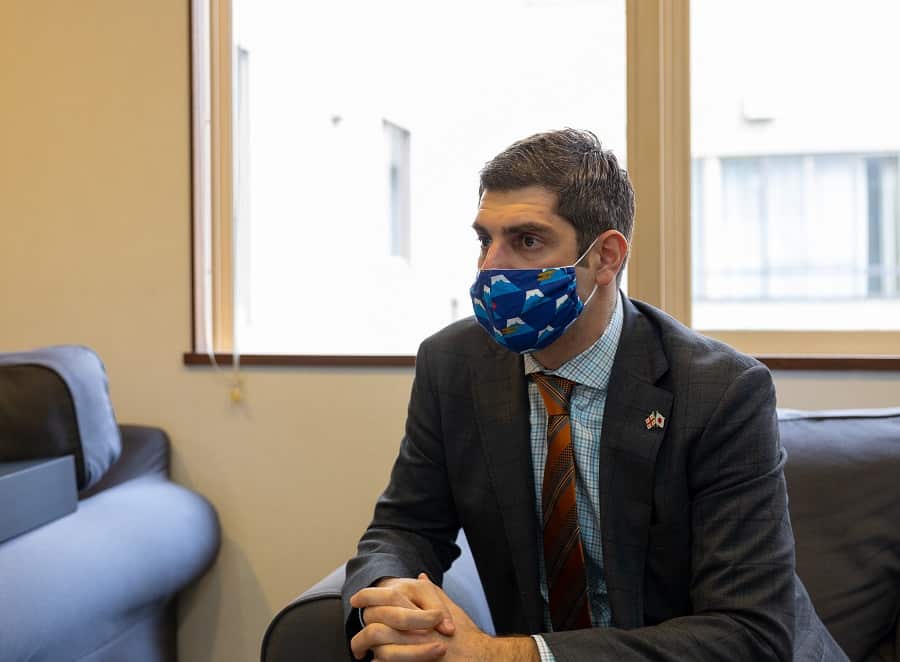 When I was four my parents moved to Japan, as part of my father's new responsibility as a researcher. We lived in Hiroshima, so we were one of the few foreigners living there. At that time, children openly pointed at us because we looked so different. However, living in Hiroshima helped me pick up the Japanese language fairly quickly. I even learned how to write before I entered elementary school.
When I was 8 years old, we returned to Georgia. But throughout my elementary school years, I had to move several times due to my father's work. He's a scientist — a biologist who has been specializing in genetics.
Looking back, I consider myself lucky even though it was a challenging time for a young boy. What helped me get through was my parents' upbringing and education. These instilled in me a deep identity with my country, Georgia.
Ultimately, my childhood gave me a broad view of the world and a unique perspective of my experience in Japan as a Georgian citizen. That is something that I really appreciate that my parents kept in me. And that is what I'm going to pass on not only to my family and my kids, but I'll try to continue that for Georgia as well.
Q: Your wife recently gave birth to a baby daughter – congratulations and our best wishes to the mother and her child. How has your family been coping under these very difficult circumstances affected by the global pandemic?
Thank you so much. My wife gave birth during a very challenging time and far away from our mother country. As you can imagine, there were several restrictions for us. We couldn't leave the country and my wife doesn't speak Japanese. Besides, we also had to take care of our first-born daughter who was just 2 years old at the time. Of course, I helped where I could, but my wife was very strong. Thank God everything went well. Now we're enjoying family time here in Japan and we eagerly look forward for the pandemic to subside.
Q: The Georgian flag is beautiful and fits very nicely with the Japanese flag. Please tell us more about it.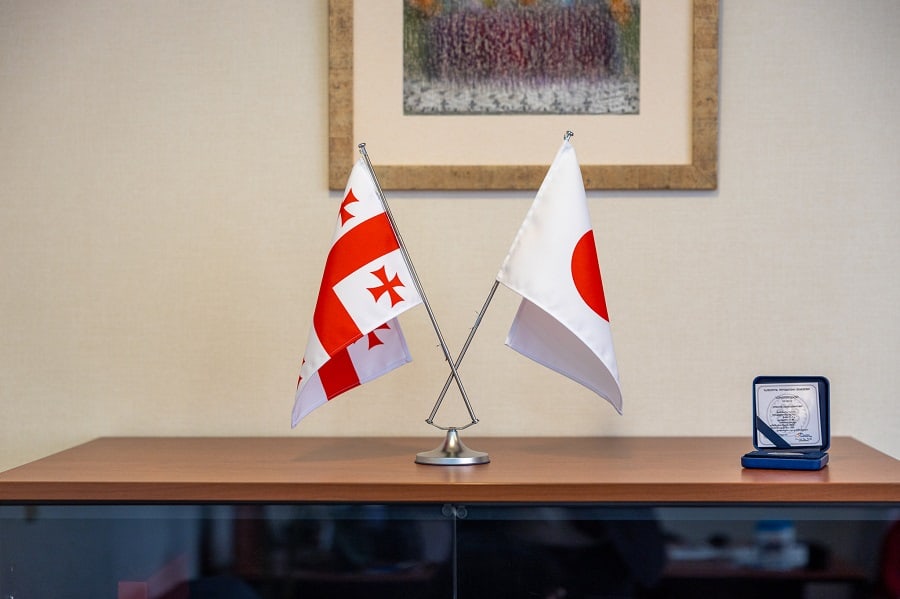 We always try to promote our flag in Japan because they both have the same colors; red and white. For our country, we adopted Christianity in the fourth century and we were the second earliest state to recognize Christianity as our official religion, after Armenia. We are part of Orthodox Christianity and have our own Orthodox culture. This has been a very important element in our spiritual life through our country's history — our identity. It has always been that way and it has guided us in so many challenging situations throughout Georgia's existence.
The backbone of Georgian culture is very distinct in that we inherited our identity throughout the centuries, although we faced several challenges because of our unique geo strategic importance at the intersection of Eastern Europe and Western Asia.
Our region is a very tough one to be in. Georgia has been facing external threats from all angles for several years now. From a historic point of view, it is a miracle that we sustained our identity.
However, in modern Georgia, we still gladly continue all our activities, cultural development and so on.
CREATING CULTURAL AWARENESS
Q: Tell us about your work as Ambassador to Japan
I'm appointed in July 2019, but I was the envoy. I was still the head of the mission and in November that year I passed my credentials to the emperor. I never imagined when I first came to Japan that I would ever become the Ambassador of my country to Japan.
Q: What are your responsibilities as Ambassador to Japan?
The work of a diplomat involves many areas of importance such as security, politics, trade and economy. While I do cover all these areas, my priority is to promote Georgia through cultural activities.
Here at our embassy, we take this mission very seriously. At our embassy, Japanese people can learn more about Georgia — an important mission given to us by our country in order for our culture to be recognized overseas.
Q: Some insiders say the best wine in the world comes from Georgia. Tell us what makes Georgian wine so special.
Georgia has an 8,000-year history in wine making. No other country can claim the birthplace of wine. We have over 500 varieties of grape types and a huge pot in which we produce wine. We also make orange wine which is really popular in Japan because it matches Japanese cuisines very well.
But for me, what's always been the most special thing about Georgian wine is our tradition, our culture, and how we appreciate our wine. Wine connects people. It's a tool for harmony.
What best symbolizes our cultural legacy and connection to wine is our tradition of supra. Supra is a Georgian feast (always with a "Tamada" or Toastmaster) that we've been doing for over 3000 years.
We have kept this culture even till now; whenever you go somewhere in Georgia and they have wine, they never drink without toasting to something. Supra and Tamada are a core part of Georgian culture.
Just as the Japanese have Sado (Japanese tea ceremony), we have Supra in Georgia — but it's with wine instead of tea. It's what Japanese like to call "omotenashi" meaning to wholeheartedly look after guests. The tea ceremony is all about how to work on your guest, how to make them enjoy, feel comfortable and express themselves. For Georgians, Supra is exactly for this purpose. The style is different, of course, but the concept behind it is the same. I think that's what is most special, and that's what I'm trying to promote.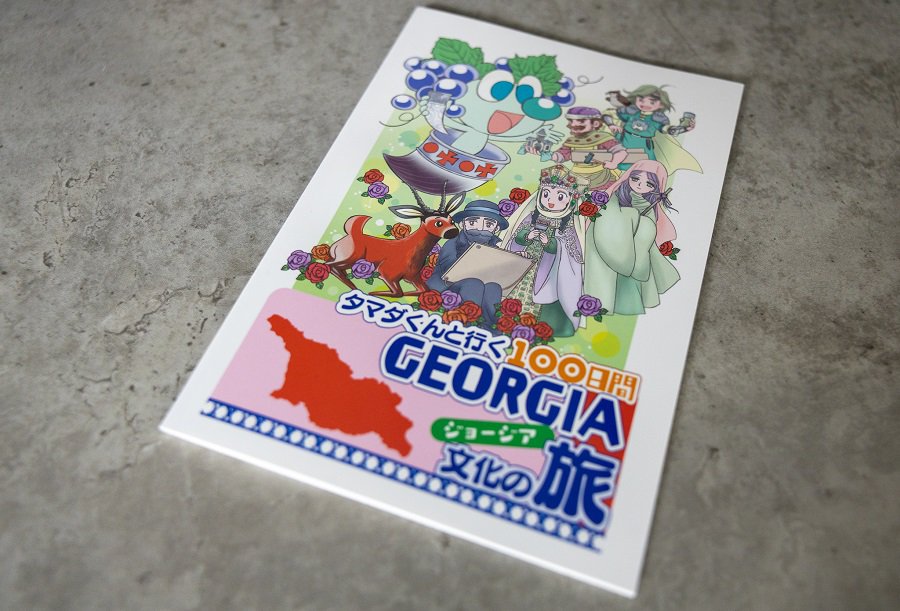 For example, we created a manga to teach Georgian culture here. The core part of this is actually Georgian wine and the concept of Tamada as the main character is called Tamada kun. In this manga, we have 100 short episodes that cover everything about Georgia in an easy-to-understand way.
Based on this manga we then created the Tamada club. Right now, this club has over 600 Japanese members who are Georgian lovers. And they're all like ambassadors of our Georgian culture.
Q: Recently we have seen a blue type of wine from Georgia. Could you tell us more about it?
The blue color stems from the grape itself actually. It's a sweet wine; blue sweet wine. The pigment of red wine grape skin is mixed with the white to become this color. It has had quite an impact in Japanese social media, which we all welcome.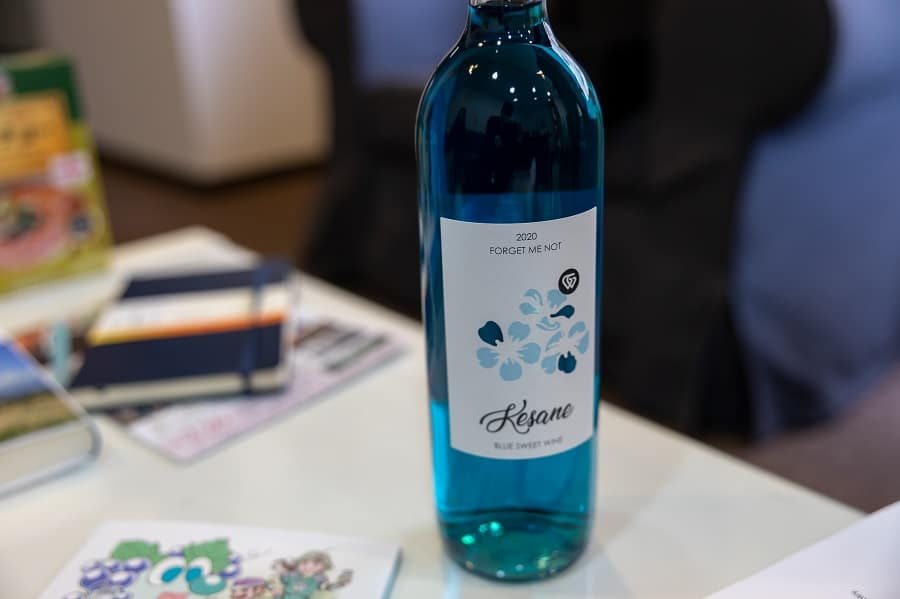 TRADE & ECONOMY
Q: Besides wine and culture awareness, what are other key focus points when it comes to trade and commerce between Georgia and Japan?
There are two directions we have been emphasizing. One is, as I already mentioned, is greater cultural awareness for Georgia, which in turn has helped increase awareness for industries such as wine imports to Japan or general tourism to our country.
More recently we have been working on an important direction we want to develop further between our countries. In a globalized world and its competitive forces, we wanted to challenge the energy field which has great potential for both our countries. The result of our research is the increasing importance of renewable energy. The whole world has huge ambitions and targets to make the future green.
Our country is rich in nature, and we have a long history of utilizing renewable energies. As a country near the Caspian Sea, there is sometimes the misconception that we are a country rich in carbon energy resources. This is a big misconception.
Our country generates almost 80% of its electricity through green energies. Through renewable energy, we have maintained a great experience in cooperating with our neighbors where and when it comes to the energy field so this is something we are proud of.
The interest from Japan is also increasing. Two years ago, Japanese utility company TEPCO (Tokyo Electric Power Company Holdings) invested in Georgia's hydropower plants. This is the direction we foresee increased potential between Georgia and Japan — working more on hydropower, geothermal power, sea hydrogen energy projects and wind power.
Q: Georgia is also considered a trend setter in the digital economy and a very popular country among global digital nomads. Could you tell us more about this?
Every day we receive four or five calls from Japanese digital nomads who would like to move and work from Georgia. Young Japanese seem to be particularly interested in exploring our country. We greatly welcome such a new trend as we've always received guests from outside. Georgia is easy for living; the cost of living is low, but the quality of life is considered on par with many other European countries. It's a relaxing country — we have good hot springs, excellent wine, and beautiful nature. In addition, we make it easy for visitors to come to Georgia with our progressive Visa procedures.
GEORGIAN BALLET / SPORTS / INSPIRATION
Could you please talk about Georgia's great ballet culture and great athletes?
Somehow, we have kept developing our art. Perhaps it developed because of such a difficult historical background and one repression or the other during our long history.
Nonetheless, art and culture has always been an important part of Georgian life. For instance, right now in Tokyo a Georgian Film Festival was held in March 2022.
I think it's quite impressive to have our own music, dance, wine and basically any kind of art. We have pretty good artworks and even world-famous painters such as Niko Pirosmani who influenced not only several other painters but also artists from various crafts around the world because of his unique style.
Then of course, we are also world-renowned for our ballet. I think we always try to express ourselves, again, because of our difficult history. I believe that's why we also quite succeeded in ballet.
Famous ballet dancer, Vakhtang Chabukiani, was a genius in his field who made an undeniable impact on world ballet. Just considering someone from Georgia going to New York and building the foundation of what we see today in the theaters — we're really proud of that.
I'm also so proud of continuing legacies such as world-talent, Nino Ananiashvili. She's done an unbelievable job for Georgia. She could have been anywhere in the world, but now she's in Georgia trying to further develop Georgian ballet, theater, opera, and such kind of culture.
I mean, you need to have that talent. You need to have the inner strength to give something to the world at that level of quality – that inspires me and keeps me motivated for my own mission here in Japan. When you see such talented people, you also want to be part of it or be influenced by it.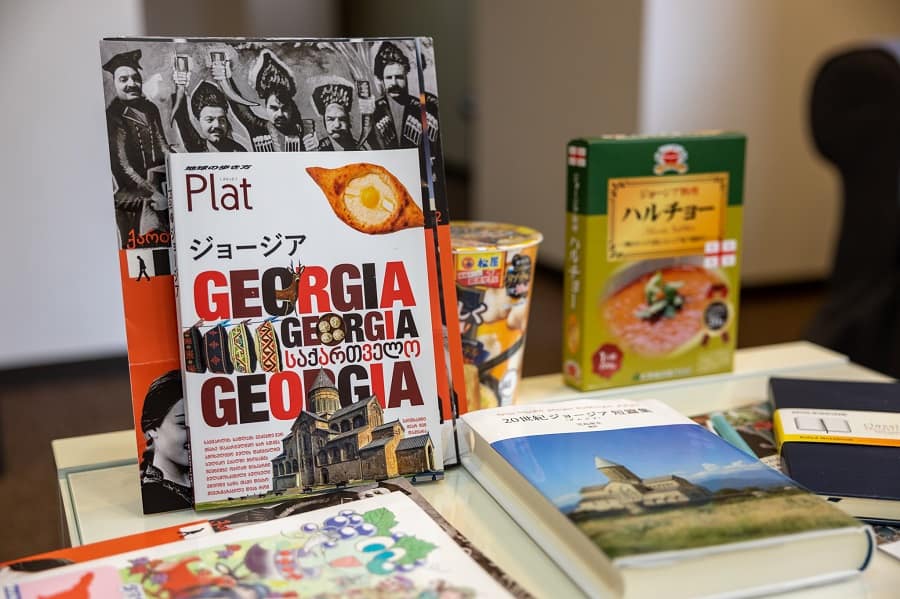 We thank Ambassador Lezhava for this interview.
For more information visit: Georgian Embassy in Japan
Read more: