Interview with South African Ambassador to Japan Lulama Smuts Ngonyama
South African Ambassador to Japan Ngonyama Discusses South Africa's Progress As A Democracy And Its Affiliation With Japan .
In this interview, the South African Ambassador to Japan, Lulama Smuts Ngonyama, considers how South Africa is progressing as an emerging democratic nation, and its economic and cultural affiliation with Japan, amid the challenges posed by Covid-19 and the transition to a greener economy.
What's your mission as a South African Ambassador to Japan?
My mission is to build strong diplomatic relations between South Africa and Japan. I am building on the relations that were established long before I came into this role. Comprehensive diplomatic relations were only established after 1994. Former President Nelson Mandela visited Japan in July 1995, where he paid tribute to those who had contributed to the struggle against apartheid. When he was incarcerated on Robben Island, he read about the history of the Hiroshima atomic bomb. He wanted to understand what led to the detonation of an atomic bomb, what its effects were and how Japan recovered in its wake. South Africa was the first nation in the world to voluntarily dismantle all of its nuclear weapons, which took place in 1989.
Our current emphasis is on strengthening economic diplomacy between South Africa and Japan. Cooperation at the political level is very strong, both on the bilateral and multilateral platforms. In the multilateral context for example, South Africa strongly advocates for the comprehensive reform of the United Nations Security Council (UNSC), to render it more representative of the composition of the United Nations. Japan Is similarly like-minded in calling for the reform of the UNSC. As it pertains to the Tokyo International Conference on African Development (TICAD) the comprehensive package of support from Japan is welcomed, to drive economic growth, digital innovation, transition to a green economy and job creation on the African Continent, as it grapples with a series of challenges that threaten many of the gains achieved in recent years. This year, TICAD was hosted in Tunisia and South Africa was represented by the Minister of International Relations and Cooperation, Dr. Naledi Pandor.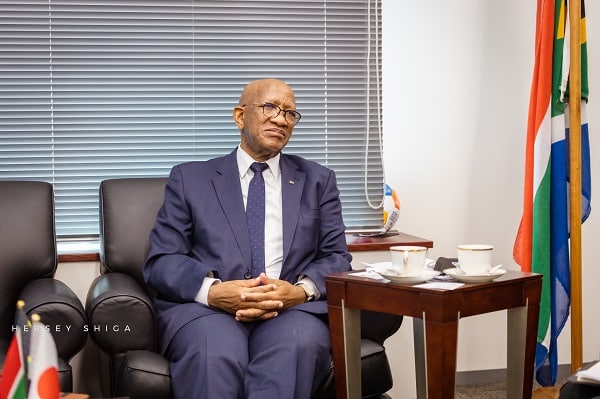 At the conference, several agreements were established in areas such as the economy, water and sanitation, infrastructure, tourism and science and technology. Such agreements are a clear demonstration of the strong cooperation between Japan and the African Continent. A new partnership was also formed between the Japan External Trade Organization (JETRO) and the Japan International Cooperation Agency (JICA), together with the United Nations Development Program (UNDP) and the United Nations Industrial Development Organization (UNIDO), who intend to enhance trade and investment between private sector businesses in Japan and Africa.
Japan has invested heavily in the South African economy, particularly through companies such as Toyota, Nissan, Mitsui, Hitachi and various others. It is my responsibility to ensure that these investments realize the objectives that have been set by the South African Government, and that these will maximize the economic benefits on both sides. My mission does not end there, however, as I am also responsible for promoting people-to-people engagements as well as tourism. Many Japanese people would like to visit South Africa, but they are not entirely familiar with South African culture and what the country has to offer as a tourist and investment destination.
2022 has been a very successful year for South Africa-Japan relations, what are your plans for 2023?
The 13th South Africa – Japan Partnership Forum was held recently, in Japan, and South Africa would very much like to sustain the momentum of the discussions between Minister Pandor and Minister Yoshimasa Hayashi.
South Africa will also be hosting the Green Hydrogen Summit in Cape Town from 28 to 30 November 2022, and an invitation has been extended by President Cyril Ramaphosa to Prime Minister Kishida. The area of green hydrogen is a significant area for enhanced collaboration between the two countries, given that Japan has the technology while South Africa has the resources. Both countries aspire to becoming leaders in the green hydrogen sector, and South Africa would very much like to pursue closer cooperation with Japan in this field. Sasol, for example, is an integrated energy and chemical company, based in South Africa, which has been involved in energy projects globally. In the green hydrogen sector, it is a pioneer together with ITOCHU in Japan.
How would you like to improve South Africa's relationship with Japan?
When it comes to doing business with Japan, Japan engages on market access negotiations for one commodity per country at a time, meaning that attempting to negotiate a multiplicity of items, is challenging. This results in protracted negotiations, as Japan always emphasizes quality over quantity.
You've previously mentioned the impact of Covid-19 on many industries, particularly tourism. How have you managed these challenging times?
The South African Tourism industry was severely impacted by the Covid-19 Pandemic, but with continuously declining numbers of COVID-19 cases, the country is once again open for business and ready to welcome travellers from across the globe. The number of Japanese travellers to South Africa (tourism; business and others) dropped from approximately 28,388 in 2019 to 5,236 in 2020 and subsequently to 1,194 in 2021. The country is once again open for business and ready to welcome travellers from across the globe.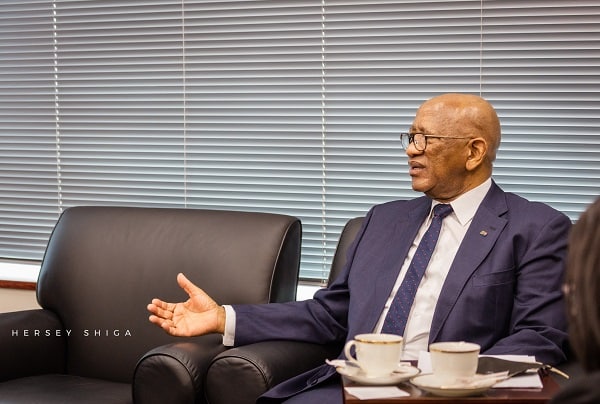 To mitigate the impact of COVID-19 on the Tourism Industry, the South African Department of Tourism has developed the Tourism Sector Recovery Plan in collaboration with the relevant stakeholders. The objective is to protect and rejuvenate supply, reignite demand and strengthen enabling capability to support the sector's recovery. The South African Embassy in Japan works closely with the SA Tourism Agency in Japan with a view to contributing towards the recovery of the South African Tourism industry, enhancing South Africa's profile in Japan, and to ensure the ongoing promotion of South Africa.
What are your thoughts on education and gender equality in South Africa?
The question of gender equality in South Africa pervades all aspects of social and economic life, whether culture, sport, music or education. Prior to the democratic transition in South Africa in 1994, only 2.7 percent of parliament was represented by women. Since then, things have changed. Currently, women ministers comprise 41 percent of the cabinet; women deputy ministers make up 47 percent of the total number of deputy ministers; and 41 percent of the National Assembly is made up of women. The role of South African women in politics has increased since the end of apartheid through policy changes and organisations that have been set up to enable women's rights. South Africa's first Deputy President was Dr. Phumzile Mlambo-Ngcuka, who later also served as Executive Director for the UN Women with the rank of Under-Secretary General. She is currently the Chancellor of the University of Johannesburg.
The South African Government has made significant progress in empowering women in the spheres of politics, the public sector and education. In addition, the government has also put in place legislation to create an enabling environment for women, and to improve their participation in the economy.
Currently, two women are contesting Cyril Ramaphosa's presidency of the ruling party – which is an indication of a robust democracy. Women are free to say, 'I want to become the President and I will lead this country better.' South Africa is moving in the right direction in terms of socio-economic empowerment and the promotion and realization of gender equality.
I have been part of the National Executive Committee (NEC) of the ruling party under former President Nelson Mandela and President Thabo Mbeki. At times you could see that the President wanted to move forward in terms of further developing the country, but the constraints of the economy were holding us back. The current President has placed a strong emphasis on improving South Africa's socio-economic situation, and is keen to nurture strong relations with Japan, which is the third largest economy in the world and the fifth largest investor in South Africa. My responsibility is, therefore, to ensure that the friendly bilateral relations that currently exist between South Africa and Japan, will yield favourable results, and that these will in turn impact positively on the socio-economic challenges currently faced by South Africa.
We thank Ambassador Ngonyama for this interview
Read more