[INTERVIEW] with the Ambassador of Indonesia to Japan H.E. Heri Akhmadi
Could you please tell about the relationship between Indonesia and Japan?
Japan is Indonesia's strategic partner in various fields. It is without doubt that the development of cooperation between the two countries will continue to increase, especially in economic recovery in the midst of the Covid-19 pandemic. The Covid-19 pandemic has moved countries in the world, especially Indonesia—Japan to be more open and synergistic so that they can recover together. Indonesia invites Japan to work together on the trade, investment and industrial agenda to accelerate the achievement of the Sustainable Development Goals (SDGs). This is manifestation of the real support for a resilient and sustainable global economic recovery which is in line with the main theme of the Indonesian G20 Presidency, 'Recover Together, Recover Stronger'.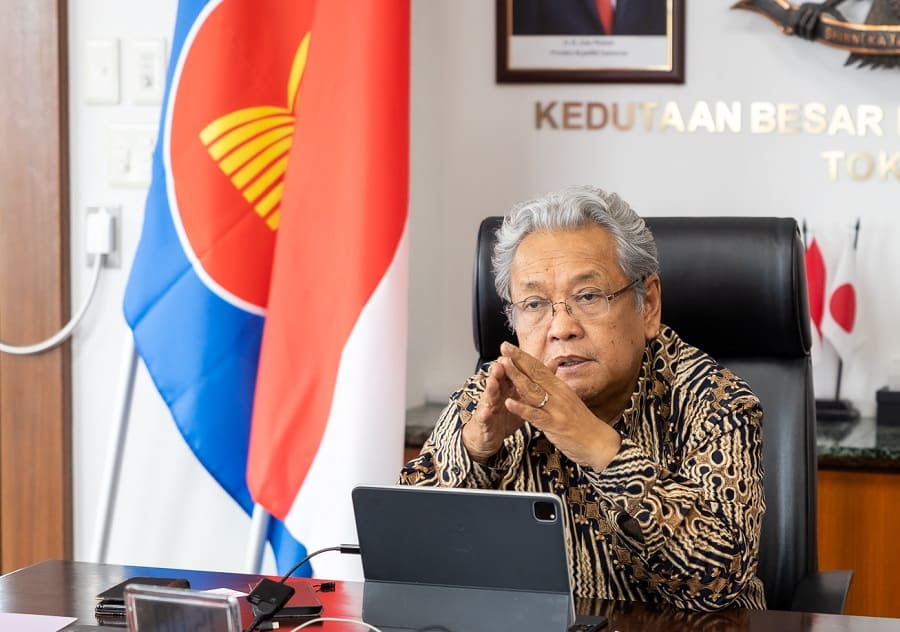 How has your country managed Covid-19 so far? Are there any collaborations between Japan and Indonesia fighting the global health crisis – if yes what are they?
The Government of Indonesia applies a balance execution between health and economic interests. Since November 2020, Indonesia and Japan have agreed on a number of cooperation in handling Covid-19. The cooperation includes pharmaceuticals and medical devices, development of human resources on the health sectors, health services, health information technology and health services for the elderly Indonesia also received support for the Covid-19 vaccine from Japan through dose-sharing cooperation. By the end of January 2022, over 2 million doses of AstraZeneca vaccine had arrived in Indonesia. In 2021, Japan provided around 4.2 million doses of vaccine to Indonesia.
This cooperation is a concrete form of strategic partnership between two countries, especially in helping accelerate Indonesia`s economic recovery. Previously, various health collaborations had been carried out between the Government of Indonesia and the Government of Japan to establish partnerships in the vaccine sector through a Memorandum of Cooperation (MoC) in the Field of Health on June 18, 2021.
The collaboration included research on food, health, and biotechnology between Indonesia and Japan through Osaka University. This achievement is an important step in implementing health cooperation between these two countries in the field of vaccines and efforts to accelerate national economic recovery. Another collaboration in the health sector is the Memorandum of Cooperation (MoC) between the Indonesian National Food and Drug Administration and the Japanese Ministry of Health, Manpower and Welfare regarding the Framework for Dialogue and Cooperation in the Regulation of Medical Products.
Please tell us about the progress to move the current capital Jakarta to Nusantara?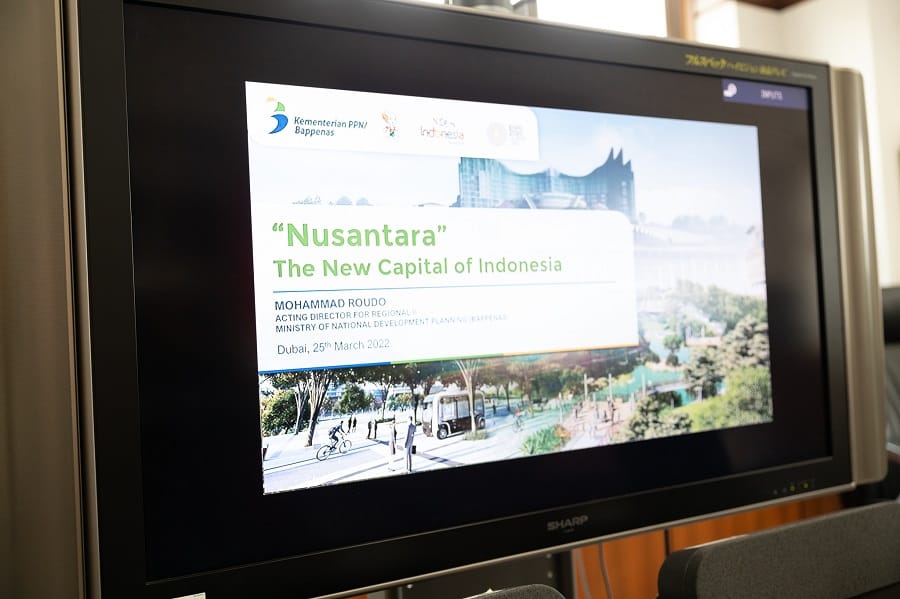 One of the main reasons for moving the capital is that the population burden on the island of Java, especially in the city of Jakarta, is already too dense. The Intercensal Population Surveys in 2015 stated that around 56% of Indonesians were concentrated on the island of Java. On other islands, the figure is less than 10%. Meanwhile, that on the island of Kalimantan—much wider than Java—only contributed to only around 6% of the total population of 270 million as of December 31 2021.
We call it the city of Nusantara, the new capital of Indonesia. The meaning of Nusantara is inter-islands; meaning nusa is 'island', antara is 'in between'. It is located on the east coast of Borneo in what is currently part of the province of East Kalimantan. Borneo is Indonesia's biggest island, but the population is relatively small at only 6%. The future capital will be very close to sea line.
Another reason is that the economic contribution in Java to Indonesia`s economic growth or Gross Domestic Product (GDP) dominates, while that on other islands is far behind. Based on the data from Central Statistic Agency (BPS) 2021, the economic contribution to GDP in Java is somewhere around 58%, while the figure on other islands was around 3%.
Nusantara was chosen as the name of the new state capital in East Kalimantan because the word has been widely known internationally for a long time. The name Nusantara was born during Majapahit era around the 14th century.
Many countries want to invest to develop the new capital. However, the Government of Indonesia is currently still focused on preparing the new capital development.
Traditionally, Japan and Indonesia have enjoyed very strong commercial relationships over several decades. How can Japan contribute to this mega-project?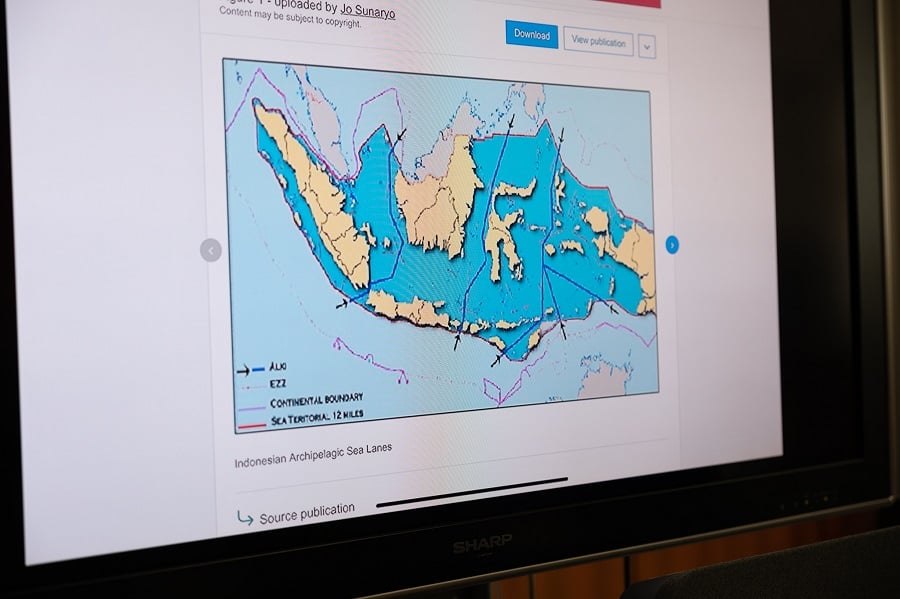 The government expects to spend only around 20-something percent. The other is from private that will depend in the interest of the company, including foreign company to give the supply for the electricity, for the water and something like that, not wholly developed by the government. This will lead to cooperation, what you call PPP (public-private partnership). We will invite many investors, not only from Japan but all over the world.
Softbank confirmed that it is not investing in Indonesia project to build the new capital city in Borneo, just before the groundbreaking for this project. We don't worry because we have many investors backing up this project. And of course, we will have also some of the Japanese company, which also gives the interest for this thing. Our representative from Indonesia, also with the embassy met with the senior adviser to Prime Minister Mori, who discussed about Japanese company involvement for this project. We are going in the process of building a smart city, and I think Japan has done a lot of experiments on this field. I'm quite sure that Japan will have more experienced and testing.
Your country is rich in natural resources, and Indonesia is one of the key trade partners within Asean for Japan. What products and industries are you promoting in Japan at the moment?
Indonesia and Japan continue to strive to improve comprehensive economic cooperation, especially in the industrial sector. Currently, there are numbers of economic cooperation between Indonesia and Japan, including the Indonesia-Japan Economic Partnership Agreement (IJEPA), which is currently at the stage of general review negotiation. Then there is also the New Manufacturing Industry Development Center (MIDEC) collaboration.
This technical cooperation project involves various partner institutions in Japan, such as cooperation with the Ministry of Economy, Trade and Industry (METI) and the Japan International Cooperation Agency (JICA). This can encourage increased investment in the automotive industry sector to make Indonesia a production base for export destination.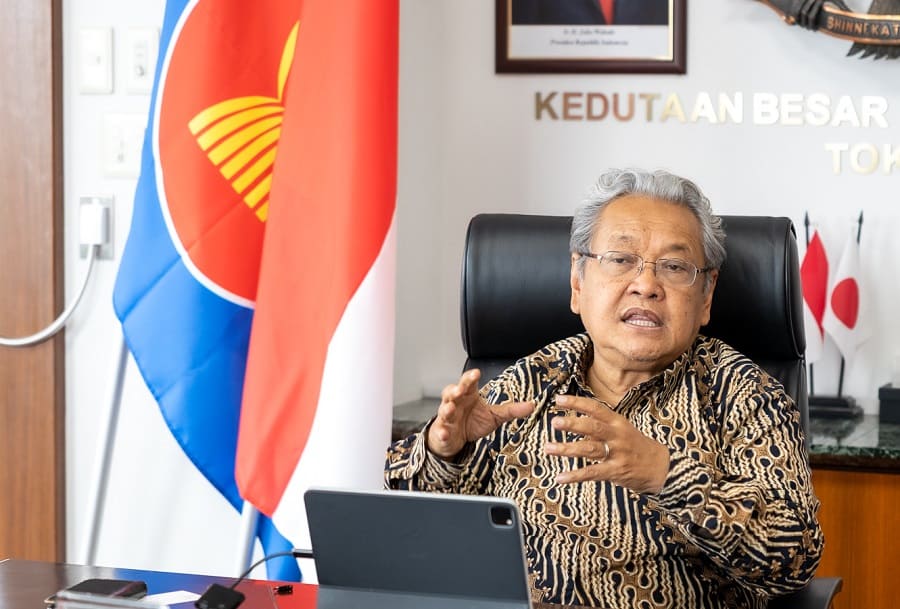 Currently, there are 21 Japanese four-wheeled or more-wheeled vehicle industrial companies with a production capacity of over 2 million units per year, by absorbing 38 thousand direct workers. The total investment reaches IDR 140 trillion, and provides livelihood to around 1.5 million people who work along the industry value chain. Japan is still committed to investing in Indonesia, including in the Electric Vehicle sector.
The two countries also agreed on a new collaboration, namely Public Private Track 1.5: Japan Indonesia Co-Creation Partnership for Innovative and Sustainable Economic Society to enhance cooperation in regional and global supply chains, infrastructure development, digital economy, human resource development and sustainable industry. The sectors which are Indonesia's development priority.
The total trade value between Indonesia and Japan from January to December 2021 was USD 32.4 billion, which means 33.5% higher than the same period in 2020 which was USD 24.3 billion. In terms of investment, in 2021, Japan's investment in Indonesia was 2.3 billion USD in 6,931 projects which is ranked fifth among other Indonesian investors.
Recently, Japan has been enforcing restrictive border controls due to the global pandemic. In the process, many Indonesian students enrolled in Japan have been frustrated to reenter the country of choice – Japan. Is there some progress going forward?
Yes, for example, I've met a mom yesterday who spent three days in quarantine. Today, she and her friend are allowed to go to the dorm— which is frustrating because she already starts the study more than one and a half years. So far she started through online. Japan gradually relaxes border controls to allow entry for tourists and non-tourists, so we're expecting more for the students. Many Indonesian skilled workers are already coming to Japan after the policy for the opening for this one. As reported to me, one of the company will send around 600 students for training. And then next year, it will be around 1,000 to 2,000. And then we expect with up to the end of the year, one company is expecting to send around 6,000. So, hopefully that can be a very good start.
Please tell us about your most recent projects your Embassy is working on in 2022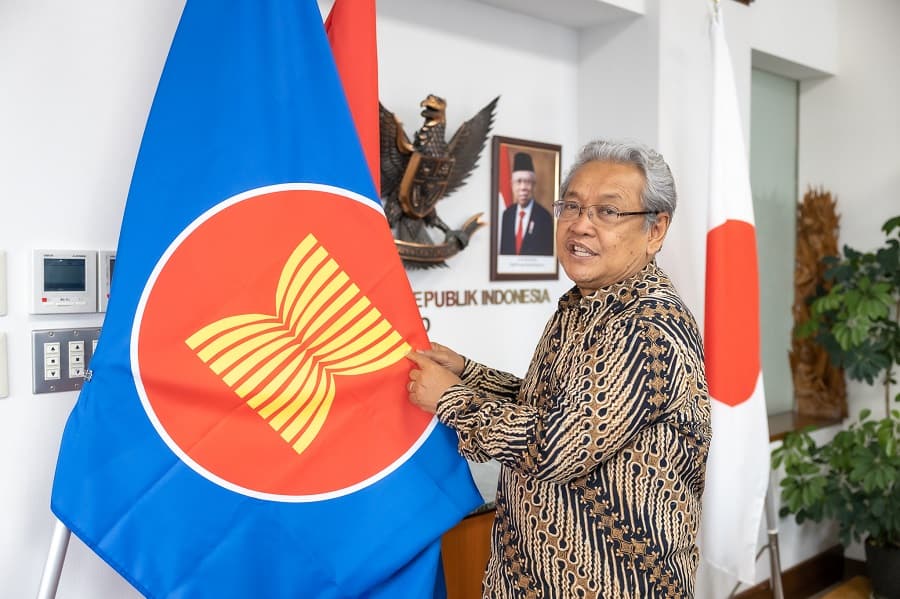 This year, Indonesia is the chairman of the G20. We would like to have some initiative with Japan, difference with how other countries organizing G20. At this time, Indonesia also during the summit wants to announce the cooperation between B2B. For example, Japan and Indonesia but also Japan, Indonesia with other countries, but also with several countries like that. This time, Indonesia would like to focus on three things with better and concrete projects: one is health, the second is energy transition and third is digital transformation.
This time, we already have the mission from the business trip for Japan to Indonesia. They're already in Bali to see some of the opportunity to have the cooperation with Japan. And of course, we already have the MOC (memorandum of cooperation) which has signed by minister Hagiuda from METI with Minister Arifin.
In Jakarta, there's a mission from METI to discuss the initiative between Indonesia and Japan for Asia's Net-Zero Emission. That's a commitment of the Prime Minister Kishida to start helping the ASEAN. He would like to have Indonesia as the co-initiator for this project.
And then more importantly, next year, Japan will be G7 chairman, and Indonesia will be chairman of the ASEAN. Indonesia and Japan will be commemorating 65 years of the diplomatic relation and also 50 years for ASEAN and Japan relationship. So next year, I think that's a very important one. We would like to have the kind of the continuing agenda for Indonesia-Japan cooperation, which we started this year with some initiative on the health, on the energy and also in the digital transformation. We will continue next year by extending for Indonesia, of course, with the ASEAN countries. By doing this one, we can strengthen our strategic relations between Japan and Indonesia.
TOURISM: With 17,000 islands, including Sumatra, Java and Borneo, Indonesia is one of the most beautiful and popular tourist destinations in Southeast Asia. Indonesia has arguably the most beautiful rain forests in the world – how have you been promoting more tourism to your country from Japan?
Every year the Indonesian Embassy in Tokyo conducts familiarization trips to Indonesia by bringing representatives from travel agents/tour operators, journalists, influencers and other parties who can help promote Indonesian tourism in Japan. The tourism promotion by The Indonesian Embassy in Tokyo through its social media channels and collaboration with various institutions, such as the ASEAN Japan Center and The Japan Foundation, continues getting strengthened in various forms of activities.
At the end of 2021, the Indonesian Embassy in Tokyo invited two leading Japanese media, namely NHK and Kyodo, to see firsthand the readiness of tourism in Bali in welcoming foreign tourist visits. In this program, the Japanese media could directly inform the Japanese public about Bali's readiness to re-welcome tourists. Meanwhile, on February 3rd, the Indonesian Embassy in Tokyo fully supported Garuda's inaugural flight from Tokyo's Narita Airport to IGusti Ngurah Rai Airport, Denpasar Bali. Also on the inaugural flight were four Japanese individuals from the tourism sector who were holding business meetings in Indonesia.
At the MotoGP event in Indonesia held on March 20th, Nikkei Inc has also participated in a famtrip to West Nusa Tenggara and Bali organized by the Indonesian Ministry of Tourism and Creative Economy, in collaboration with the Indonesian Embassy in Tokyo to see the accomplishment of the Moto GP and to review the latest development in Bali after the implementation of the Visa on Arrival and No-Quarantine Policy for citizens from 42 foreign countries, including Japan.
The Japanese people who participated in this activity received information about the history, customs, arts and culinary specialties of each region in Indonesia.
Planned this year about a few arts and culture projects?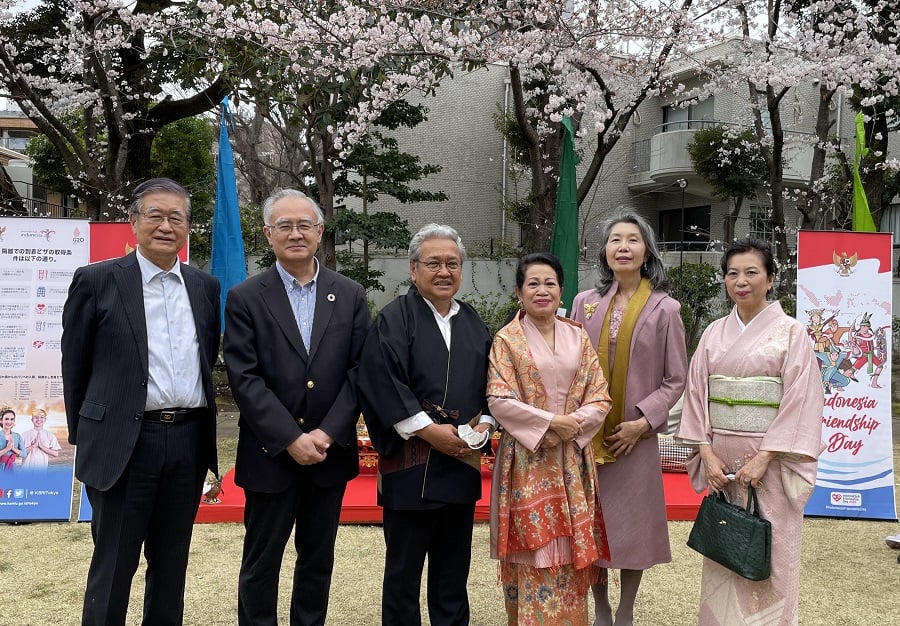 In addition to carrying out the function of fostering, the Indonesian Embassy in Tokyo always involves arts and cultural groups of the Indonesians in Japan to perform in front of government officials or Japanese businessmen. This is part of the cultural diplomacy of the Indonesian Embassy in Tokyo to further expand the promotion of Indonesian cultural arts to the Japanese.
In 2022, ahead of the celebration of 65 years of bilateral relations between Indonesia and Japan, the Indonesian Embassy in Tokyo will carry out a series of activities for Indonesia Friendship Day (IFD) 2022 which aims to introduce Indonesia to the Japanese public through a series of integrated promotions. This year it is planned to be held in several major cities in Japan, such as Osaka, Nagoya, Fukuoka, Sapporo, Sendai, Mito, Yokohama, Okinawa, Kesennuma, Kumamoto, and Shizuoka. In a series of activities to commemorate the 65th anniversary of diplomatic relations between Indonesia and Japan in 2023, the Indonesian Embassy in Tokyo also plans to hold an exhibition of traditional Indonesian and Japanese textiles and other exhibitions at the Jakarta National Museum and the Tokyo National Museum.
We thank Ambassador Akhmadi for this interview.
For more information on Indonesia visit: Indonesian Embassy
Read more
Hanami in Bali Ambiance