Japan and Greece, two great Sea Powers
In this insightful talk with the Greek Ambassador to Japan, Constantin Cakioussis, we learn about the highlights of his time in Japan, as well as his work as a diplomat to the two countries hailed as "Sea Powers."
From the Olympic Games in the midst of a global pandemic to lessons about respect and cooperation, the Ambassador takes us through his views on opportunities for greater cooperation and development between Greece and Japan.
>> Read also: The Beauty of Ancient Greek Embroidery <<
Q: Please reflect on your time in Japan.
Looking back, I can only recall the ancient Chinese curse, "May you live in a time of change." We have been here for three years and a few months and have had to face several difficult times including COVID. We also witnessed a number of very important and historical events, such as the enthronement of the new Emperor as well as the iconic Olympic Games.
Japan successfully delivered the Olympic Games, against all odds. This is important to understand. I don't think any other country could have done it. It's not a compliment—it's a fact.
This unprecedented level of dedication of the Japanese people was needed to make it work despite the dangers involved. I also stated on Greek television that Japan is an island and as an island, it is much more sensitive to incoming microbes and germs, etc. The danger to Japan was greater than for any continental country, for example. It was not without risks, and the government, I would say, took a very courageous decision at the end of the day.
Initially, everybody was against it. But the moment the decision was taken, everybody stood behind it. And this to me, is very important.
Q: How did you experience these very different Olympic Games?
Modern Olympic Games and ancient Olympic Games have some fundamental differences. If you want to try to put them on a parallel, you will have to remember that in the ancient Olympic Games, participation was in itself a sacrifice to the gods. What this means is that besides the animal sacrifices, donations and libations, every participant would, for instance, sacrifice his effort to the gods.
Modern Olympics are totally different. This, of course, doesn't diminish the importance as it is defined by modern society.
In modern society, there aren't any sacrifices to the gods. You present yourself an offer to your partner, to your fellow athletes, for one of the two becoming better. And this is what our societies are all about; we are cooperative societies but at the same time we are, not conflicting, but antagonizing societies. What the modern Olympic Games try to do is to give an opportunity to other people—to try their hand on you and become better or make you better.
The sacrifice is a kind of mutual one. It is what is presented in Japanese martial arts as well. You have to respect your partner because when you train judo, for example, he presents his body to you for you to train. So, you have to respect it.
In that sense, the modern Olympic Games present an opportunity for you to run with a co-athlete, help him achieve the best he can and transcend him or herself to another level.
That's the sacrifice. That would be the parallel I could draw.
Tokyo Olympic Games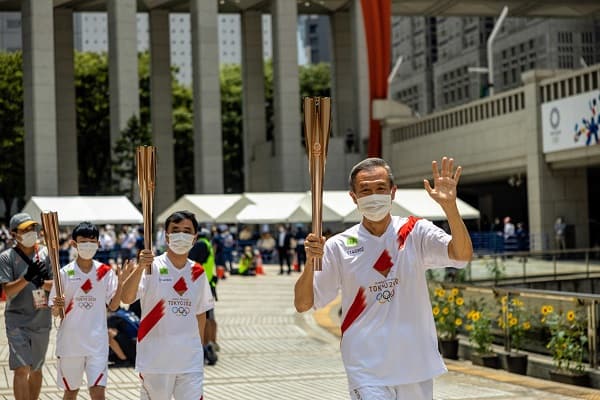 The main distinguishing feature of these Olympic Games was that the public was not there. In both ancient and modern Olympic Games, the public is a major factor. However, in this Olympic Games, no witnesses were physically present.
The audience was somewhere far away and widespread, whereas the actual venues were empty. You didn't have any cheering; the only cheering was from pro athletes, which was very interesting—having Olympic teams going in to fill the venues and cheering for everybody.
That was very different. Hence, the character of these games was nothing short of unique.
Q: Besides the Olympics, what will you take away from Japan?
Unfortunately, at least a year and a half ended up somewhat frustrating due to coronavirus. My wife and I started on a very strong ticket and we had a very important mission from Greece. When I took office in 2018, there was a meeting between the then Foreign Minister, Mr. Nikos KOTZIAS, and his Japanese counterpart, Mr. Taro KONO, to reactivate our excellent but somewhat distant relations. Thus, we started working on that.
In early 2019 we had the visit of our Foreign Minister, Mr. Georgios Katrougalos. After that, we had the visit of a group of deputy ministers in early 2020 with the aim to explore ways of cooperation in the fields of economic research and development, energy, etc. Two different vice ministers and the Deputy Foreign Minister Mr. Kostas Fragogiannis visiting Japan were present.
This indicates how much effort was made before the coronavirus hit. Then, all the meetings were either postponed, canceled, or held online, which wasn't really helping.
We're still working on trying to keep these processes alive, and working on several agreements which were started when I came here. My hope is that with coronavirus receding, we will be able to resume the strong efforts by both countries to strengthen our relationship.
When you are a diplomat, you stand in the middle. You are expected to explain Greece to the Japanese and at the same time, Japan to Greeks. Working as diplomats, we are not one-sided but work on both sides.
In that sense, as a diplomat, I was trying to interpret Japan to Greece. And the purpose was not only to my ministry but also to the Greek society.
For example, we were instrumental in the introduction of a Japan week in Greece, although it was organized and hosted by the Japanese embassy in Greece.
But from whatever we could do from our embassy here in Japan, we helped. And we were quite happy to cooperate with my colleague at the time. Of course, we also had cultural exchanges. But as I said, most of the time, practically a year and a half, was frustrated by the pandemic.
Q: What do Japan and Greece have in common?
The two countries are close in that both are sea powers. The major assets in both countries are the merchant marine fleets. Being sea powers means that we depend on the sea.
Japan is an island, and although Greece is partly continental, there is no geographical point in Greece that is further away from the sea than 80 kilometers. That's what sea power means. At the same time, we belong to the same group of economic development nations (i.e., free economies, rules-based societies).
Thus, we are very close, and so is the understanding of the two countries. The only thing that divides us is distance. We're destined to be together.
Maritime or navy communities usually are quite shy, but believe it or not, Greece and Japan cooperated into shaping the new environmental requirements for the merchant marine. We're talking about the first and second biggest fleets in the world, so we set the pace. Greece holds the first position and Japan holds the second.
TOURISM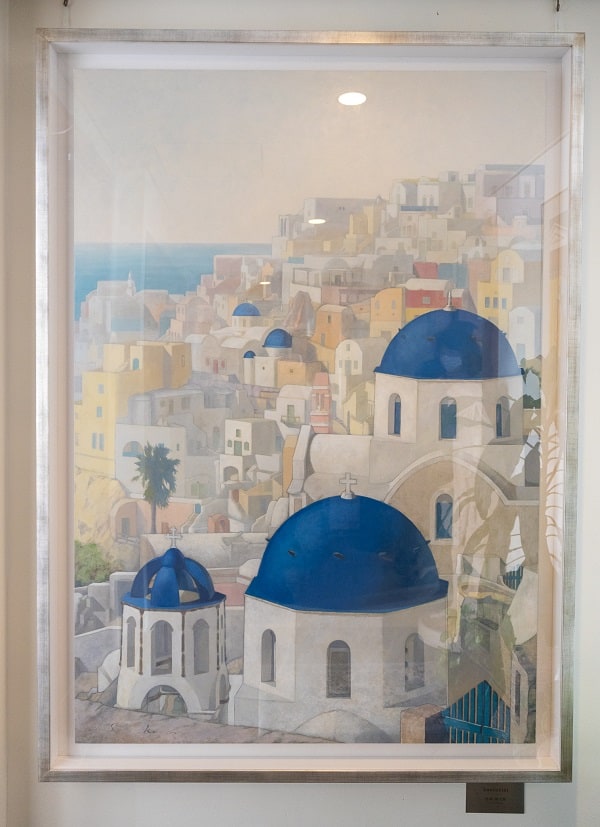 Q: Greece is one of the most favorite tourist places in the world. What efforts are being made to promote tourism to Japanese?
At a certain point, tourism was 18% of Greek's GDP. Hence for us, tourism has always been very important. Greek tourism before coronavirus in 2019 was growing. We had 30 million visitors, practically as much as Japan.
However, Japan's contribution is very small. Only about 30,000 to 40,000 Japanese visit Greece annually. We would like to see this grow in both directions in the future.
One major aspect is that there aren't any direct flights to Greece. However, traveling from one to the other does not present any major problems since the cultural and political landscape, as well as the closeness of the two countries, make it very easy. The challenges are mainly to further develop this proximity. As we speak, there are ongoing discussions about cooperation and tourism.
But it's not just about increasing tourism. What is more important to me is what tourism offers to the development of our societies. If the pandemic, which has hindered international travel and tourism, continues, it will become a political problem. Tourism is an essential component of our modern societies and is instrumental in facilitating cooperation and understanding connectivity, which allows societies to develop. If this is stopped for a long period, it will create political and societal challenges such as intolerance of foreigners. Countries that are closed or closing for any reason tend to be intolerant of outsiders and refugees. Hence, I believe that tourism is very important, and not only for economic reasons.
RESEARCH AND DEVELOPMENT
Q: What other areas would you like to see further cooperation between Greece and Japan?
Investment is an important sector where mutual benefit can be generated. Greece has come out of the economic crisis and the current government has embarked on a series of large economic reforms. Also, Japanese companies are very welcome during the visit of the Deputy Foreign Minister and group of Ministers.
There were some discussions about having large Japanese firms investing in major projects in various sectors including energy—especially renewable energy. Also, I believe that there is a lot of potential for shared research and development in this area of innovation because Greece is part of the big network of the European Union.
When you connect with Greece, you connect with the European Union. I believe that Japanese firms have everything to gain from that.
ENVIRONMENT
Environmental issues are very important. All the technologies pertaining to the protection of the environment, the redevelopment of the environment, or cleaning are important both for Greece and Japan.
For example, an island of 77 square kilometers like Santorini, has a peculiar environment. The soil of Santorini is very dry and extremely alkaline. So much that it is one of the very rare areas in Europe that did not suffer from the European-wide phylloxera epidemic (*Grape phylloxera is an insect pest of commercial grapevines worldwide, originally native to eastern North America) because this specific bug cannot survive on the soil.
The very old wine yards are irrigated by the sea during the day. The evaporation, which condensates during the night, provides the humidity these wine yards need. Hence, this is an extremely delicate system that needs to be protected.
So, all those technologies are needed, both in Greece and in Japan, because Japan is an extremely developed industrial country and industry is a polluting factor. I know that Japanese firms are going to great lengths to fight pollution. That is a sector we seek further and deepened cooperation.

FINAL WORDS
Leaving Japan, I would say that I am extremely proud of what we were able to achieve, despite the situation and the various challenges we faced. It will now be up to my successor to continue the initiatives we have been working on over the last three and half years.
For more information visit: Embassy of Greece
Read more: