John Boyega and the Rise of Skywalker in Tokyo
On a cold and rainy day in December 2019, Japanese fans and media were invited to attend the red-carpet event for "Star Wars: The Rise of Skywalker" in Roppongi Hills, the place for many red carpet events in Tokyo, Japan.
>> Billie Eilish Coming to Japan<<
"John Boyega in Tokyo for Rise of Skywalker"
The Star Wars cast attended the glamorous event in Tokyo to promote the film ahead of its global premiere on December 20: lead actress Daisy Ridley (Rey), Anthony Daniels (C-3PO), John Boyega (Finn), Oscar Isaac (Poe Dameron), director and producer J.J. Abrams, and producers Kathleen Kennedy and Michelle Rejwan.
With much fanfare, fans and media were dazzled by a glittering show of movie scenes, popular Star Wars music, and Japanese actors dressed in original Star Wars costumes.
The first to arrive at the red carpet (and to step out of a black Mercedes limousine) was Daisy Ridley. She drew much attention as she walked elegantly in a white ensemble, which included a crop top with high-waisted trousers. "Adding a glamorous flourish to her look, Daisy's ensemble was complete with a dazzling sequined cape that matched her top," according to one fashion expert's commentary.
The rest of the cast followed promptly, all patiently signing autographs and giving short interviews to Japanese TV crews when they were walking down the red carpet.
Finally, the whole cast assembled for a final showdown on stage.
With blasting fog machines and the typical Star Wars opening music, the crew was lifted upward, towering over their fans and media. Despite the rain and cold temperatures, the crowd warmed up to the waving hands of their Star Wars heroes.
John Boyega Loves Tokyo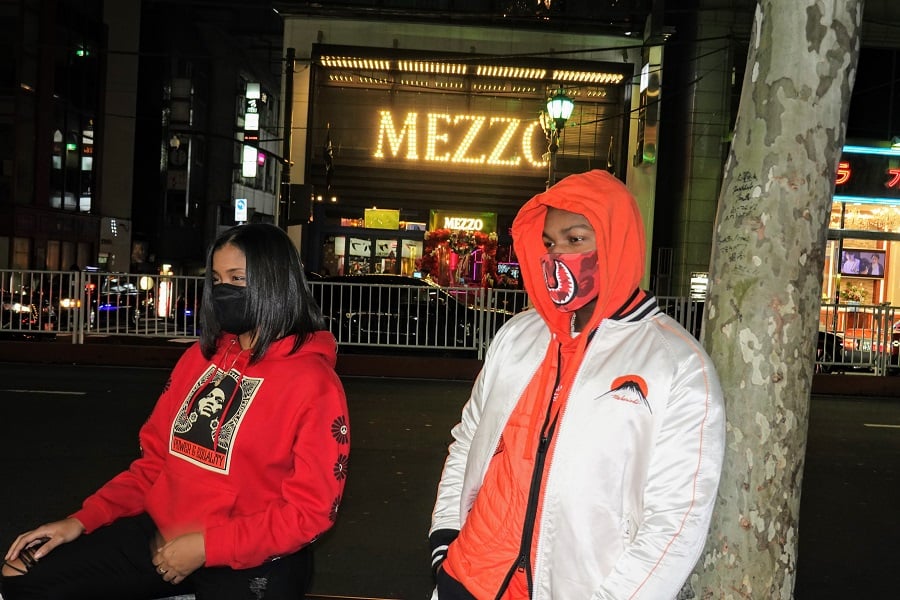 The moment we anticipated the most was when John arrived at the scene. John has always been a big fan of Japan, and since he promoted his first Star Wars movie, "The Force Awakens," in Tokyo in 2015, we have had the honor of hosting and entertaining him in Tokyo each time he visits Japan. Naturally, we rooted for him the most.
That evening, John wore a black jacket over a matching top and trousers, "offsetting the ensemble by stepping out in a pair of cream lace-up boots," that reminded a bit of a modern-cut Yedi uniform.
After completing his duties that night, John showed up at the LEX (formerly known as the Lexington Queen) to pay his respect to manager Taka Masuda who always takes good care of John when he is in town. From the best restaurants, Tokyo has to offer to interesting places to visit such as the TeamLab in Odaiba, Taka-san, as his many fans and friends call him, always prepares an elaborate plan for his VIP guests.
That night, John changed into more comfortable clothes, red parker, and black Nike pants. Most interestingly he was wearing a mask what seemed to be a Bathing Ape Bape Shark mask. Curiously, he wore this mask in late December 2019.
Did he already know something we didn't or was the force with that one to give him incredible foresight? In any case, we were honored by his visit and we can't wait to welcome him back in Tokyo again – another face mask then?

Our Movie Review
It certainly was a historic moment that night in Tokyo, as it was the last episode of the nine-episode sci-fi saga that spans several decades. But not all was calm in the Star Wars universe because the anticipation and expectation for it were set sky-high.
In a way, producers and makers of Star Wars could only fail to disappoint the hardened critics and fans who were still dreaming of the good old times when Han Solo and Skywalker roamed the universe in their youth. Here is our review of "The Rise of Skywalker."
Star Wars: The Rise of Skywalker — 5/10
"Star Wars: The Rise of Skywalker"
Suffers from one central flaw: as a movie, it has no artistic integrity. I don't mean that it isn't great art. In many ways, it's the absolute pinnacle of what mega-budget Hollywood blockbusters can do with an endless budget and a decent director. I
If you like beautifully shot chase scenes, moody visions of fleets rising through Venus-grade cloudy atmospheres, and lots and lots and lots of gorgeous backdrops, you'll drool yourself into a coma watching this, supposedly the last installment of Star Wars.
But if you care about a story making sense, either narratively or emotionally, stay away. Because this film isn't about ending a story as much as catering to what they thought their fans wanted and producing the hollowest spectacle on the screen in years.
The story of "The Rise of Skywalker" makes no sense. Those of you suspicious about the new trilogy's direction since Luke turned into a whale-cow milking weirdo won't find anything about all the endless retcons and respins that are even wildly believable here.
For example
— SPOILER ALERT — apparently falling down a giant shaft on an artificial moon crashing onto a planet didn't kill the Emperor, despite him having the same constitution as Monty Burns. In fact, apparently old Palpy was a bit of a stud — did you know he had kids? And that his kids had kids? And that that kid was…Rey?
And that while he's been keeping an eye on her, he's also been rebuilding his fleet? Not just any fleet, but the biggest fleet the galaxy's ever seen? In secret? While tied up to a giant wasp sting? Surrounded by jillions of Sith who just appeared from nowhere? Oh, and did you know that flying a spaceship into another at the speed of light from right in front of it is a "one-in-a-million shot"?
Did you know Rey had a thing for Kylo Ren, and not Finn?
See, the point here is none of it makes any sense, at all. And worse — it basically sticks its fingers in its ears and says "la la la" when you notice these things. There's no attempt to make this look like an actual, sensible story.
It's just a bunch of weird narrative twists dedicated to giving its audience what the filmmakers think they want: a series of moments that look, taste, and smell just like what's happened a million times before.
This is the central problem with "The Rise of Skywalker" — it's just a massive, soulless cash grab, churned out by a studio terrified by the backlash to the innovations in the last film. The result is a boring, illogical mess — and one that everyone seems to dislike. Don't go see it. Watch "Star Trek: Picard" instead.