Josephine Skriver and Her Love for Japan
We had the honor of sitting together with Josephine Skriver, a Victoria's Secret Angel and the face of luxury watchmaker IWC, in late August 2019. She was visiting Japan with her fiancé Alexander DeLeon, to attend a "Meet & Greet" in Tokyo organized by celebrity club LEX and Star High Touch. Of course, there was ample time to enjoy Tokyo as well, its food, its culture, and its nightlife.
In our interview with Josephine, we talked about her fascination with Japan, the culture, what food she likes and how she keeps fit. But we also talked about her current projects, and her planned wedding in 2020.
David: Thank you so much for taking the time out of your busy schedule here in Japan. So many Japanese fans are waiting outside in the heat to participate in this Meet & Greet. How long are you staying here this time?
Josephine: Six days, so I try to do it all. I'm very excited this time because I get to be here for almost a week.
David: You have a couple more days left, right? What are your plans for the remaining days? Do you want to visit some other cities in Japan?
Josephine: We might do Kyoto one day. We did Osaka a few days ago. So, yeah, but Tokyo is so big. And there's so much to see. I'm really excited to see more and more.
David: What is the craziest place, or most bizarre situation, you have experienced in Tokyo so far? Something similar to Scarlett Johansson in "Lost in Translation"? Have you seen the movie?
Josephine: Yes — it's very fun to watch — I mean, I think the craziest was we went to a robot restaurant. That was definitely — I was, like, yeah, just seeing how people are dressed. It was like being in a computer game. It was very crazy.
David: Yes, it's a very famous place. Anthony Bourdain, the famous CNN celebrity chef who, well, he passed away, unfortunately, but Bourdain was there and he just loved it.
Josephine: I'm a massive fan of what Bourdain did, and that's why we tried to go to such places here. He was a huge fan of it because it's just so crazy. It's so Tokyo. It's fun.
David: That's right. So, what makes Japanese fans different?
Josephine: I think they're just some of the kindest people. They're so polite. It's really humbling meeting fans. They're excited to see you and they don't just say hi — they know your favorite sports team. They know all these things. So it's very, very touching.
David: And you take a lot of time for each of your fans?
Josephine: Yes and no. I think it's so important you try and give as much time as you can. But I think it's so short. I'm always like, I wish I could stay longer and get to know everybody, but you also don't want to take too long because you then can't make everybody happy. So, I'm just trying to make everybody happy — trying to make it a short but special moment.
David: All right. And you have a private YouTube channel. Tell us about it.
Josephine: One of the other angels, Jasmine, and I are really good friends and we bonded over sports. And we wanted to share with young girls to not be scared of working out, how to live a healthy lifestyle, and to just have fun with it. And so, we want to share what you can do at home because it can be so intimidating for girls to go to the gym and lift heavy. We try to share what we do, how we eat, but also like — not just healthy. Also, just have fun, but don't call it cheap, call it treat — you know, make it positive. So, have fun with it, and just how active is that? It's been really fun to share that on YouTube as well.
David: You know, I saw some of your exercise videos. You're really into fitness, right?
Josephine: I am.
David: It's amazing how they combine different training regimens into your training. It looks like a mixture of Tabata, CrossFit, and yoga exercise. Tell us about your fitness channel.
Josephine: Yeah, we try to do high intensity, like CrossFit and such. I also like to do a lot of body weights and I recently just started learning yoga because I think I need to sometimes stretch it out and slow down. So, it's always important to mix it up and keep it exciting.
David: So when you travel, like when you go to Tokyo or you are here for a week, how do you keep in shape? How do you keep fit? Do you do exercises? With all the good food you can get here in Tokyo.
Josephine: Yeah, actually, luckily, we're staying in a hotel with a great gym. So, every morning, I go to the gym. But also, you walk so much in Tokyo. I think we walk eight miles every day. So, that alone, and all the shops and restaurants are all on the fifth floor, and it's all stairs, stairs, stairs. I try to take the stairs, never take the elevator. So, I just sneak it in.
>>Enjoy Champaign at the InterContinental Tokyo Bay<<
David: And how about Japanese food? I mean, are you a vegan or are you on a special diet?
Josephine: No, I don't believe in that too much. I think everything with moderation. I think it's about how much you eat. So, I try to eat healthy 80% of the time and then 20%, you gotta treat yourself, you know, but I love it a lot. So, no, I don't diet — I like almost every food. I like fish. I like steak. But I also like vegan meals. So, it depends on what the menu is, but Japan has definitely been a very, very good food trip.
David: And what food can you recommend to your fans here in Tokyo?
Josephine: Tokyo has the most amazing food. But honestly, I really like Ichiran Ramen.
David: It's a famous ramen restaurant (Japanese noodle soup). I think they serve a special regional type of ramen — Hakata Ramen from Fukuoka.
Josephine: Yeah, you sit in a little booth and eat — it's a very fun experience and the food is so good. We probably have ramen like every other day. So, that's good.
David: You know that you can order more noodles if you still have some soup left, right?
Josephine: Yes. Exactly, with the extra little ding ding.
David: You are a Victoria's, Secret Angel. And it helped you to boost an amazing career. Right?
Josephine: Oh, it's been an amazing platform.
David: But you have also lately been the face of Maybelline New York. Is that correct? And you are the official IWC brand Ambassador.
Josephine: Yeah. I'm super lucky. Being an angel has given me a great platform and I'm still working with the brand a lot. But now I'm also busy with being the face of Maybelline. And I just recently became the face of IWC Watches. So, it's really cool being able to do more and do it all.
David: And are there any new projects in the pipeline?
Josephine: Yes. I can't talk about it yet.
David: That's a shame, but we are all excited about what you plan next and I look forward to your updates. Final question: You've been here in Tokyo with your fiancé. Is your stay in Japan a kind of pre-honeymoon?
Josephine: You could call it that. I think that you could definitely call it a pre-honeymoon because we're both so obsessed with Japan. And it's been really nice to get some time together because we travel a lot, both of us, so we don't always get to see each other a lot. So, getting to spend time together and being in the same city is always really fun.
David: Amazing. And when is the official wedding?
Josephine: We are getting married next summer, so we're in planning mode. I thought it wouldn't be so stressful but it kind of is. And I have a really hard time committing to my dress. I keep changing my mind.
David: Well, we wish you the best of luck, an amazing wedding, and we hope to welcome you back in Tokyo soon. Thank you very much for this interview, Josephine.
Josephine: Thank you.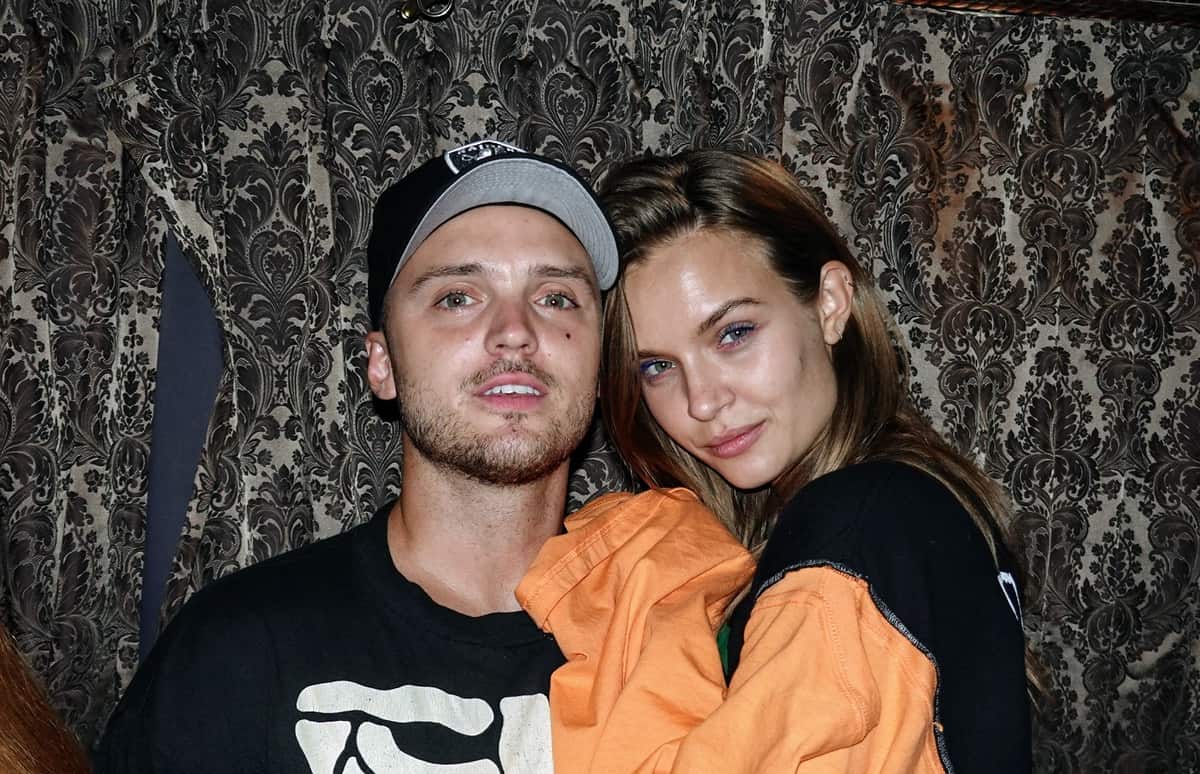 Josephine Skriver was born on April 14, 1993. She was raised in Copenhagen, Denmark, and lived with her mother, who is an IT analyst, her father, who is a marine biologist, and her younger brother, Oliver. One interesting fact is that her parents are part of the LGBTQ community, and she and her brother were conceived through IVF.
When she was 15, she was scouted for her modeling potential while on a trip to New York with her soccer team. Because of her beauty and undeniable potential, she was constantly approached by agencies based in and outside of Denmark, but only pursued her modeling career after she finished school in 2011.
Career
Skriver had her debut walk in New York in 2011, where she opened for Alberta Ferretti and later closed for Prada. She also worked with many other prominent designers, such as Calvin Klein, Valentino, Balenciaga, and Christian Dior, that same season. All through her career, she had advertisement campaigns for popular brands, namely H&M, Bulgari, MAC Cosmetics, Yves Saint Laurent Beauty, and Victoria's Secret. She was featured in numerous magazines, such as Marie Claire, L' Official, Allure, Elle, Vogue, and many others. She has walked for the Victoria's Secret Fashion show every year since 2013, and she was confirmed as the newest model of the 2020 Sports Illustrated Swimsuit Issue.
Advocacy
Aside from her beauty, she also has a compassionate heart, and it showed when she was made a celebrity ambassador for the Family Equality Council in 2015. Its aim is to raise awareness about LGBTQ families, which she relates to as her parents are part of the community.
Personal Life
Skriver and her longtime boyfriend Alexander DeLeon announced their engagement in November 2018. They have been together since 2013.
Follow Josephine
YouTube Channel: JoJa: youtube.com/channel/UCH1syrqo5Ae8KUVshrVljTg
Instagram: @josephineskriver