Miss International Tunisia: 'Believe in Yourself, and Don't Let Anyone's Opinion Define Your Potential'
In early October, we interviewed Mariam Ben Abroug, who won the Miss International competition for her home country, Tunisia. For her preparation to compete in the global Miss International competition held in Japan, she spend time with us reflecting on her thoughts and goals, and the important idea she wants to convey to all young girls: "Please believe in yourself, and don't let anyone's opinion define your potential."
Q: What brought you to Japan? How do you like it?
Miss Tunisia: I've always had a deep admiration for Japan. The Japanese people are known for their politeness, intelligence, and organizational skills. Their continuous innovation is changing the world every day. Additionally, as a flight attendant, I had the opportunity to visit Japan, including Osaka, even before participating in this competition.
Q: How did you prepare for the Miss International 2023 competition, held on October 26, 2023?
Miss Tunisia: Every day, my preparation involved taking essential vitamins and maintaining a skincare routine. I'm delighted to have this first interview opportunity. We were fortunate to have the support of various sponsors, including spa treatments. Interacting with fellow candidates was a positive experience, and we've developed a strong bond, almost like a short-term family.
Q: Was there a chance for sightseeing after the competition?
Miss Tunisia: Unfortunately, we were in quarantine, so there was no free time for sightseeing. Following the competition, I was required to return to work. My leave was from October 11 to 26, and I had a flight on the 28th back to Dubai. However, I do plan to visit Japan for some sightseeing. We had the chance to explore places like Kamakura and the beach in front of Slam Dunk Station. As a dedicated anime fan, it was a moment of a lifetime for me.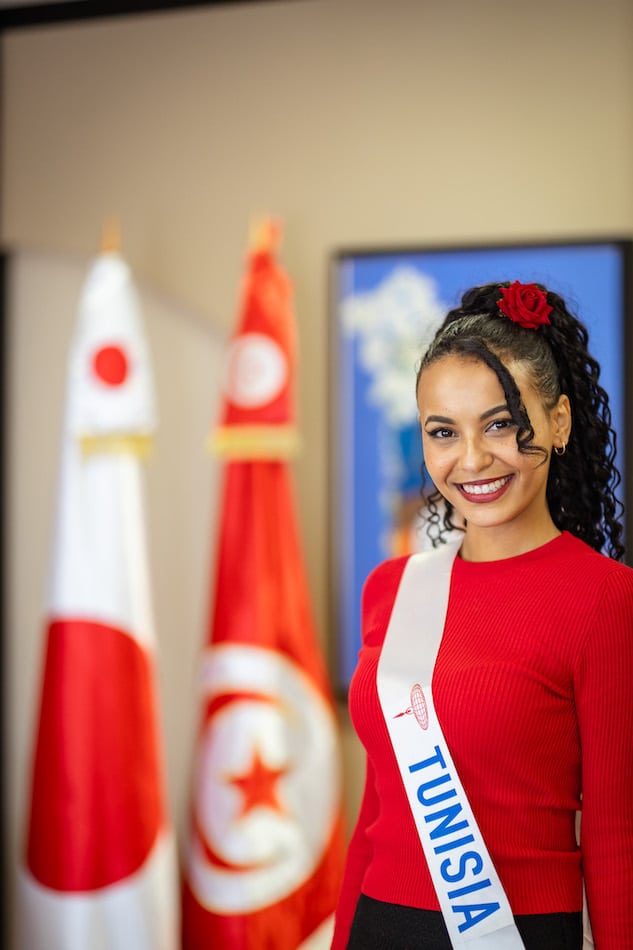 Q: It's clear that you had a distinct purpose for the competition. Could you elaborate on that purpose?
Miss Tunisia: Absolutely. My purpose went beyond just the competition; it's a core aspect of my life. My dream is to create a world where gender equality is not just a cliche but a living reality. Gender equality is not solely a concern for women — it's a global issue. When a country neglects to invest in its women, it limits the pool of talent available and stunts its growth. We are faced with a problem, and we must find a solution. We often only consult 50% of the population, but what about the other 50% — they are women. We possess intelligence and skills that the world has yet to fully harness. We haven't even scratched the surface of our potential when it comes to solving these issues. Recognizing and embracing diversity is crucial for driving technological innovation and progress.
Q: What significance does it hold for you to represent your country in Miss International 2023 here in Japan?
Miss Tunisia: This is a profound question for me. I have a deep love for my country. Although I've had the privilege of traveling to many beautiful places around the world, such as Japan and Australia, Tunisia holds a special place in my heart, filled with cherished childhood memories. I firmly believe that Tunisia possesses immense potential to showcase to the world. We have accomplished individuals like Dr. Moungi Bawendi, who won the Nobel Prize in Chemistry, and Ahmed Hafnaoui, who achieved Olympic success in swimming during the Tokyo Olympics. Our country is home to brilliant minds and exceptional athletes who have a lot to offer to the world. That's why was in Japan — to represent Tunisia and demonstrate to the world that we not only exist but excel in various fields.
Q: You seem to have some knowledge of Japanese culture and the status of women here in Japan. How can you inspire Japanese women to strive for more equality and empowerment, and do you see any similarities or differences in this regard between Japan and Tunisia?
Miss Tunisia: I feel fortunate to have been born in Tunisia because our country has made significant strides in women's rights, especially when compared to some neighboring nations. In Japan, I've observed that progress is being made day by day, and I appreciate the efforts of organizations like the Gender Equality Bureau. They are actively working to promote gender equality, as evidenced by initiatives such as workshops held at Mazda. These workshops aim to encourage young girls to participate and learn from Mazda's engineers, with a focus on fields within the STEM workforce (Science, Technology, Engineering, and Mathematics). It's a positive step toward inclusivity and empowerment for women in traditionally male-dominated fields. The situation in Japan may have its unique challenges, but there's a shared goal of progress toward gender equality that resonates with the aspirations of women in Tunisia and around the world.
Q: Do you have a final message for our readers?
Miss Tunisia: Absolutely. I have a powerful message that I believe everyone, especially young girls, should hear. As a young girl, I had dreams, and at times, I doubted whether I could achieve them. I thought that maybe these dreams weren't meant for someone like me, coming from a not-very-affluent family. But here I am, an analog astronaut, a neuropsychologist, and Miss International Tunisia. I didn't have many people pushing me forward; it was primarily my parents and a few individuals who believed in me. So, I want to convey to every young girl: "Please believe in yourself, and don't let anyone's opinion define your potential."